Here is a complete list of the Aluminia products you find on our website. - However please note that many of Aluminia/Royal Copenhagen earthenware bowls, mugs, etc. are listed under Royal Copenhagen as Royal Copenhagen for many years, produced their faience products named Royal Copenhagen / or Alumina.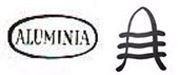 The History of the Faience Factory Aluminia
Founded in Christianshavn, Copenhagen in 1863 by August Schiøtt (born at Rugaard close to Randers in 1834). The production only included cheap utensils in faience, copied from English products. Excellent quality, meant for normal people- concentrating on dinner-, coffee- and tea-services as well as mugs and jugs.
The factory moved to Smallegade/Fasanvej on Frederiksberg in 1869.
Around 1970 higher aims were set, and Aluminia started designing their own series of dinner-, coffee- and tea -service. The sets were given names that would create nice associations within the upper middle class, such as "Lovisa" (named after the crownprincess, married to Frederik VIII the year before). The service had varying decorations. One especially, decorated with a wide blue ribbon and golden ornaments, became very popular.
Surprisingly for everybody both then and now, Aluminia bought and took over "The Royal Porcelain Factory" in 1882. The factories were joined administratively, but in other aspects they carried on as two separate companies. Towards the end of the 19th century, Aluminia was starved in favour of The Royal Copenhagen in all respects.
In 1901 the painter Hans Christian Joakim Petersen (1870-1943 ) joined the company. By 1911 he changed his name to Christian Joakim. He attracted attention with his ceramic experiments at The World Fair in Paris in 1900. At Aluminia he created a new kind of faience, expressed in shapes and decorations. Now Aluminia had a totally new unique style of faience, which made their products desirable objects to porcelain collectors.
While Christian Joakim was still busily engaged in experimenting with his new faience, another Danish painter was employed - in 1902 Harald Slott-Møller as artist as well as art-inspector in the production of artistic objects. The employment of a new artist and competitor hardly pleased Christian Joakim, but never the less an unequalled production in the Danish history of faience flourished. The extent and the peculiarity of the production was quite unique. Strong colours were applied under the glaze, making the fragile faience more durable.
After disagreements between Christian Joakim (CJ) and Harald Slott-Moeller in 1906, Harald Slott-Moeller left the company. CJ became the sole artistic leader. As assistent CJ hired the sculptor Rasmus Harboe (1868-1952), who among other things created the big christmas reliefs (1907-1927) as well as many of the small Children's Welfare plates. 26 Children's Welfare plates were released, one each year during the years 1909 to 1930. However, in the years 1915 to 1918 two plates were released each year. The artists were Christian Joakim, Rasmus Harboe and Oscar Willerup. Later came the idea of making Children's Welfare figurines, produced in a large series of various figurines.
CJ also created the Aluminia Christmas plates. The easily recognizable plates, primarly in blue and yellow colours, could without difficulties be recognized as Aluminia's because of the size of motifs and the colours, typically used on the christmas plates and the christmas reliefs as well as on most of the Children's Wellfare plates. The motifs were drawn in large-scale without many details.
Examples of the many collectibles by the Fajance Factory Aluminia:
Aluminia Children's Welfare Plates and Plaquettes
Aluminia Christmas Plaquettes (Happy Christmas)
Aluminia Christmas Plates Ø15 cm (small)
Various Aluminia Jubilee and Memorial Plates:
Through the years CJ designed several new dinner sets on behalf of Aluminia, such as "Krone", "White Clover" and more. When the new Aluminia dinner- and coffee-set "Tranquebar", also designed by Christian Joakim, was presented in 1914, Aluminia celebrated another success.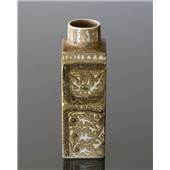 From 1913 Aluminia was also called Copenhagen Faience factory , but this name was not used in the product marking until 1921. Christian Joakim, who retired in 1933, was succeeded by his apprentice Nils Thorsson, who undertook the responsibility for the entire company. Development and production flourished during his employment, and therefore the survival of the company was made possible.
In recent years Aluminia was known for the dinner set "Blaa Kant" (Blue Edge) designed by Grethe Meyers in 1964. The name Aluminia disappeared in 1969, but production was carried on by Royal Copenhagen.
Collectors´wishes for Aluminia articles have increased considerably over the last few years, and today products from the old factory reach very high prices.