Christmas Plates from Aluminia

The faience factory Aluminia has released two different series of Christmas plates - a large of 29 cm in diameter and a small of 16 cm in diameter. Both series are made of faience with beautiful color combinations.

The series of large Aluminia Christmas plates was produced from 1904 through 1930
The series of Small Aluminia Christmas plates was produced from 1904 through 1938.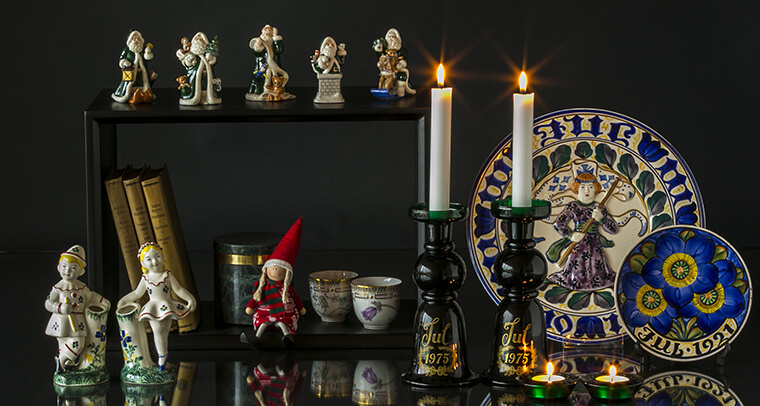 Most of the small Aluminia Christmas plates are designed by the artist Christian Joachim, who has also been associated with the Royal Copenhagen Porcelain Manufactory. His Christmas plates for Aluminia are characterized by beautiful flowers in bright yellow, green, brown and red colours painted on a deep blue background. In 1919 Heiberg took over the decoration of Aluminia faience Christmas plates and the changing of motifs is easy to see. The first two years Heiberg was focusing on angels, which was a central part of the motif of Christmas plates. In 1921 he went back to the inspiration of the first faience Christmas plates, designed by Christian Joachim, and flowers were again an important part of the motif. The flowers are slightly larger on these Christmas plates, giving the viewer the opportunity to see all the beautiful details in the flowers.

From 1924 until 1930 the small Aluminia Christmas plates were created by Niels Thorsson, who continued flower motifs but added more details such as bells and churches.

In 1931, the artist Hans Henrik Hansen continued the decoration until the series ended in 1938. He took up the idea with motifs of angels. At the same time the blue background color was not as dark as previously, so the angels appear more colourful.

Aluminia Christmas plates are an excellent alternative for those who want more colourful designs than the characteristic blue Christmas plates from Royal Copenhagen and Bing & Grondahl. Aluminia Christmas plates are very decorative on the wall or in plate racks placed around your home. Aluminia Christmas plates with flowers and angels in relief are decorative throughout the year.