Christmas plates
The world's first Christmas plate was made by Bing & Grondahl in 1895, afterwards Royal Copenhagen followed suit and many other factories in Denmark and the rest of the world started producing Christmas plates.
There are an incredible amount of beautiful Christmas plates. - If you look at a collection of Christmas plates, you'll also see a tale about how generations have followed the same Christmas traditions and how children, grown-ups and animals gather every year at Christmas.
Below you'll see how you can decorate with Christmas plates. Only your imagination sets the limits of how the Christmas plates can be used in modern interior design.
Christmas plates and dinnerware has been the main stable of Royal Copenhagen for more than a century. The first Royal Copenhagen Christmas plate was issued in 1908 and every year a new Royal Copenhagen Christmas plate is still issued.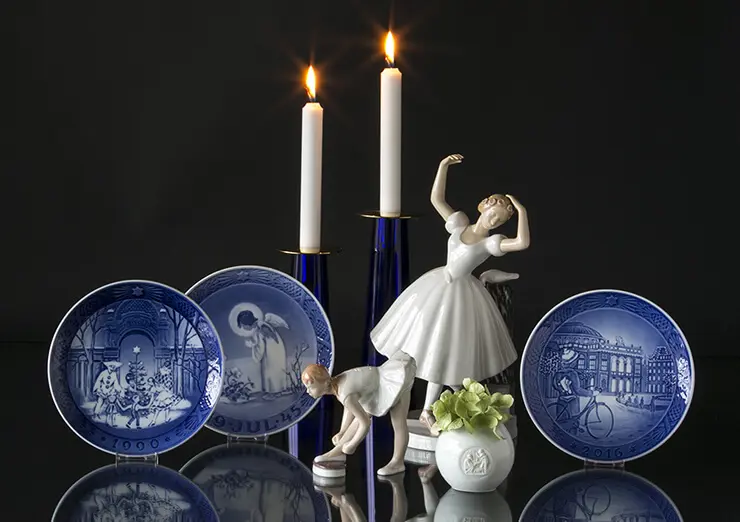 Bing & Grondahl made the world's first Christmas plate in 1895 and every year since then Bing & Grondahl have launched a new Christmas plate. This great series of beautiful Bing & Grondahl Christmas plates include many fantastic motifs drawn by the known artists of the time.
Both B&G and Royal Copenhagen have tried to renew the traditional old blue Christmas plates and have thus each produced one or more colofull series of Christmas plates around the 90's. See Royal Copenhagen Christmas in Denmark and B&G Santa Claus series.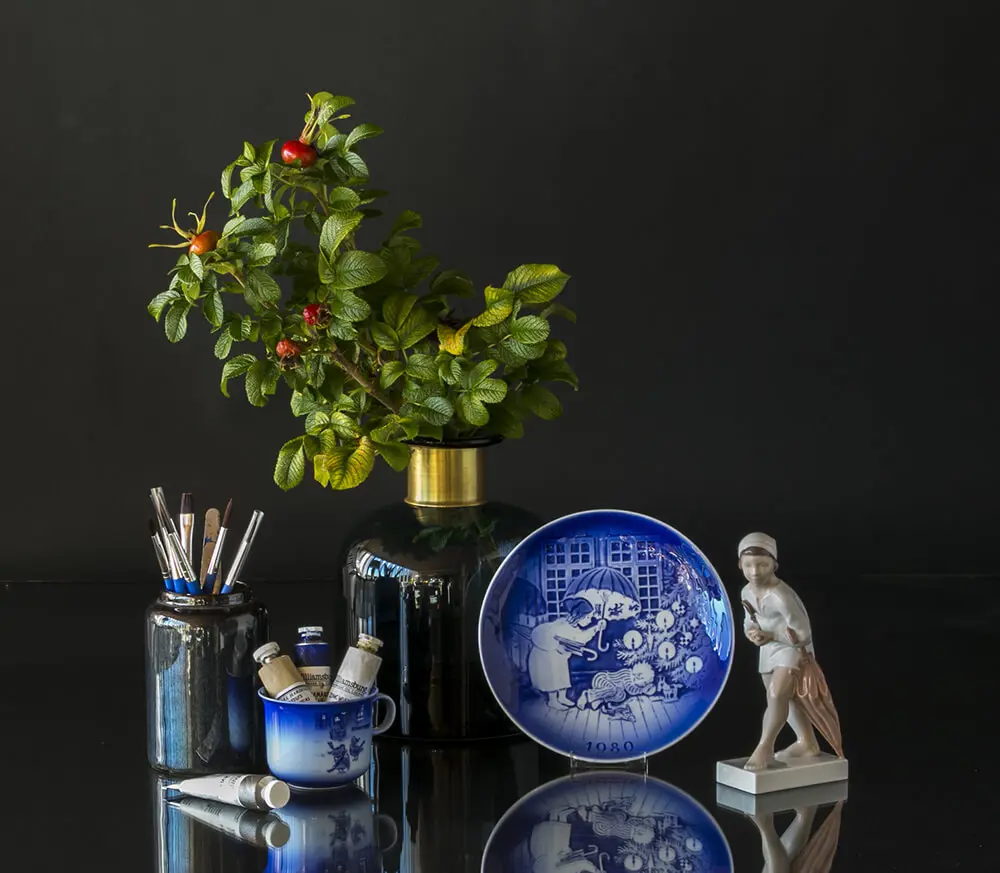 Another large producer of Christmas plates was the porcelain factory Desiree, which issued its first Christmas plate in 1970, when the Danish market for Christmas plates was booming. Desiree Christmas plates are also recognisable on the blue color, but they are best known for the interpretations of the fairy tales of Hans Christian Andersen that are the common theme on the Christmas plates.
See descriptions and images of Desiree Christmas plates
Aluminia, too, has produced a series of beautiful Christmas plates in faience. Further Tove Svendsen, Scan Lekven Design, Bygdo, Bucha & Nissen, Heilmann, Egemose and Soholm have produced Christmas plates.
Among foreign producers of Christmas plates can be mentioned English Wedgwood, German Tirschenreuth, Hutchenreuter, Bareuther, Tettau and Rosenthal, Swedish Rorstrand, Norwegian Porsgrund and Finnish Arabia and Japanese Noritake Christmas plates.
The Faience Factory Aluminia Christmas Plates: Christian Joakim (CJ), Danish painter, created in Denmark a new kind of faience plates, namely the Christmas plates. They were produced in two sizes Ø 16 cm and Ø 29 cm - Both series started in 1904 and stopped in 1938. The Christmas plates are desireable objects for porcelain collectors today. CJ created the Aluminia Christmas plates. The motifs are drawn in large-scale without many details in strong colors. Collectors' wishes for Aluminia articles have increased considerably during the past years and today products from the old factory are sold at rather high prices.
Hummel plates - Many plates, Hummels and figurines from Goebel find them here!