Royal Copenhagen and Bing & Grondahl raccoon and panda figurines
B&G and Royal Copenhagen porcelain raccoons and Chinese pandas are popular figurines, because many of us are fascinated by these beautiful and rare animals. Porcelain figurines of the pandas of China are a whole family of father, mother and cubs, while the adorable little raccoons can be seen together as well as separately. There is also a beautiful figurine of the red panda.

The small cute raccoon figurines were released by Royal Copenhagen in 2002. The family consists of five porcelain figurines of curious raccoons. One raccoon is sitting at his rump and looking attentively to something, two raccoons are sitting on a stone looking up and down, while another climbs from branch to branch and the last has started a lovely picnic. The Raccoons were designed by Allan Therkelsen.
It was also Allan Therkelsen, who designed the panda family for Royal Copenhagen. The series is very popular and panda with cub is particularly desirable. Many imagine the eating panda as the dad of the family and the other four figurines are depicting panda cubs.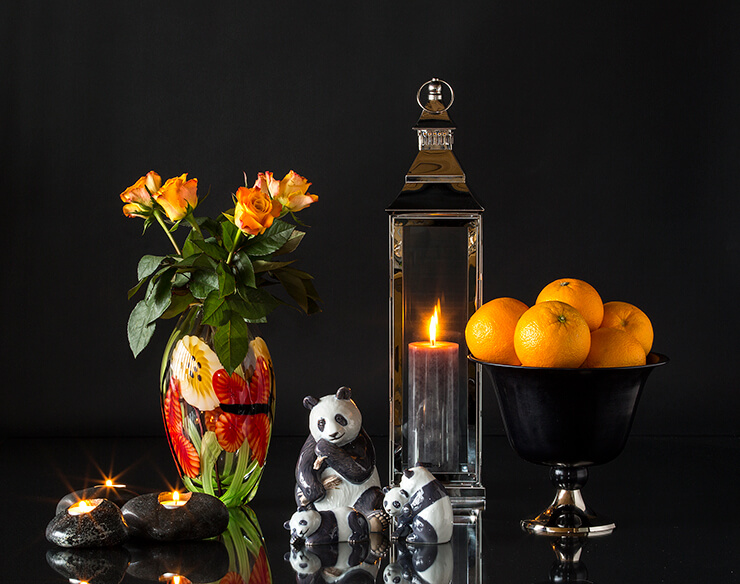 The fascinating serenity of the panda and raccoon figurines make them perfect gifts or ornaments for your shelf. They give a nice tone to the living room and adds a sweetness to everything. The Chinese panda gives of an aura of kindness and tranquility, whereas the raccoon has a much more whimsical and mischievous feel to it. It is more of a trickster, especially the raccoon rummaging through the lunchbox. If you have a friend, who is a bit of a trickster himself one of these raccoon figurines would make the perfect gift. For the caring and kind one a panda would make a perfect alternative to match the personality. A gift for a friend since childhood might be the two pandas playing.
The symbolic meaning of the racoon and the panda
The panda is a symbol of peace, strength, mildness and good luck. It is said that the Chinese panda can help humans to balance polarized energies within as the masculine and the feminine. Furthermore this animal has a heartfelt and carring energy.
The raccoon has a very similar symbolic meaning to the panda of China. The raccoon is the symbol of a giving protector, curiosity, transformation, illusion and abundance. Bring these qualities into your home by purchasing a figurines from Royal Copenhagen and Bing & Grondahl.