Candlesticks from Royal Copenhagen

The set of candlesticks resembling the Three Wise Men is very popular around Christmas time, where the majestic kings gives light in the darkness.

The Three Wise Men candlesticks were released in 2000, but they were originally designed in 1908 by Danish sculptor Rasmus Harboe, who designed several religious figurines.

According to the legend the Three Kings, Kasper, Melchior and Balthazar came from far away to pay homage to the baby Jesus with gold, incense and myrrh. They found the baby Jesus in Bethlehem on January 6th and since then this day has been celebrated worldwide as Epiphany.

Royal Copenhagen tealight cottages are also a hit, mainly around Christmas, but also the rest of the year. The tealight cottages were released in 2005 and despite the popularity of the cottages, the production was stopped after a few years. This means that today the tealight cottages can be hard to find, both because there was not produced so many and because people do not want to sell them again once they get them. The tealight cottages were designed by the renowned Danish artist Sven Vestergaard.

Other Royal Copenhagen porcelain candlesticks include the beautiful white porcelain candlesticks featuring the Swineherd from the Hans Christian Andersen fairy tale. The candlesticks are intended for ordinary candles, but they can also be used for tealights, if you use a top glass. This series also include a vase and a chocolate bowl.

Besides these, there are of course also created a lot of other candlesticks in porcelain and faience from Royal Copenhagen.
Bjorn Wiinblad

candlesticks
Throughout his career Bjorn Wiinblad has designed many beautiful and decorative candleholders in ceramics. Also his brass hurricanes are well known, and there is a great demand for them, but he has undoubtedly designed most of his candlesticks in ceramics. In addition to being a candlestick, his works are characterized by being highly decorative as well.

Also, Royal Copenhagen and Bing & Grondahl together have published numerous candlesticks of porcelain. Most old Royal Copenhagen and B&G porcelain candlesticks are made for long candles, while the new porcelain candlesticks are made for tealights.

Bjorn Wiinblad is known for characteristic sculptures, most often showing the shape of women, and his figures have become very popular after his death.

Bjorn Wiinblad was always creating smiling faces which brought joy to a lot of people. His candlesticks are figurines as well and in combination with candles the imaginative figurines are amazing.
Bjorn Wiinblad Candlesticks by Rosendahl
Mid september 2014 Rosendahl will relaunch a series of Candlesticks with Bjorn Wiinblad design. - The series of candlesticks will be produced in red, pink, blue, black, lime and yellow.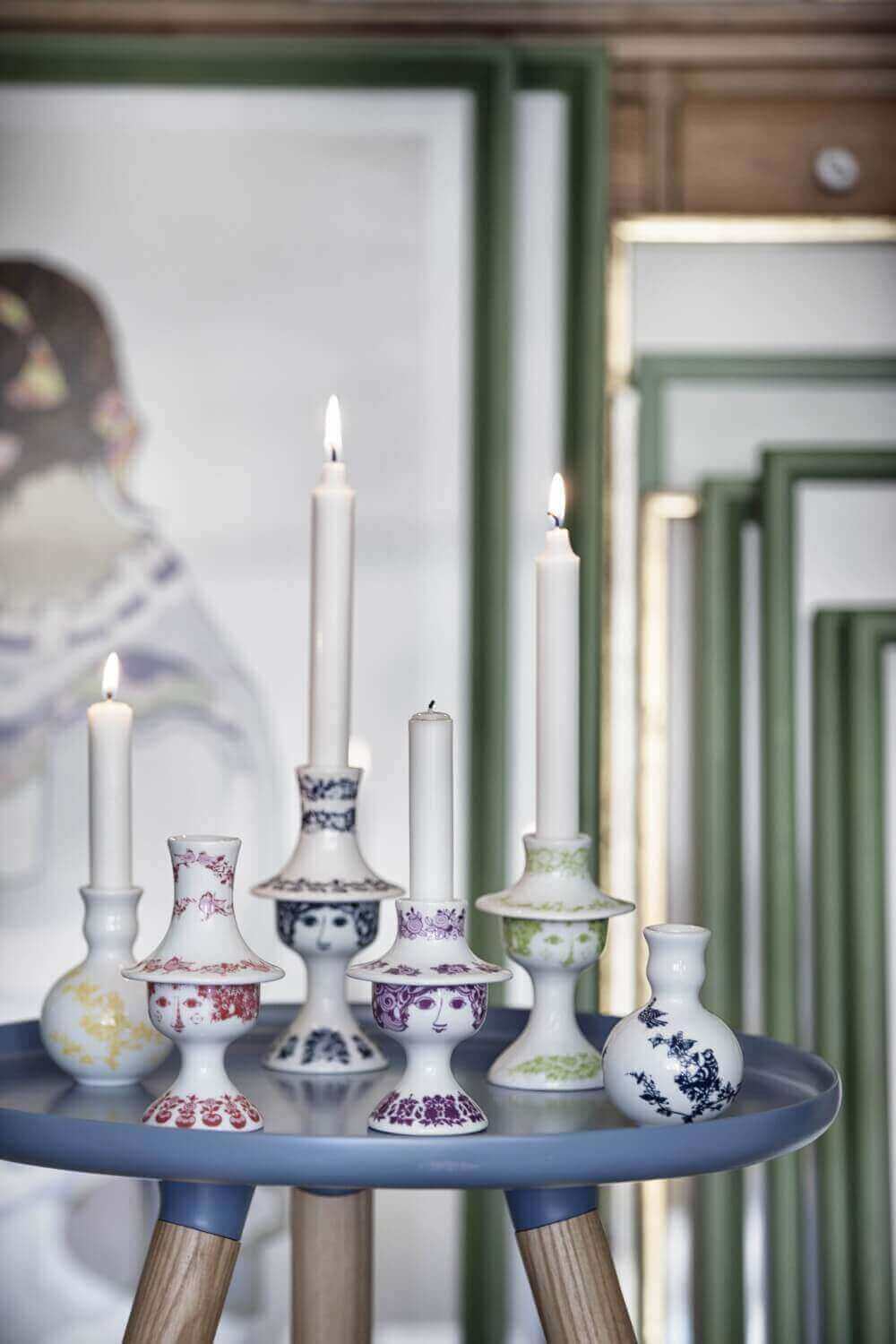 Bjorn Wiinblad Denmark - (His Workshop)
Also Bjorn Wiinblad hurricanes are extremely popular but unfortunately the supply can not keep up with the demand. After Bjorn Wiinblad's death, his workshop continued by his faithful employees, but unfortunately, several of the passionated workers have also passed away now and the workshop has closed. This means that we can no longer deliver new Bjorn Wiinblad candlesticks, figurines, vases, etc., nor get spare glasses to his hurricanes. We still sell much of Bjorn Wiinblad's design, both in Denmark and abroad, as Bjorn Wiinblad is famous in many countries.

The great Bjorn Wiinblad Rider candlesticks for three or one candle is appreciated by many.

All of Bjorn Wiinblad's figurines are made in the usual blue / white colour and in multicolour. Blue / white is the most common, while multi-coloured is more rare. Multicolour is often seen in green and pink or yellow and brown.

Each Bjorn Wiinblad figurine or candleholder is a work of art in itself and there are many hours of work behind each figurine. Each one is hand painted with gentle and careful hand. This also means that each figurine is unique.

We always have Bjorn Wiinblad figures in stock and usually also a few candlesticks. See the selection on this page or contact us for further information.