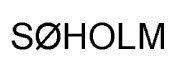 Herman Sonne Wolffsen and Edvard Chr. Sonne started the Soeholm factory in 1835. Soeholm is the oldest ceramics factory on Bornholm (Danish island in the Baltic). The name originated from the factory in which the two founders had been employed - a faience factory situated in Hvidoere by Hellerup in Copenhagen (1828-1839).
From 1841 Wolffsen was the sole owner of the company. At first the yellow housekeeping-faience from Bornholm was the main production. It included jars, bowls, pudding-tins and the likes. A big succes at Soeholm was pipes, that even today are very much in demand. The pipes were produced during World War II, but unfortunately the factory was bombed in 1945, destroying the specially built pipe-ovens and much more.
By 1928 the factory was bought by the municipality of Ronne, to maintain jobs within the local district. In those days the factory had a staff of 40 people. To avoid unfair competition Soholm was taken over by a partnership company in 1933. Simultaneously the factory was renovated and modernized. By 1938 the factory employed 56 people (24 female employees). By 1939 the employment was independent, since the factory was owned by the employees (Bought up by the Union of Ceramics workers).
More people were employed during World War II, since the union referred unemployed to the factory. Hereby they avoided that they were sent to Germany. 200 people worked at the factory in 1945, producing dinnersets and other everyday utensils in batch production.
During the 1960's and -70's a lot of stoneware was produced - now collector's items. During the 1990's the factory is most noted for its tea pots and mugs in rich colours such as olive-green and curry-yellow. The factory had financial problems for several years. In 1983 Soholm applied for an administration order, but avoided closing down. However, by 1995 the factory was closed temporarily - at that time employing 36 workers. Soholm, or their design and know-how was taken over by the company Ancher Iversen Denmark (Atelier) recently renamed Aida.