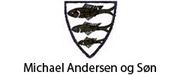 Here you will find a list of all our Michael Andersen products.
You can also read the story of Michael Andersen below.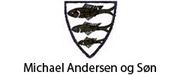 Founded by the potter Jens Michael Andersen (JMA) in 1890, in the former terracotta-factory Th. Stibolts.
In the beginning articles for everyday use and models of Greek and ancient Danish jars and vases were the main source of income.
JMA had 4 sons, all educated as ceramic artists. Especially Daniel Folkmann Andersen (1885-1959) exposed was talented, as he was an extremely creative and artistic person. Already from 1905 he clearly played the leading part in the artistic development of the factory. He often used plant- or animal decorations with glazes in several colours. Contemporary shapes were applied with running high-lustre glaze, inspired by the French art-nouveau style. The series "Dania" and "Cobalt" in majolica were produced in the 1920's. In 1935 the brother Daniel Andersen created the "persia-technique".
Stoneware in the clean and pure style of the time were produced from 1950 and through the 70's. All shaped and decorated by the artist Marianne Starck. Several other artists have been employed at the factory during its excistence. Among those the painter, sculptor and potter Knud Kyhn - also known from his employment at the Bing & Grondahl factory.
The factory still produces some ceramic articles.