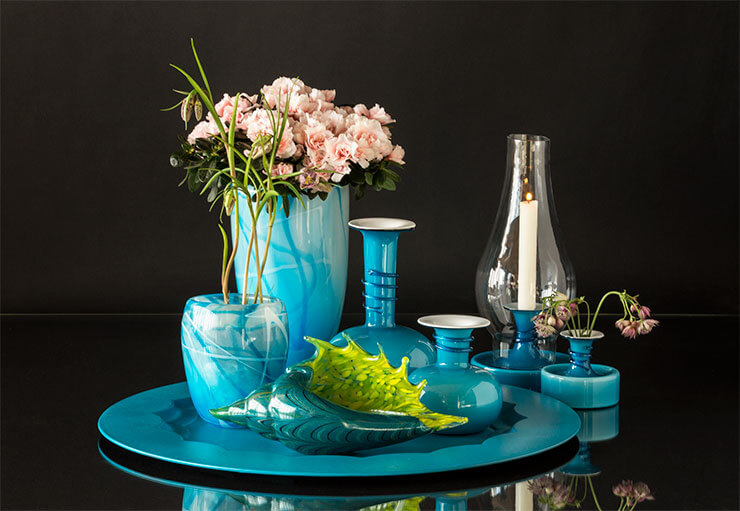 Among our dishes and bowls in glass we of course find Holmegaard that have also produced many dishes and bowls. Especially the Provence bowls are wellknown and common. But also Old English with its more classic look stands out.
We also have our own series of glass bowls with a completly unique expression. If the house has become a little dull and needs to get a bit of strong colour, then clearly this glass series is the answer!
The Cocoon series is one of the greatest successes from the Danish brand Holmegaard in recent times. Holmegaard Cocoon include bowls, vases, dishes, candleholders and table lamps and almost one or more of the things are to be found in any Danish home. Cocoon bowls have been produced in many different colours and sizes. Most of them are unfortunately discontinued now, but a few are still available as long as the stock last. The Cocoon series was designed by the great glass artist Peter Svarrer.
The beautiful Holmegaard Leaves bowls are designed by Anja Kjær, who is, among other things, known for her sweet Heart candlesticks. Leaves dishes were made some years ago and have been discontinued, but we still have some in stock. Holmegaard Leaves bowls are made of transparent glass, in clear or smoke, with beautiful decorations of small leaves. Leaves dishes can be used as a fruit bowl as they look great on a coffee table or dining table. They can also be used for a delicious fruit salad.
One of the bowl classics from Holmegaard is the Provence bowls. The designer Per Lütken created Holmegaard Provence bowl in 1956 and the bowl quickly became a number one seller. Holmegaard Provence bowls are characterized by soft shapes with a tight end at the bottom. When Rosendahl took over Holmegaard it was therefore important for them to continue the tradition of the popular Provence bowls. Holmegaard Provence bowl is available in three sizes, small, medium and large - and in clear glass, light blue and smoke.
Per Lütken was one of the most important glass artist in Danish design history. He has created many drinking glasses and wine glasses for Holmegaard and has also designed the beautiful Selandia dishes. The dish is decorative in itself, but can also be used as a fruit dish or a dish on the kitchen table, where letters, papers and keys can be quickly added when passing. Holmegaard Selandia dish is available in transparent clear and blue glass.
We have been dealing with Holmegaard for many years and have primarily new items in stock, but sometimes we get old Holmegaard bowls, dishes or ashtrays in stock in connection with our purchase of Royal Copenhagen and Bing & Grondahl figurines, plates, etc. Sometimes we know Holmegaard bowl, dish or ashtray from the past, but other times we do not know the correct name and production period. Therefore, you will often be able to find old and obsolete bowls, dishes and ashtrays from Holmegaard on this page.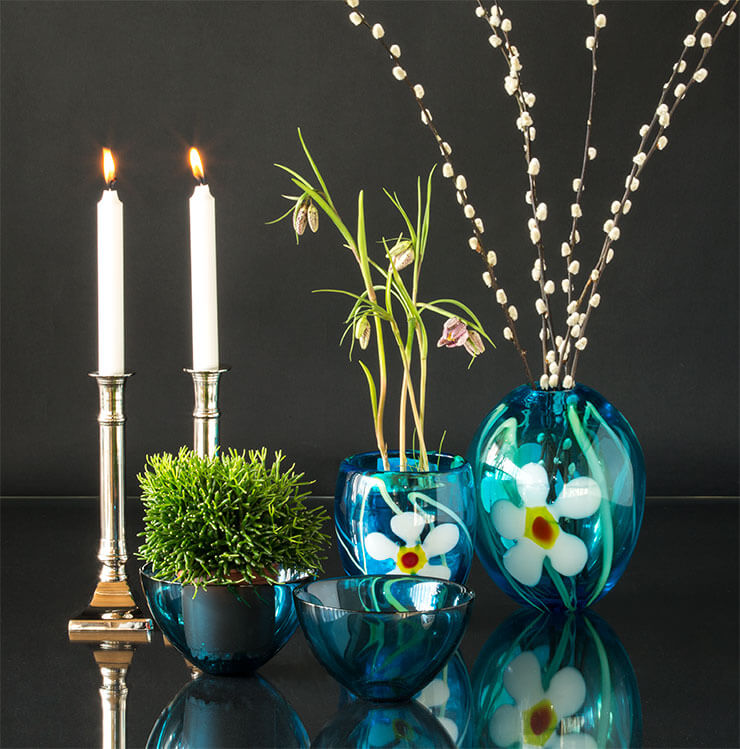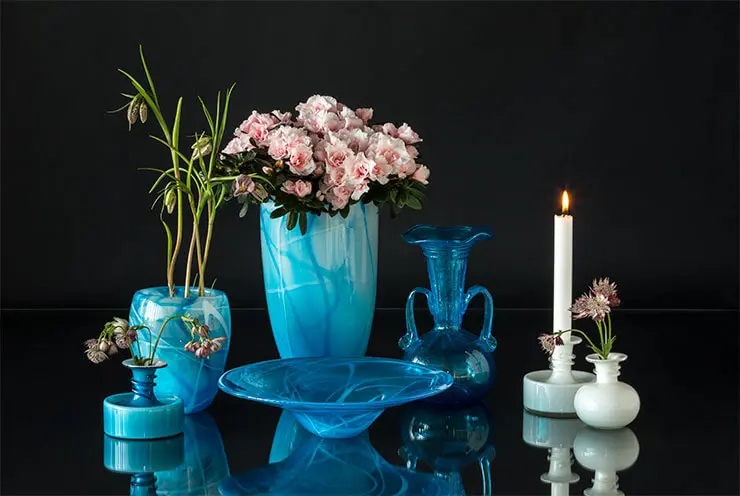 Glass bowls and glass dishes in our own design

We have designed a unique glass series of large bowls, table dishes, vases, figurines and candle holders. The large bowls are perfect for storing fruit, whether in the kitchen or at the dining table in the living room. The dishes are colourful and brings lot of life wherever they are placed. They are produced in the heavy glass so they do not fall over. The deep glass bowls are of course also applicable to many other things, such as storage of knitting and knick-knacks.

The large round dishes which are not so deep, are good for a coffee table where the bowl should preferably be not so high, as you will need to see above it - even when lying in front of the television. The bowls are decorative in themselves, so it's definitely not necessary to put anything in them. A white or wood-grain coffee table with one of the big blue glass bowls in the middle looks incredibly great.

Several patterns are repeated on vases and flower pots, so you can put together a whole series of your favourite pattern. A glass bowls on the table and a glass vase on the windowsill or on a small table completes the style.

You can see exciting inspiration for interior decoration on our inspiration pages.