Royal Copenhagen, Bing & Grondahl and Lyngby are probably the most well known Danish factories which have made many dishes, bowls, and ashtrays in Porcelain. Please see find the items below.
Royal Copenhagen and Bing & Grondahl have produced several porcelain bowls and porcelain dishes with varying motifs and shapes. Royal Copenhagen and B&G bowls and dishes in porcelain have had different performance over time. Several of them have originally been used as ashtrays, but as there are fewer and fewer smokers, the old Bing & Grondahl and Royal Copenhagen ashtrays are now used for decoration as well as storage of small items, candy , biscuits or fruit.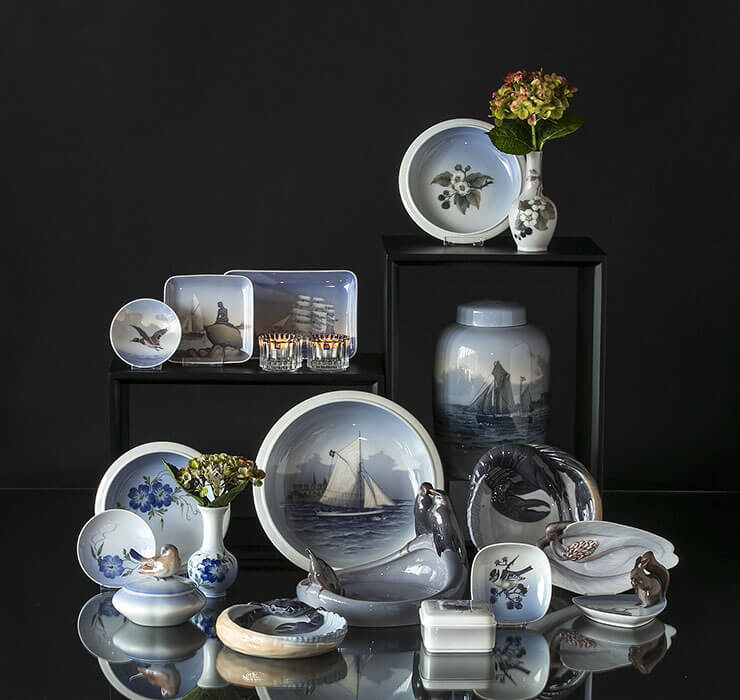 Also Lyngby Porcelain has produced bowls and dishes in porcelain.

The German porcelain manufacturer Rosenthal, had for a long time a good collaboration with the Danish artist Bjorn Wiinblad, which embellished motif for both plates, dishes and bowls in porcelain. Rosenthal often used strong colours to their porcelain, which fantastic reconciled with the happy and optimistic creations of Bjorn Wiinblad.

One of the most famous porcelain factories in Sweden, Rorstrand, has also produced porcelain bowls and porcelain dishes.

China also has a proud tradition of producing porcelain and in connection with our import of Chinese vases, we have also taken several beautiful Chinese dishes and bowls into our range.
Dishes and bowls with crayfish and crabs are well-suited for serving fish and sushi.