Trendy Design Ideas for your home interior - Page 1
Do you have questions?
Page 1 2
Below please find examples of how you can decorate you living room, using tips from Danish interior designers.
Get inspired by these pictures. Use your old plates, figurines, silver trays, glass, etc. to create new and fascinating décors. Along with the pictures you will find links directing you towards the specific items.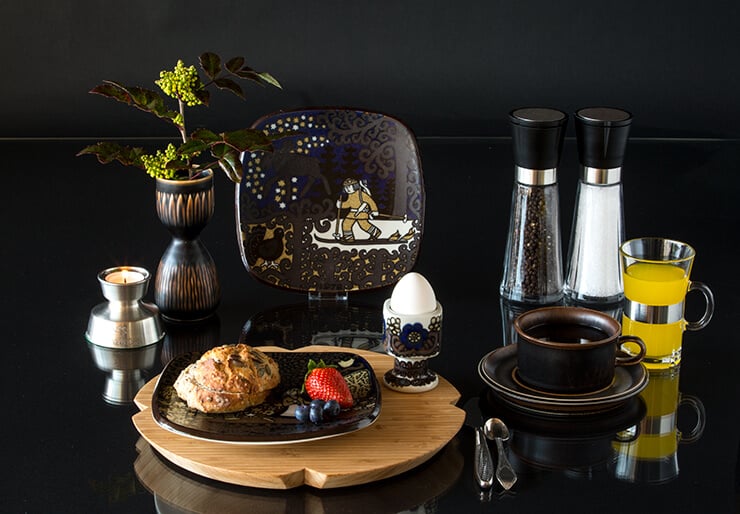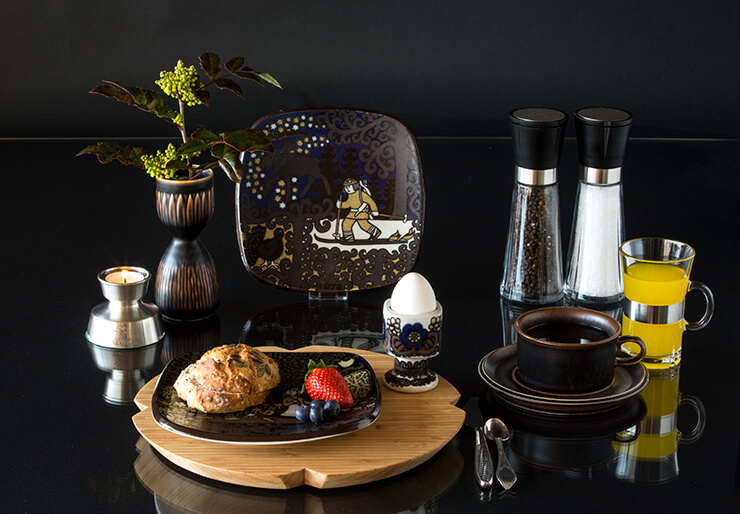 Here we have a nice setup in dark colours from Arabia. Arabia Annual plates with motifs from the finish saga Kalevala can like Royal Copenhagen Christmas plates be used to eat from as you see here with a bit of breakfast and Arabia egg cup for the egg. A tin candleholder from Scandia Tin have been set to add cozyness.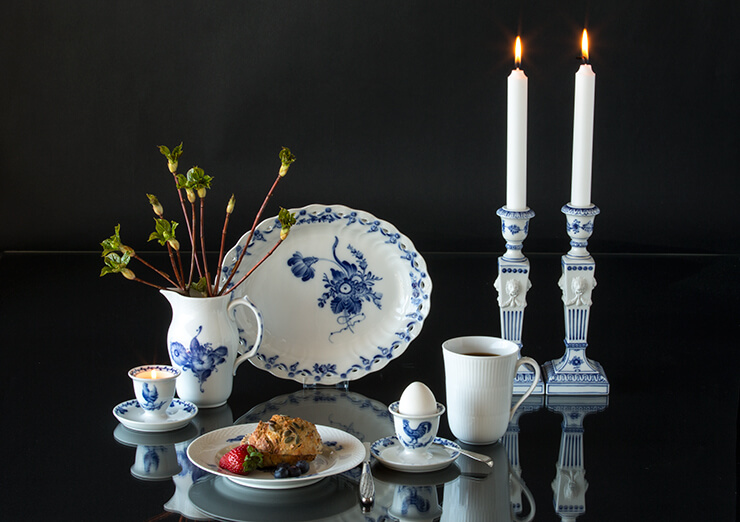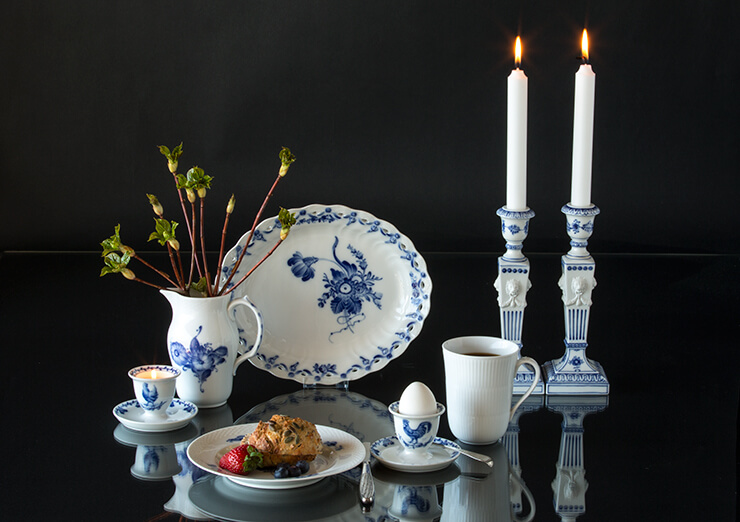 We have set some blue and white egg cups that fit well with both Blue Flower and Blue Fluted from Royal Copenhagen.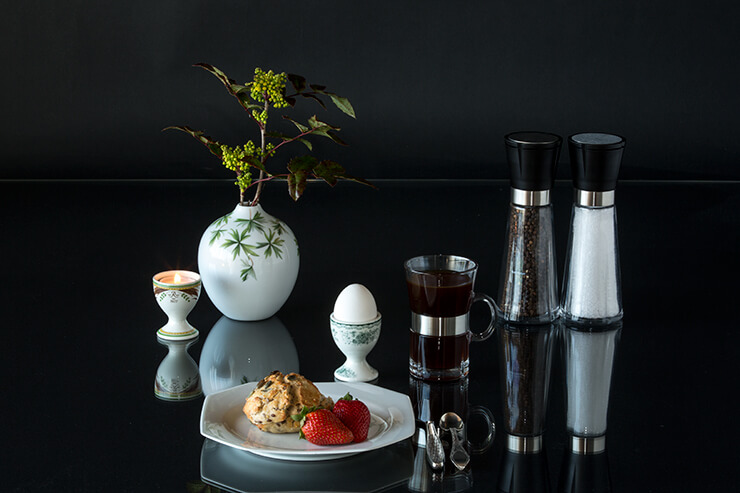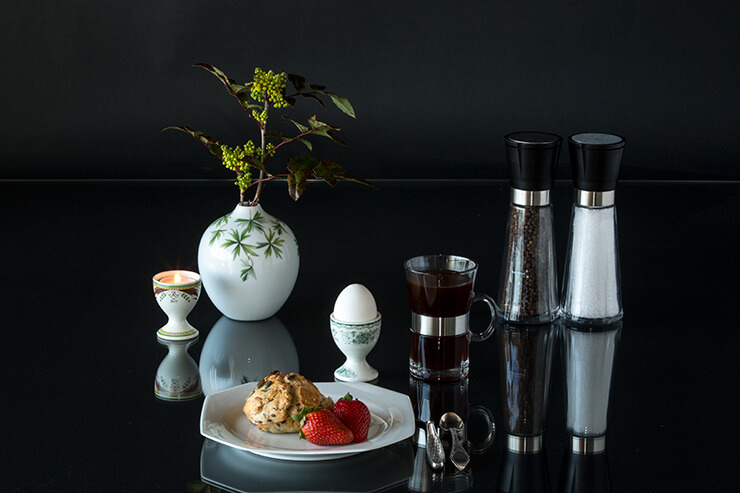 Here the egg cups have been set together with the new vase from Royal Copenhagen Easter eggs.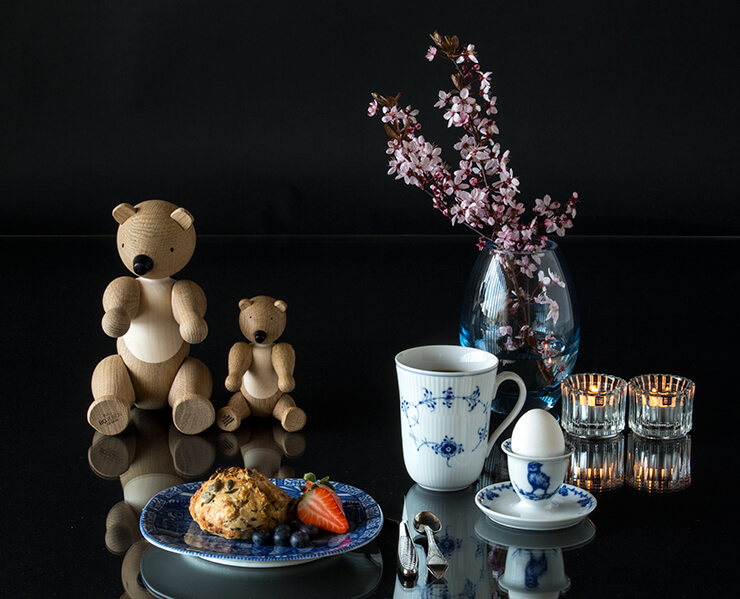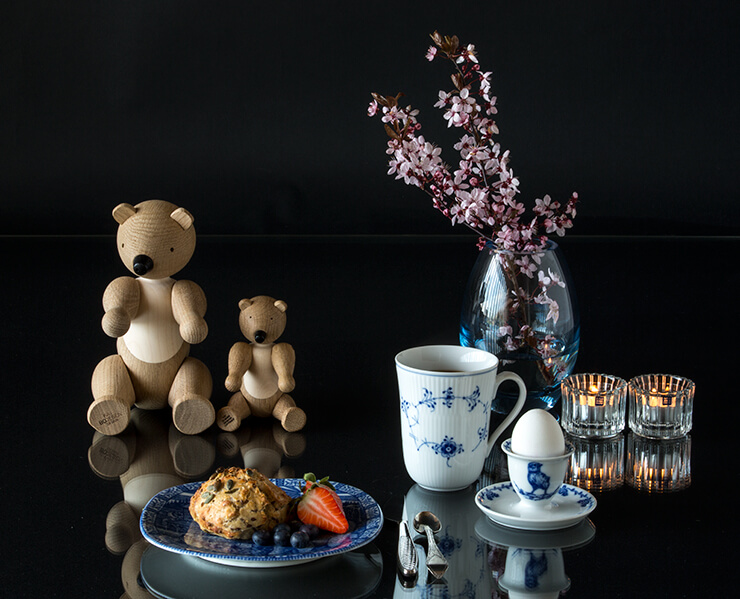 Here Rorstrand Christmas plates are used for serving together with an egg cup and a cup of warm coffee.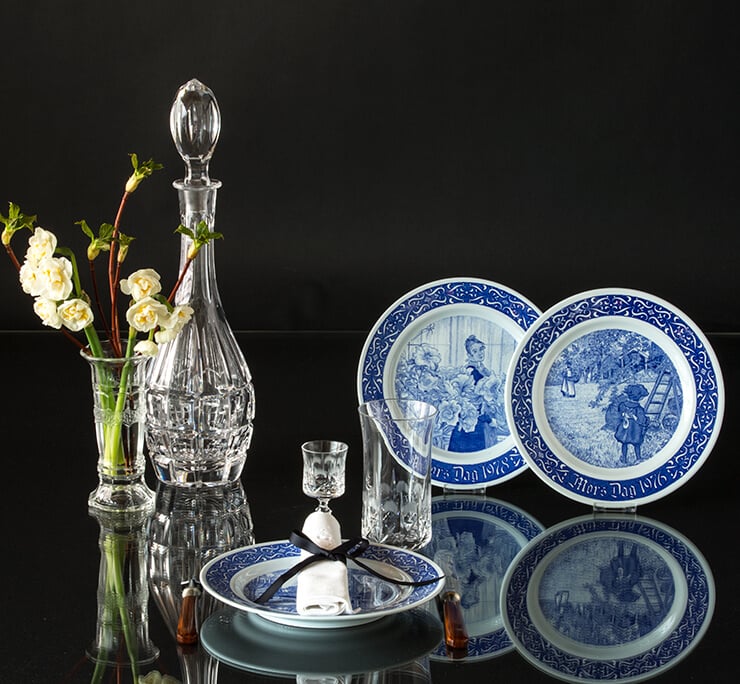 Rorstrand mother's day plates are wellsuited for serving and light dinners.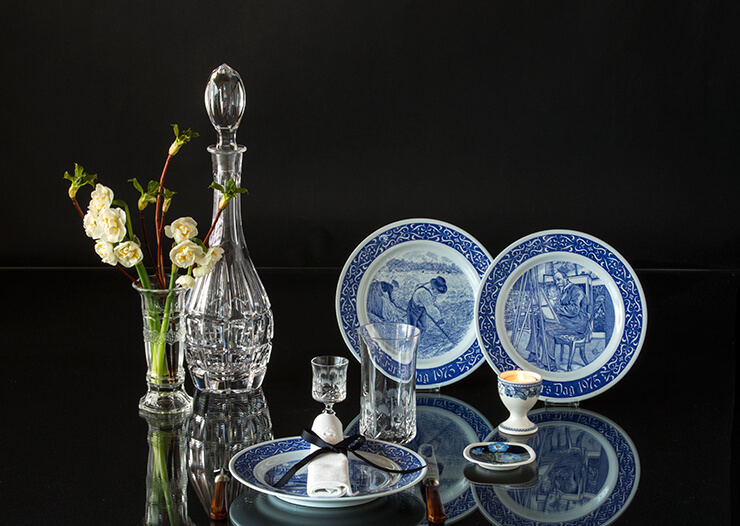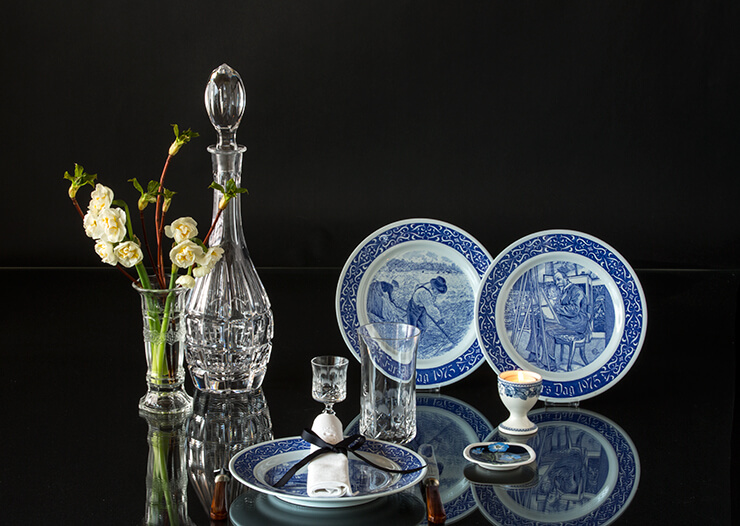 Rorstrand father's day plates can be used in the same way.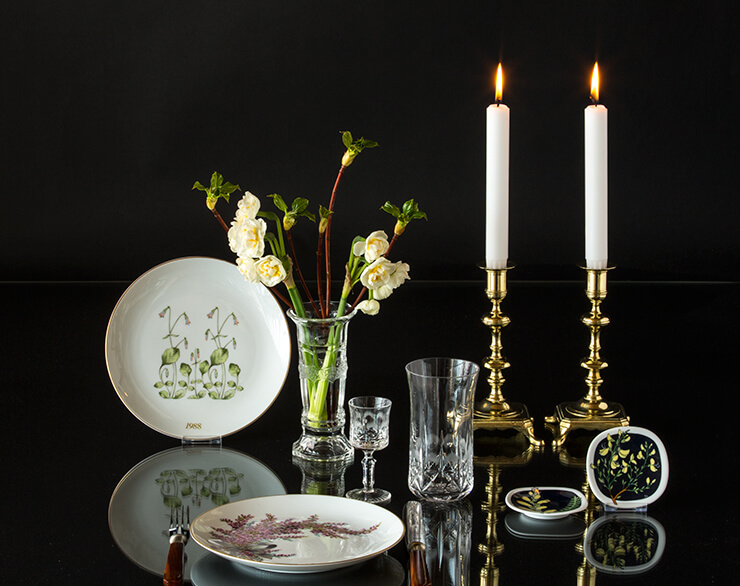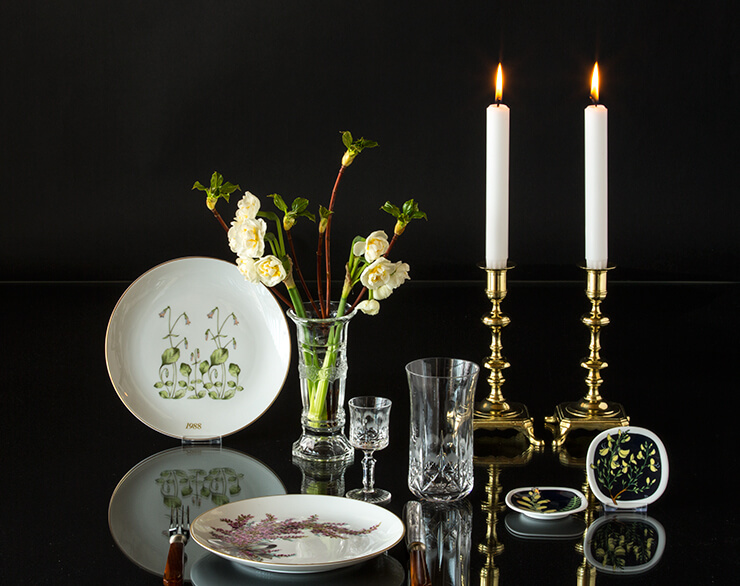 Here we have Hackefors mother's day plates that cannot be used to eat from, but look good together with Rorstrand flower mini plates. These can be used for tea bags.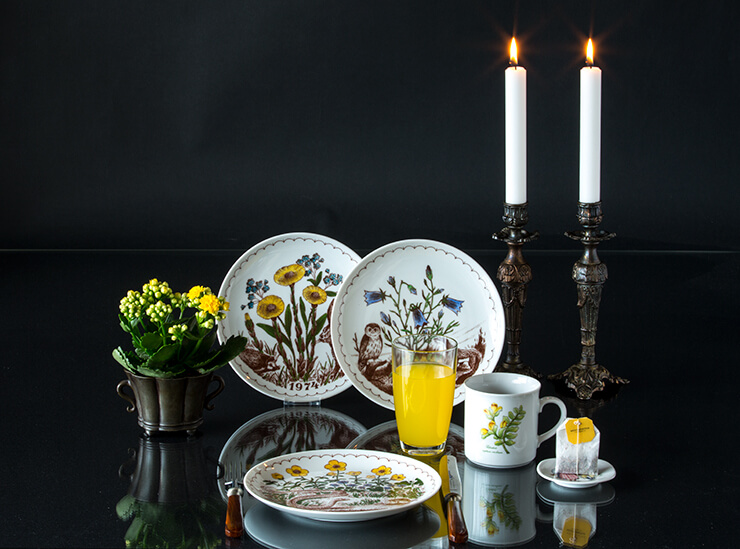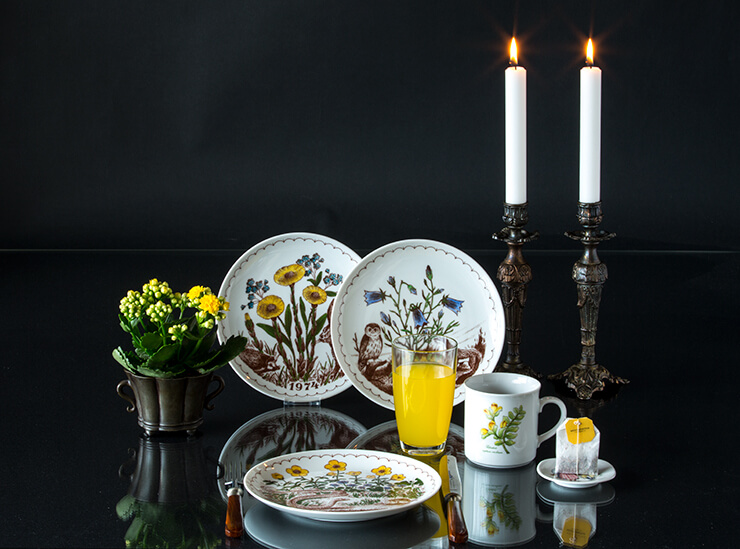 Ravn mother's day plates are very colourful, but not wellsuited for serving food. Here we have them together with a Rorstrand folk costume mini plate for tea bags and a mug with flower motif.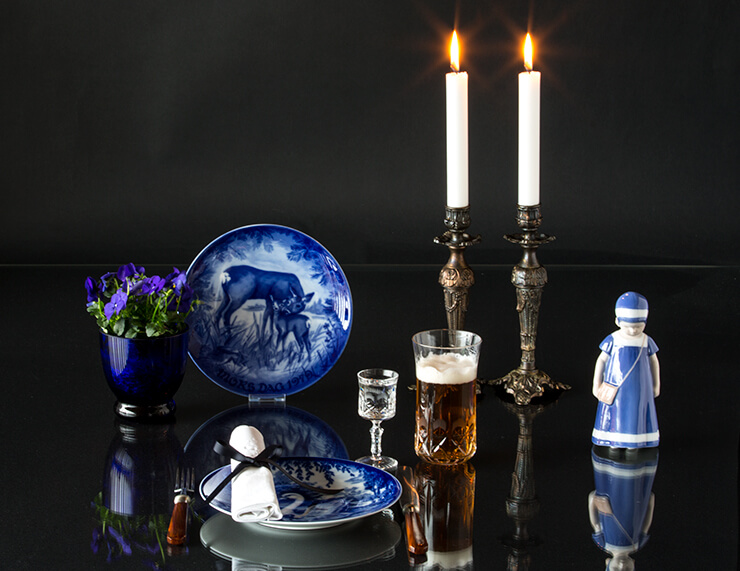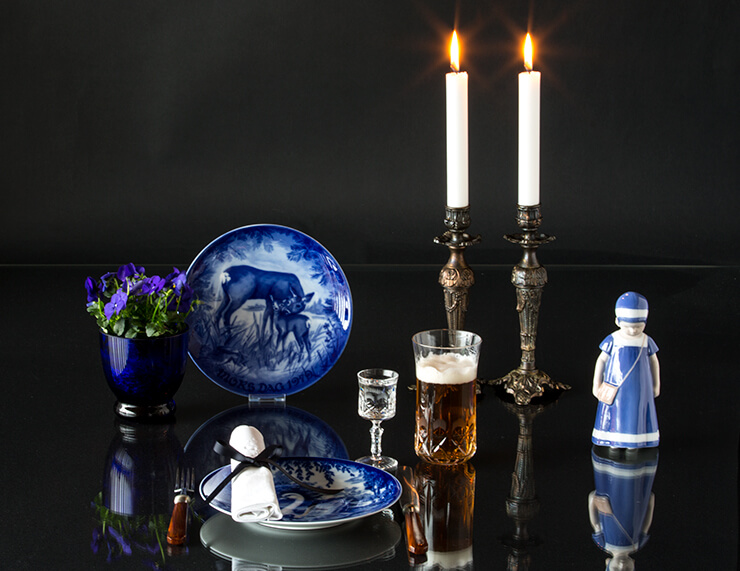 Here we have a nice table setting with Royal Heidelberg mother's day plates that are wellsuited to eat from set together with the famous Else figurine.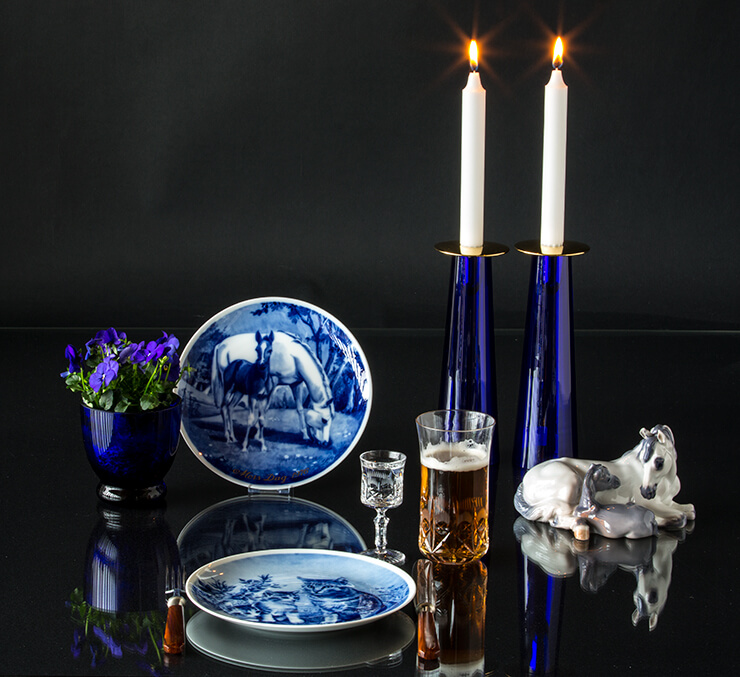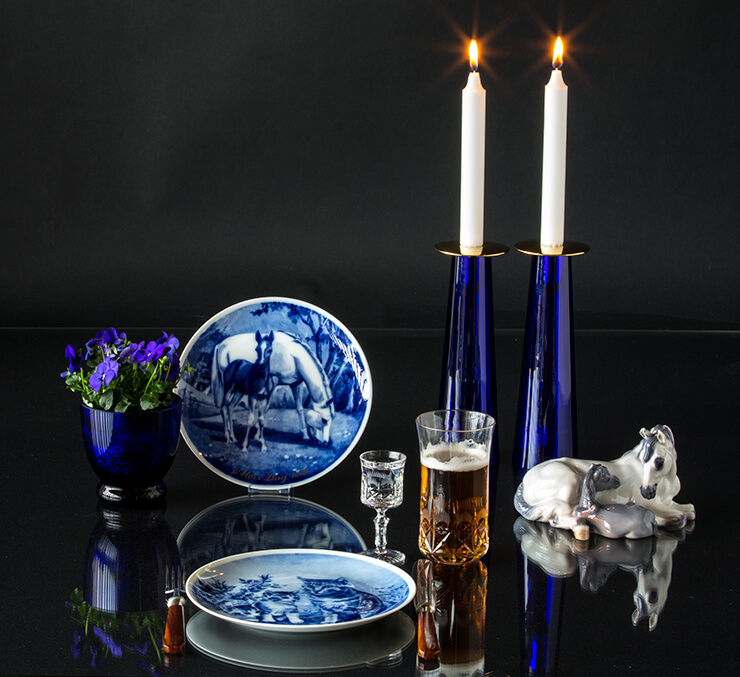 Here the table is set with Tettau mother's day plates, where the motif with horses fits well with the figurine of a Lippizaner mare with foal.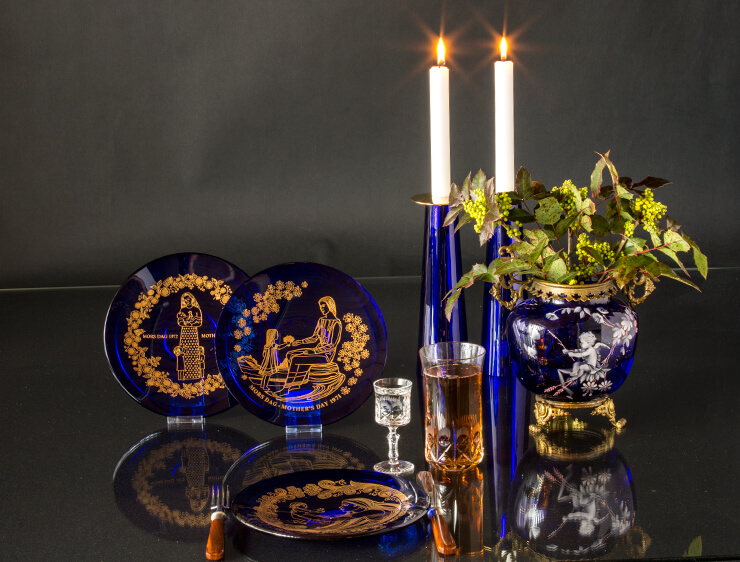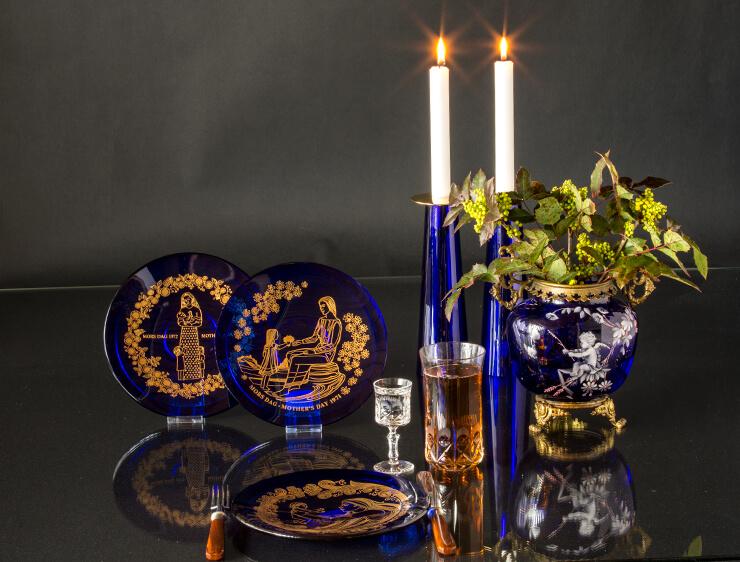 Swedish Orrefors mother's day plate in blue glass with motifs in gold.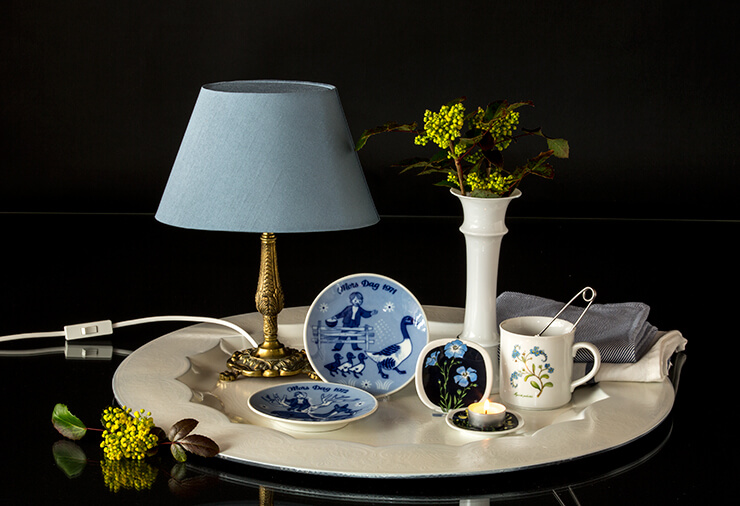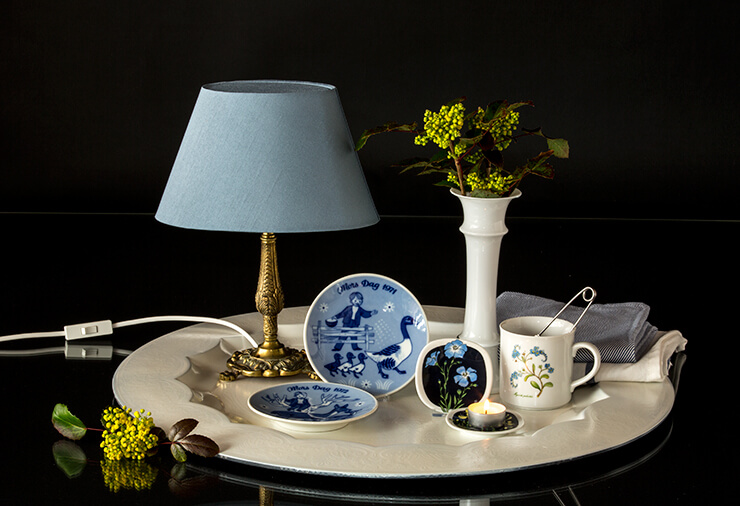 Porsgrund mother's day plates nicely set with a Holmegaard vase and flowery mug.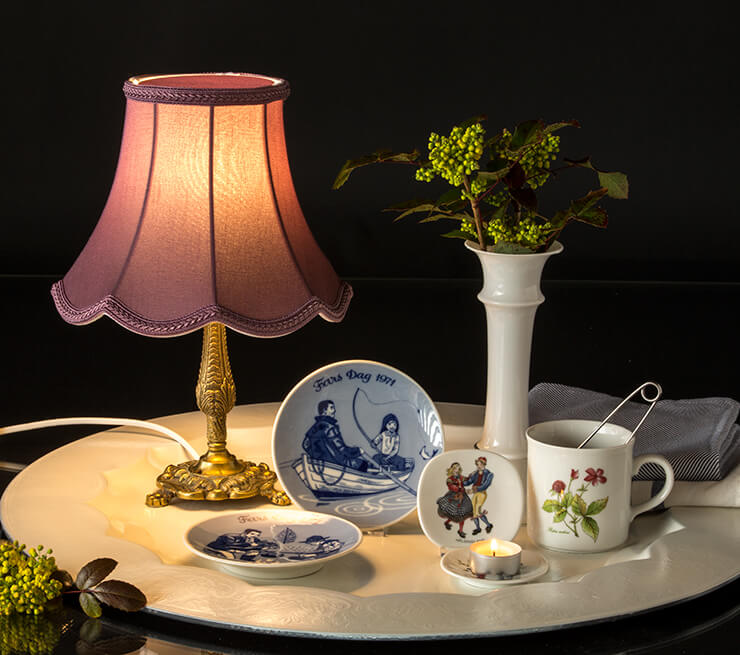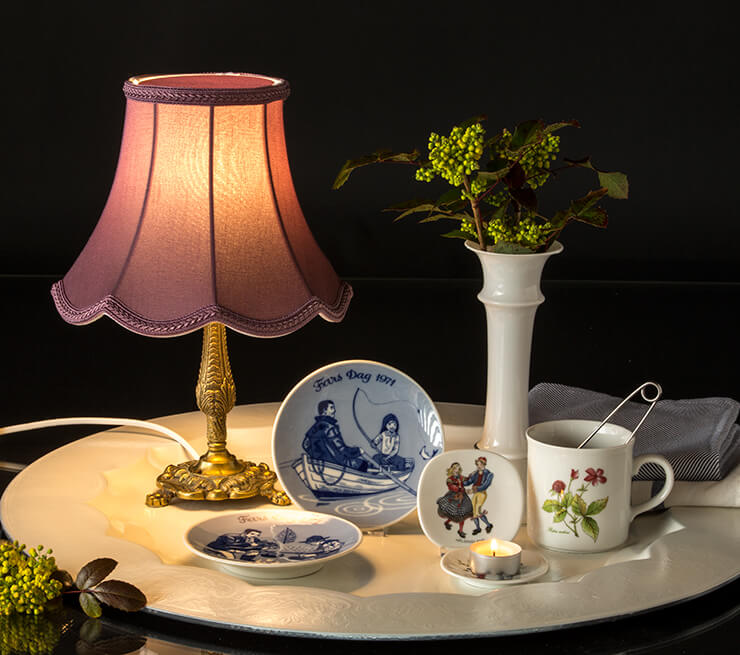 Porsgrund father's day plates together with Rorstrand folk costume mini plates.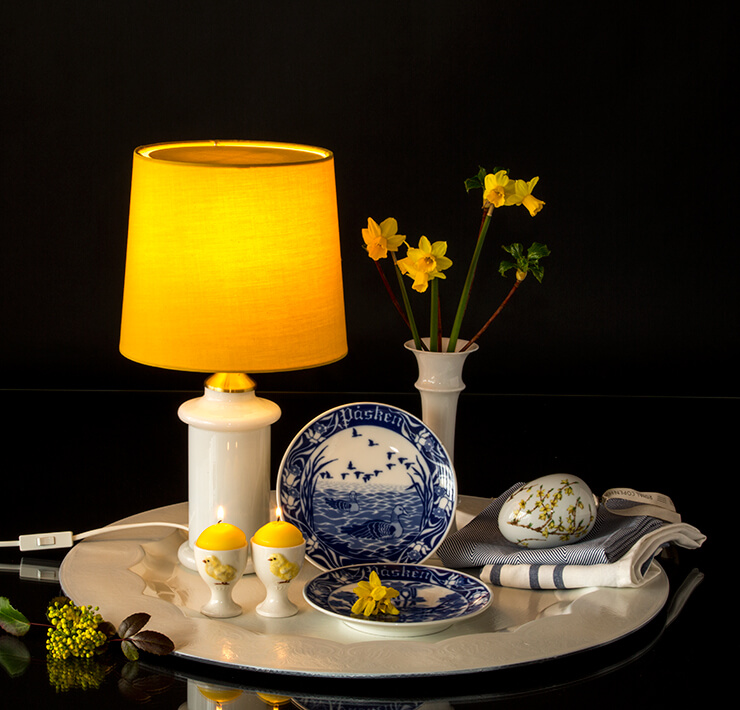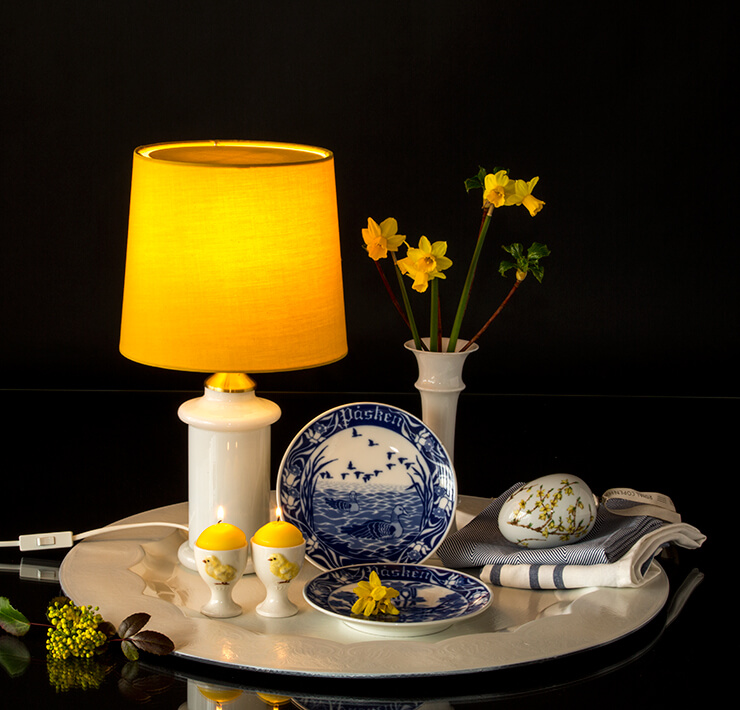 Porsgrund Easter plates set together with Easter eggs from Royal Copenhagen and egg cups with chickens.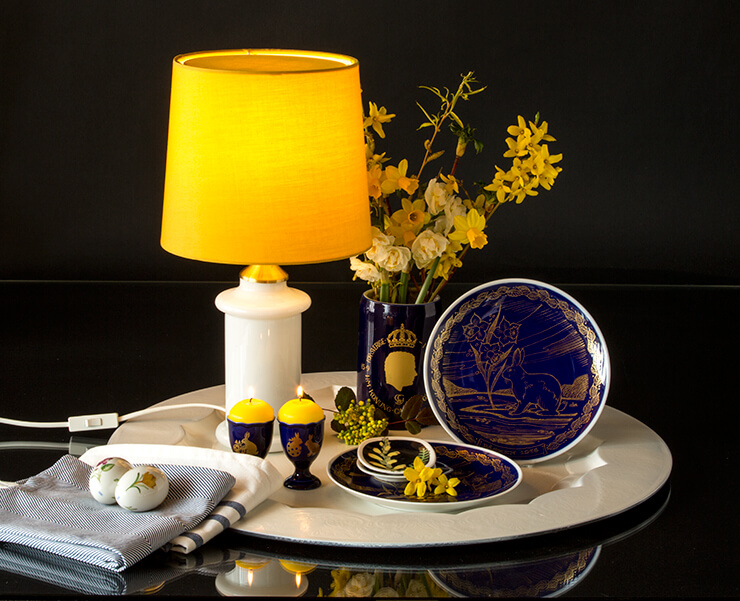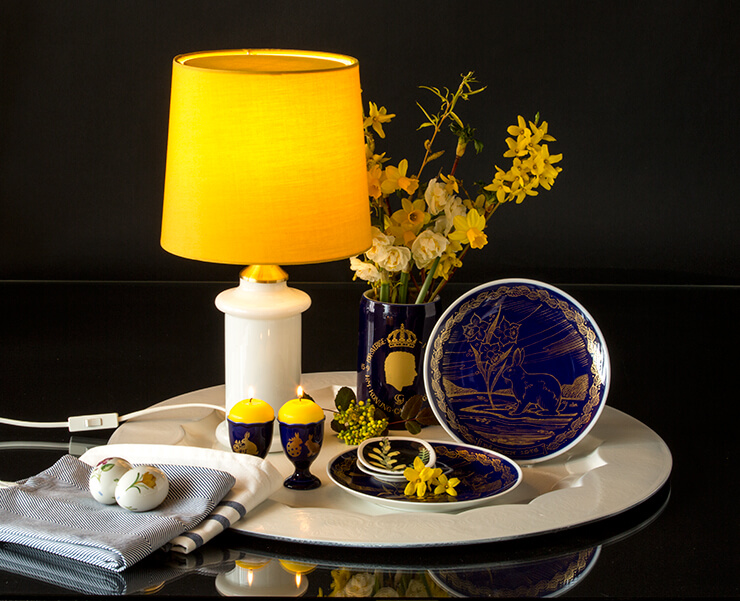 Easter plates in cobalt blue with gold with matching egg cups gives a wonderful Easter setting.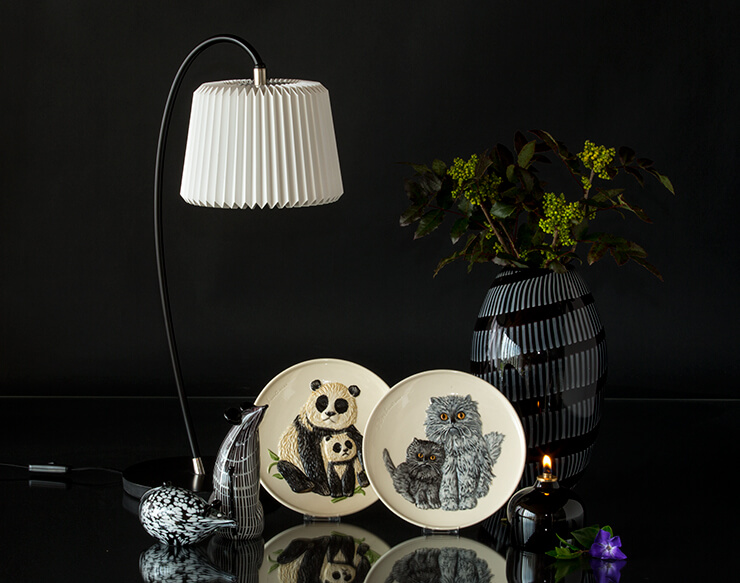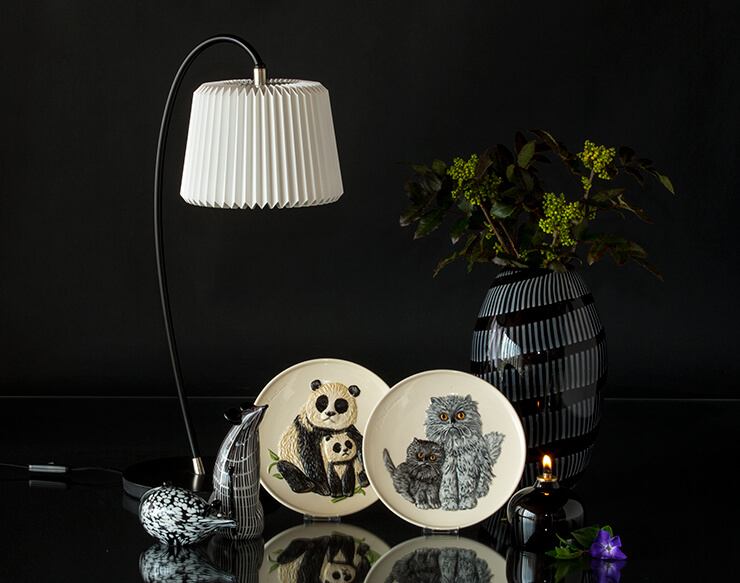 Beautiful glass art set with Hummel mother's day plates.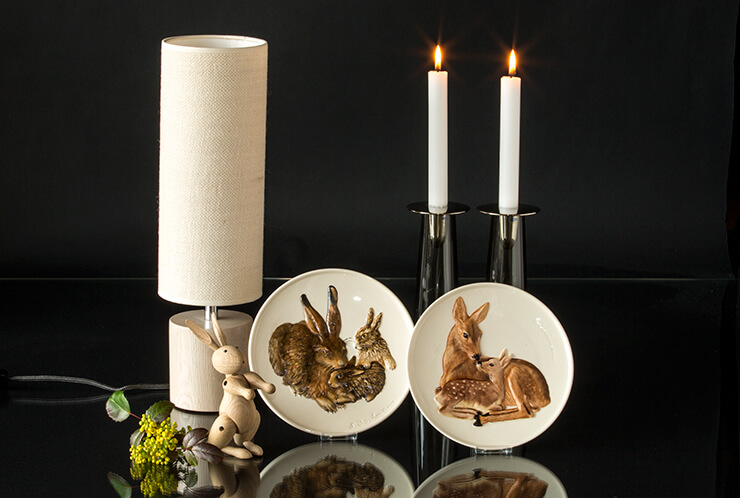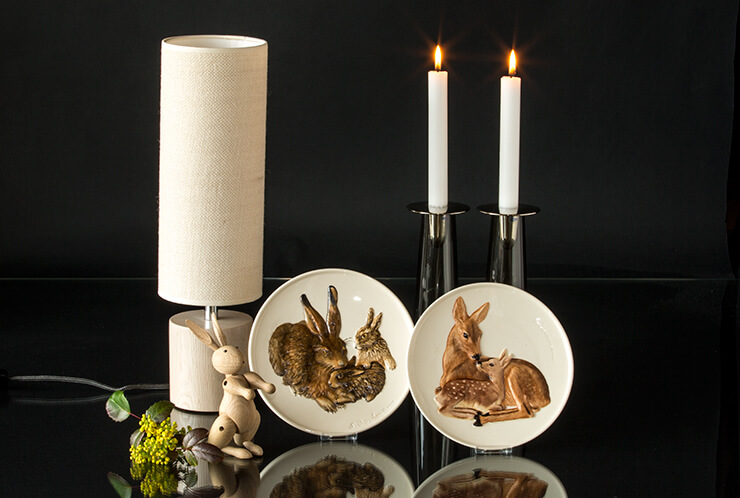 Hummel mother's day plates with sweet animals can make a nice decor.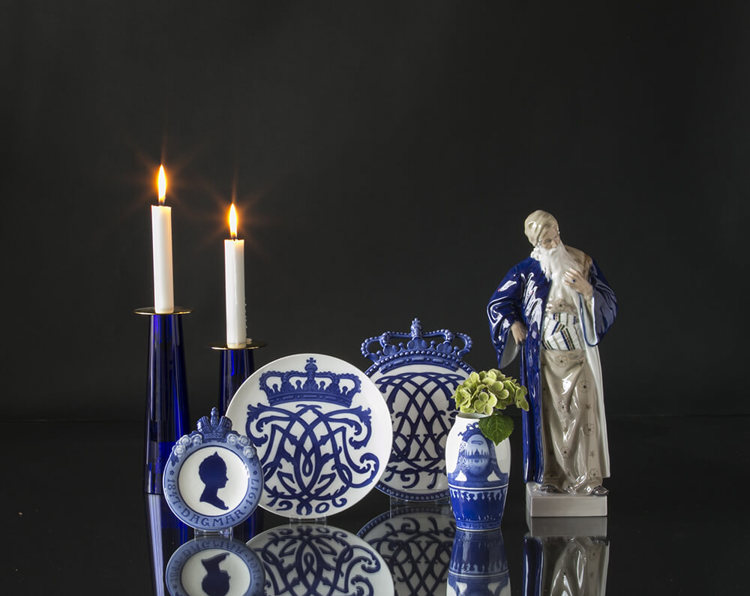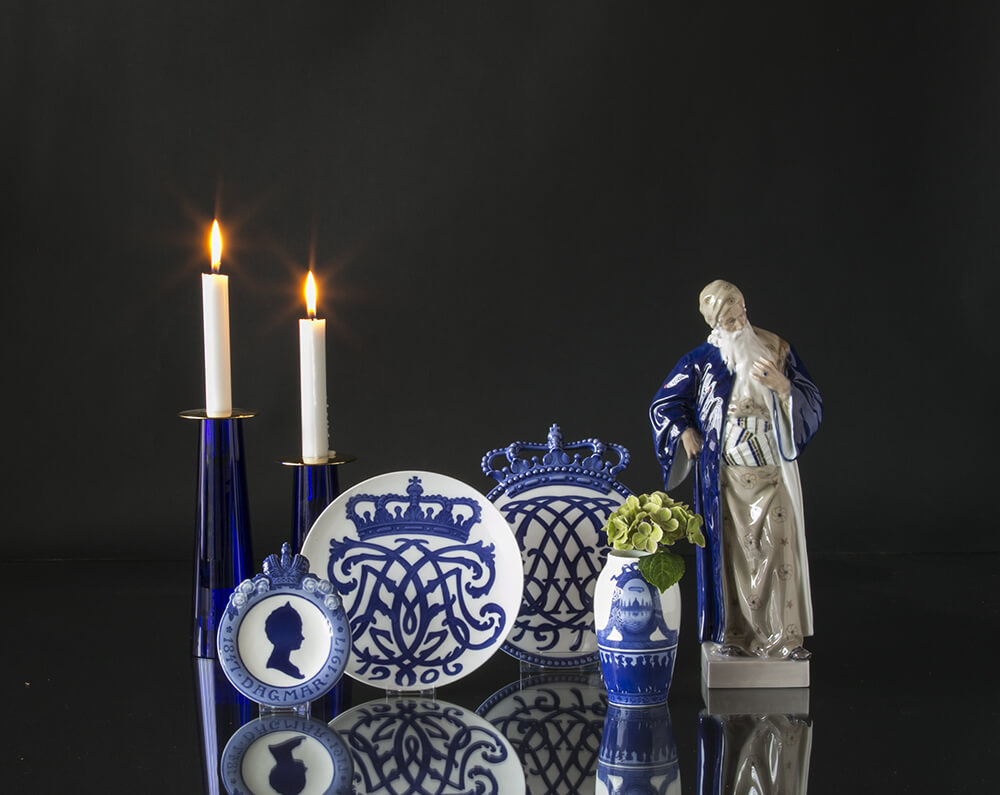 Here is a setup combining old memorial plates with a vase and two Asmussen candlesticks with the Royal Copenhagen figurine Nathan the Wise to the side.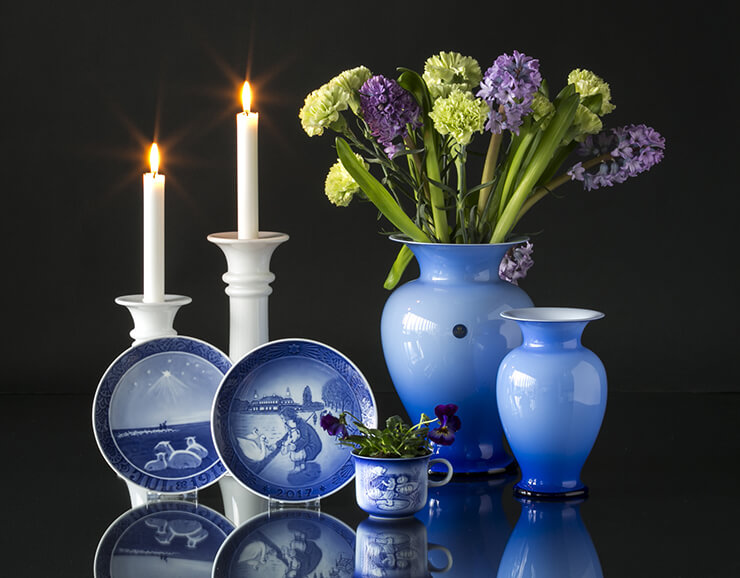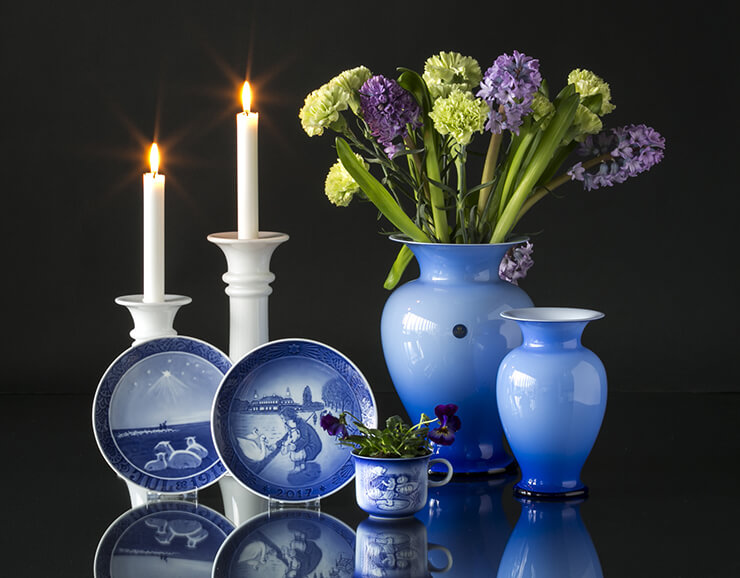 This interesting setup matches the Royal Copenhagen Christmas plates to a Desiree Christmas cup used as a small flower vase and Holmegaard Candlesticks and amphoras.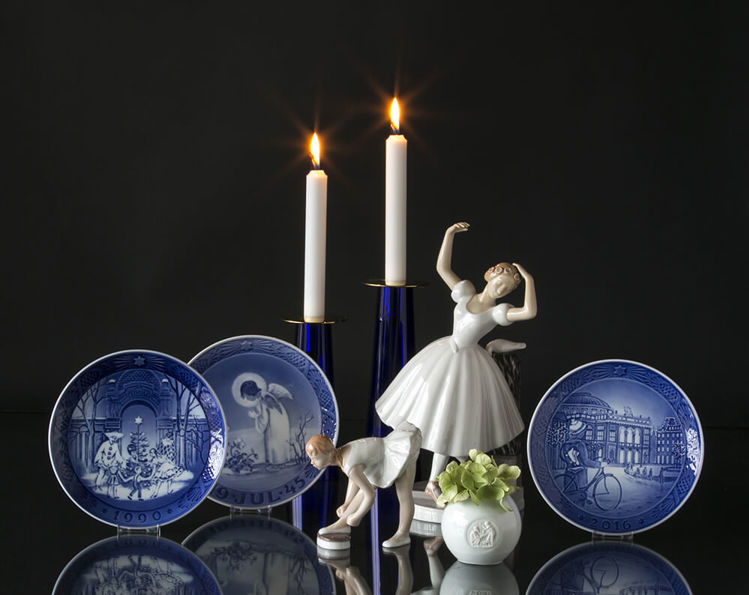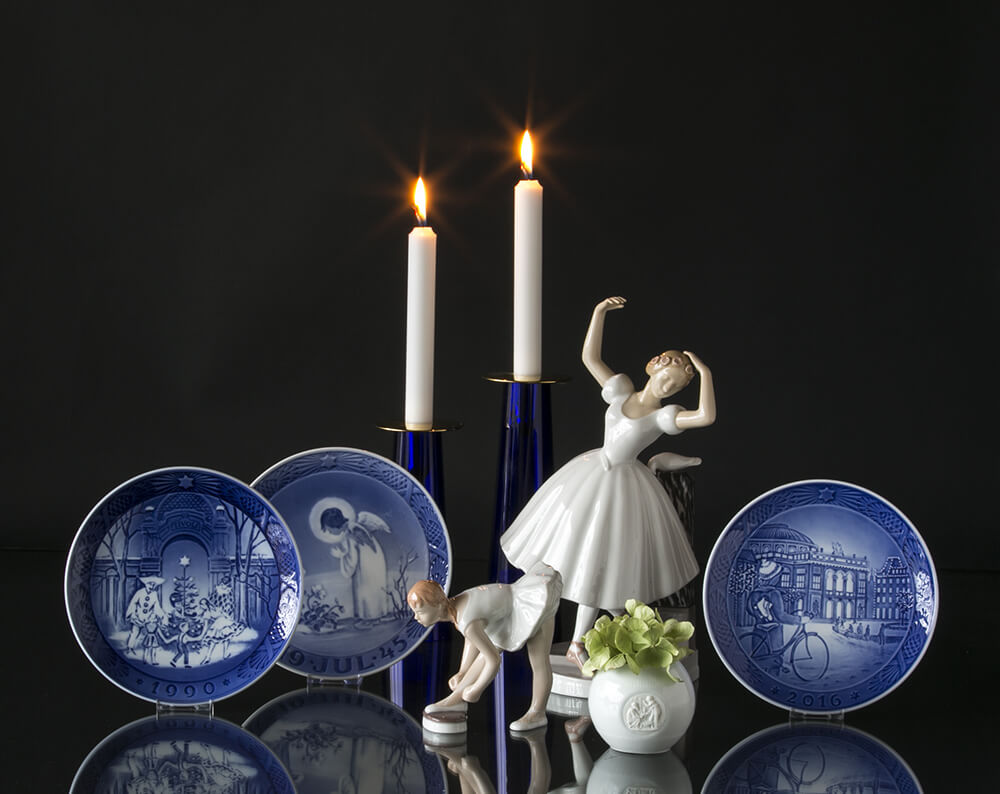 Here we find Christmas plates set with ballerinas and Asmussen glass candlesticks. At the front is a small vase with flowers.
Again, here the design is based on the green colors. - We have an Italian lamp, along with Hamlet (Asmussen) Design drop candle holders, a beautiful old ceramic vase from Royal Copenhagen. - At a plate stand a Noritake plate is placed, motif of Japanese men in typical Japanese costumes.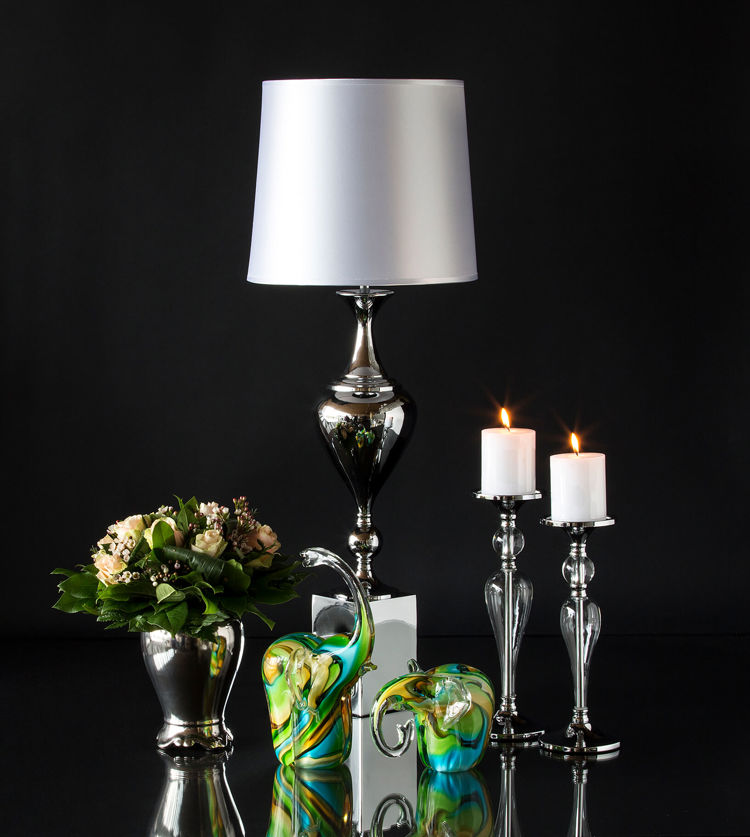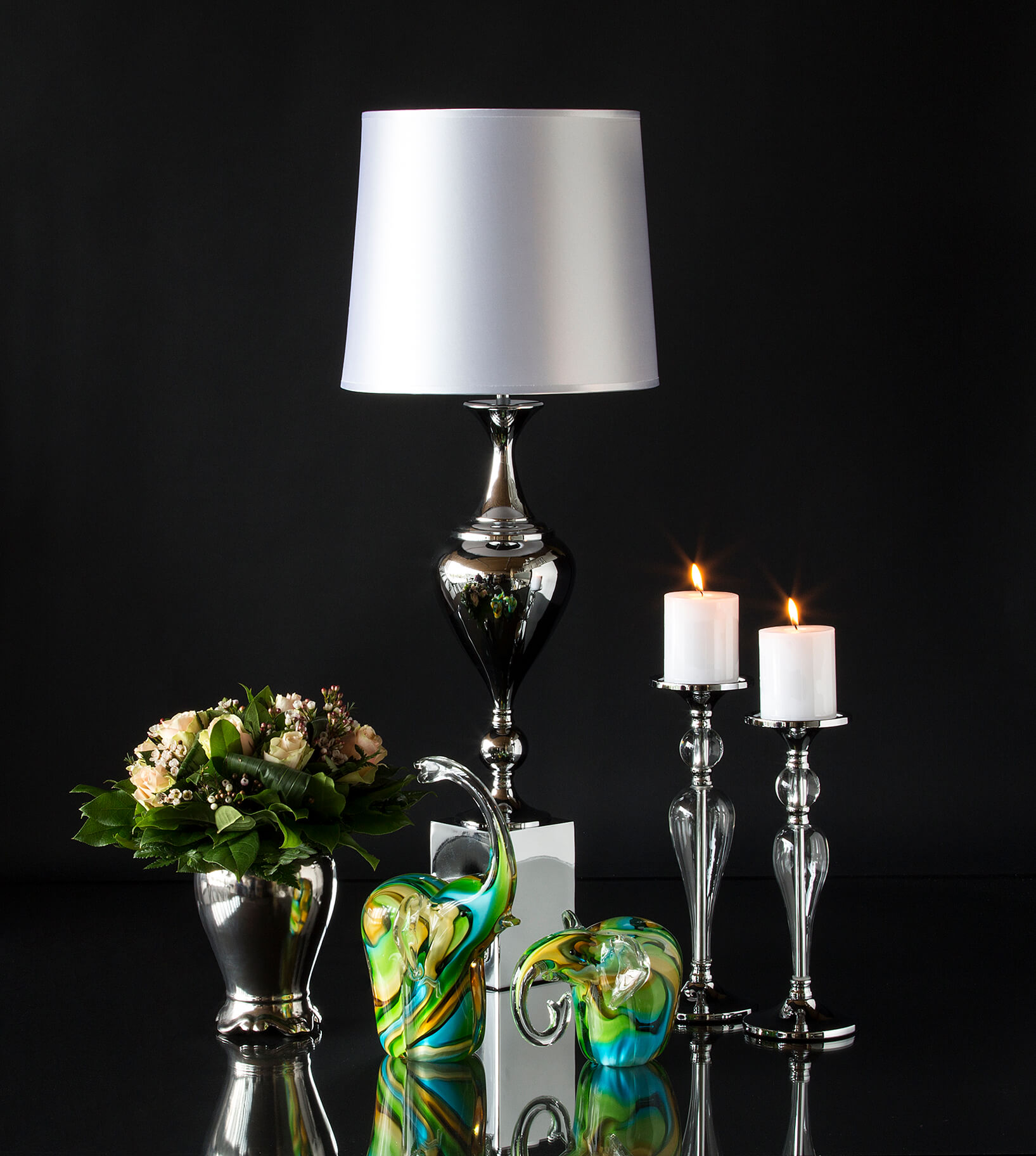 Our fun and coloful glass elephants are set in sharp contrast to a lamp, candlesticks and vase in chrome and glass. Notice how the color combination draws forth the elephants.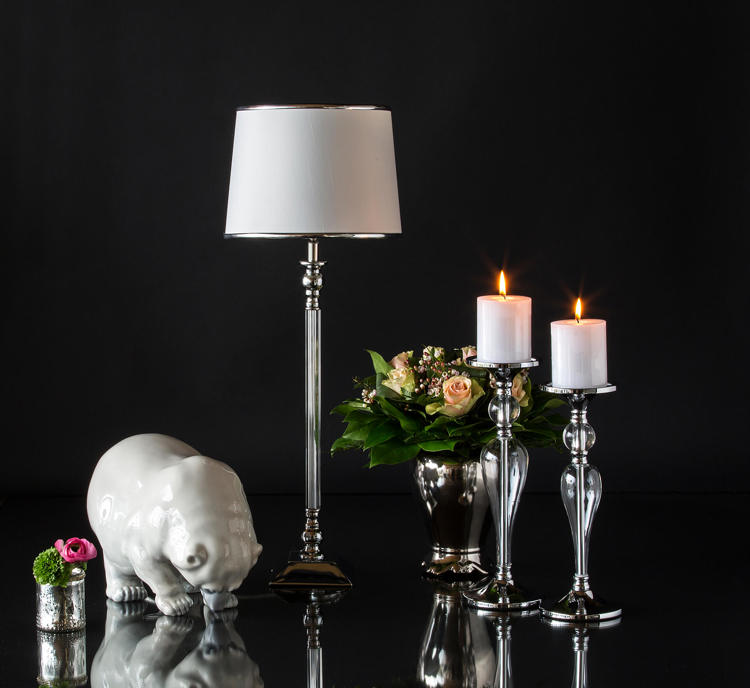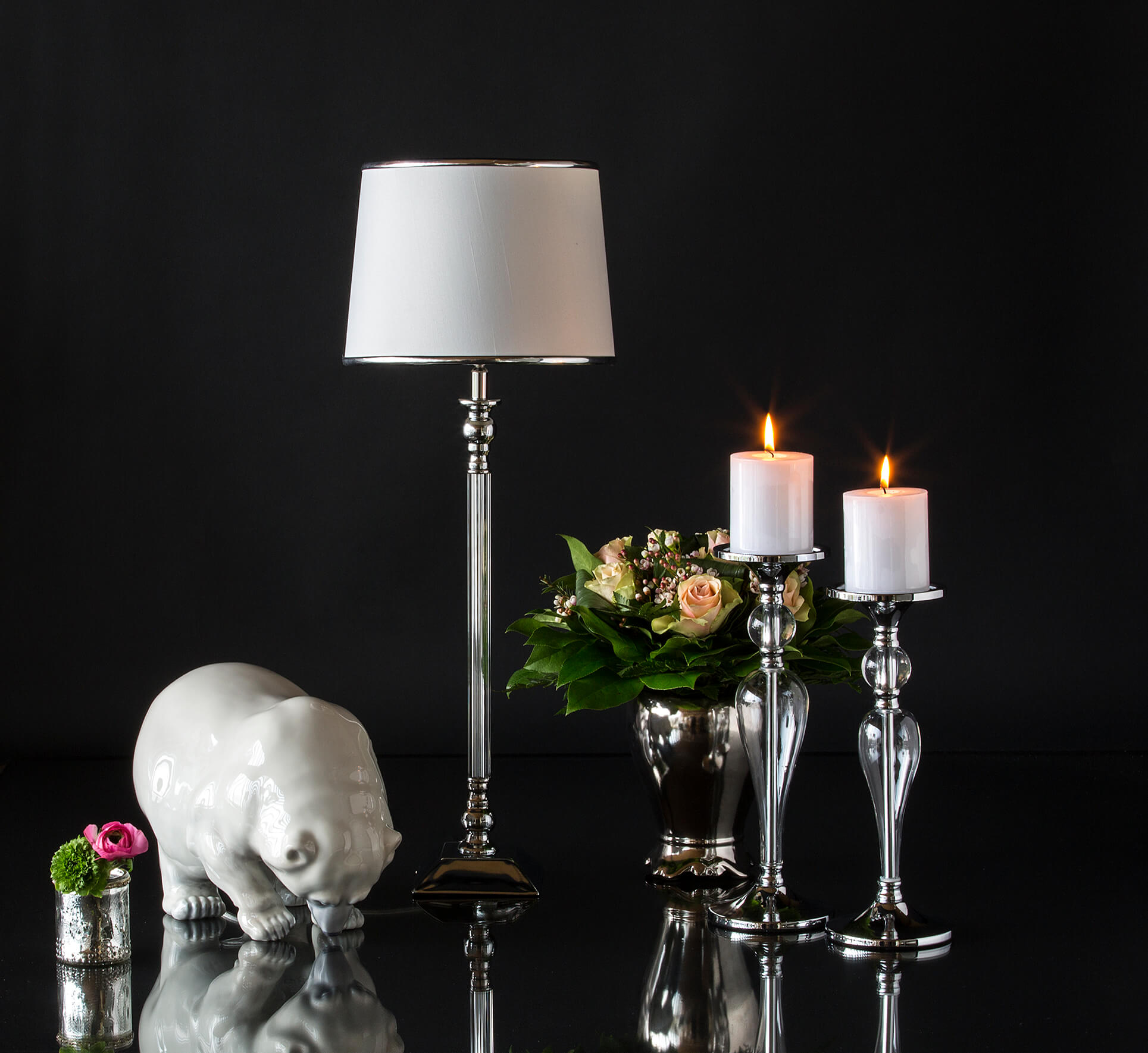 Here the color combination is more muted and calm. The large Polar bear easily slides in with the tall narrow lamp, the vase and the candlesticks. The contrast can be found in the small red flower placed in the tealight candleholder in front of the Polar bear.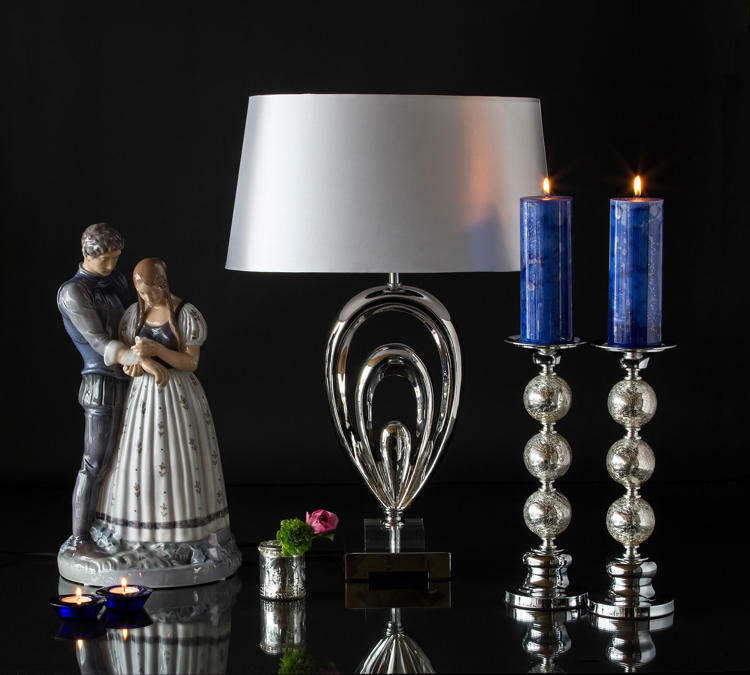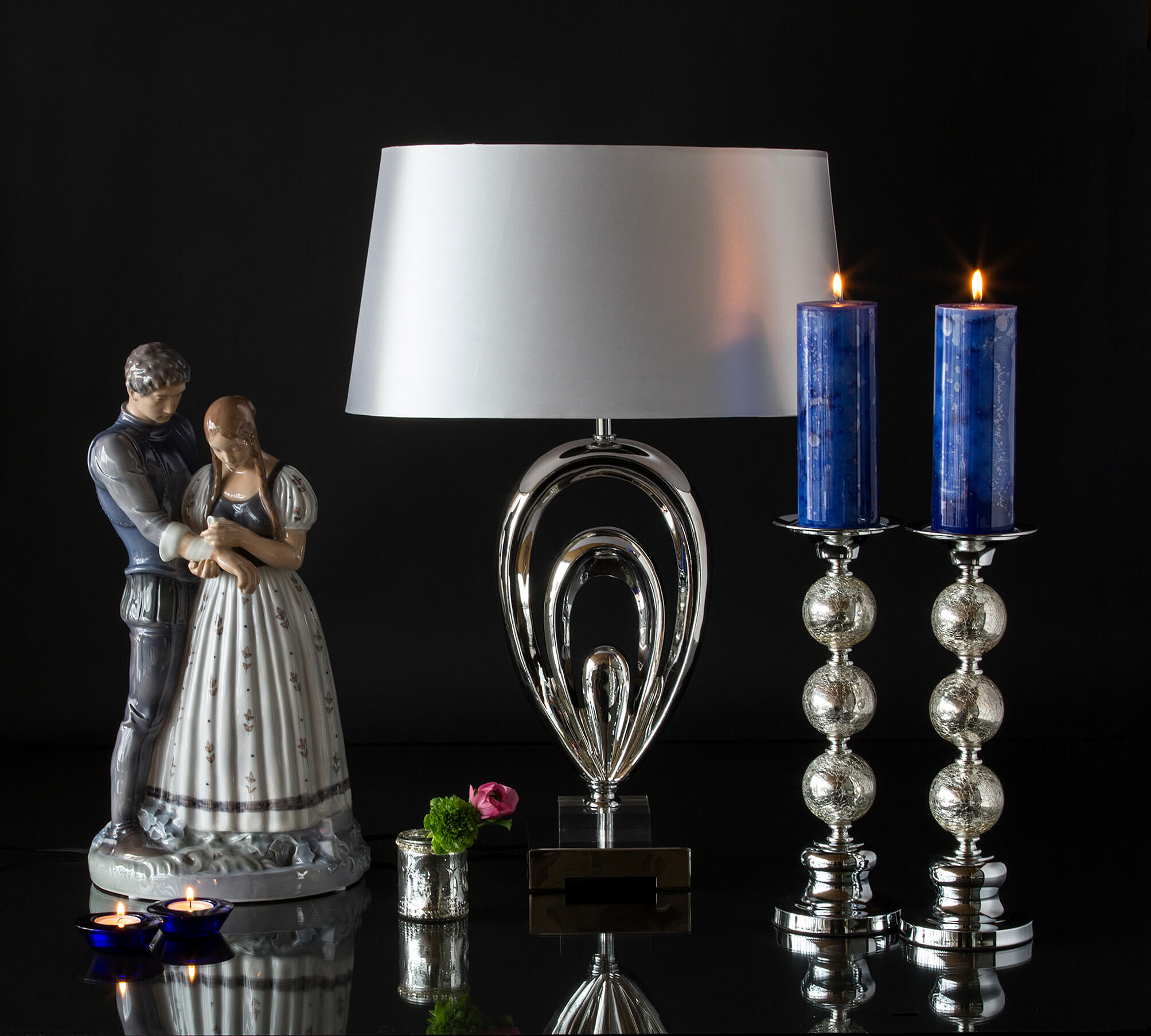 This large setup combines the figurine Maiden and Knight with a large attractive glass lamp and two large candleholders and to break the colors and tealight candleholder with a red flower and two Asmussen tealight candleholders has been placed in front.
Here is the elegant white console put together with something more rustic, anything goes ..... - An old table clock is used as a bookend for the beautiful bound books. The Chinese lamp match the rest of the rustic home accessories.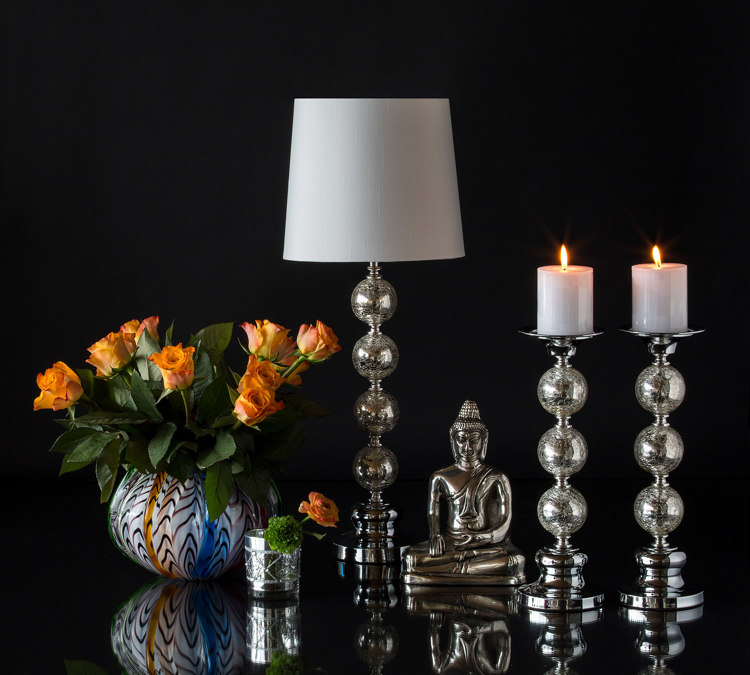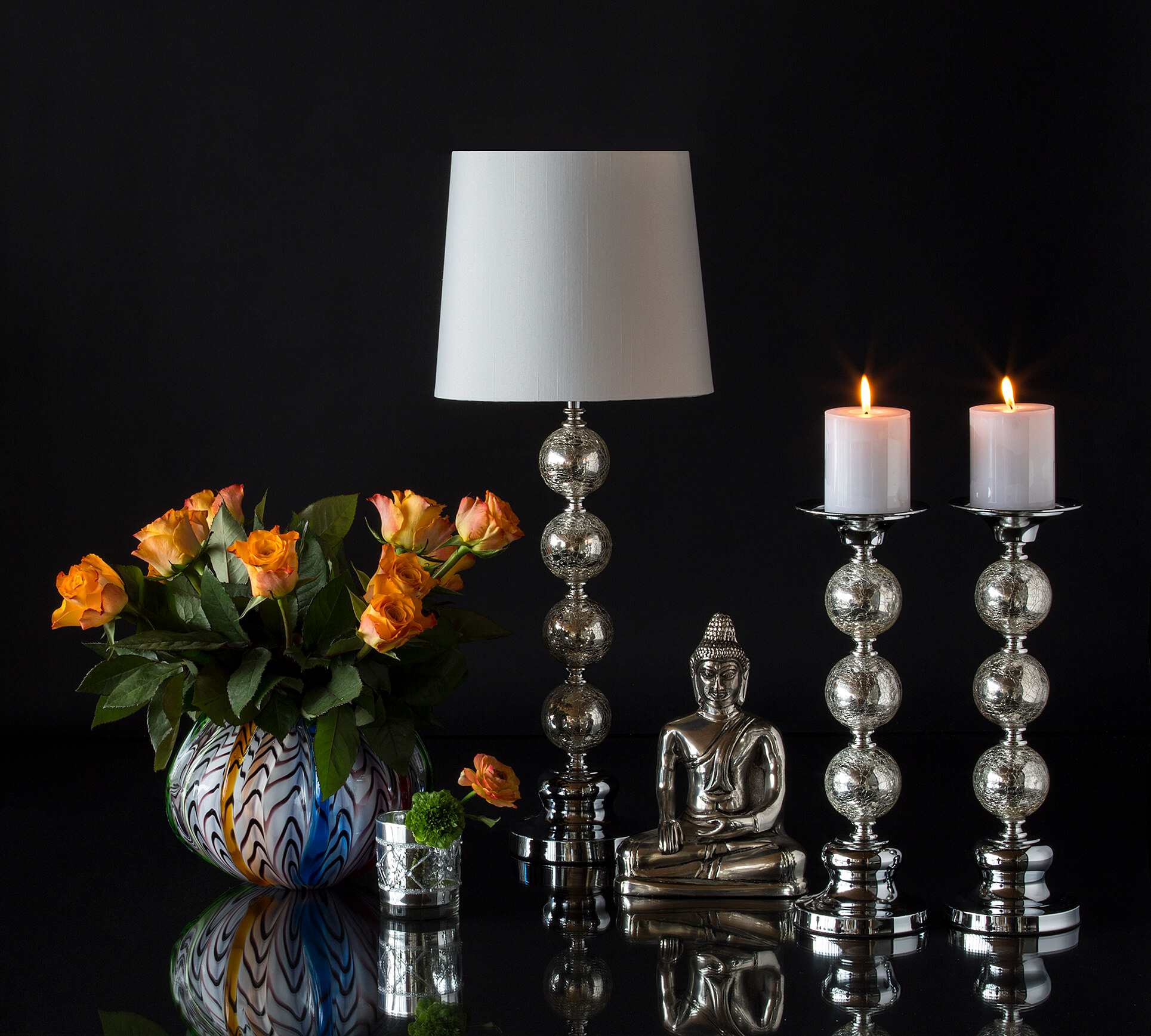 A buddha between a ball lamp and ball candlesticks together with flowers put in a colorfull glass vase and a single flower i a tealight candleholder.
Decorate the sideboard with a large stylish lamp, blue annual or Christmas bells, large Royal Copenhagen/Aluminia vase with blue pattern, Noritake plate and a pair of brass candlesticks.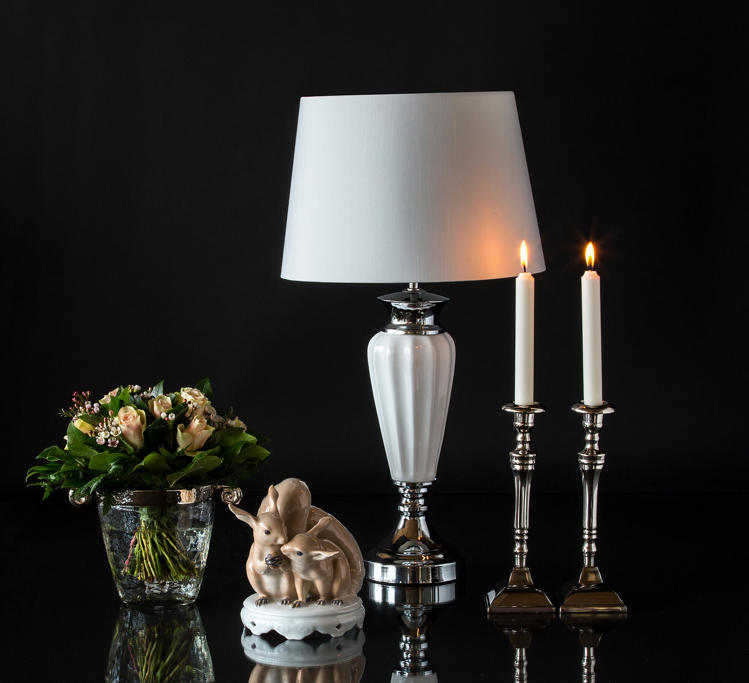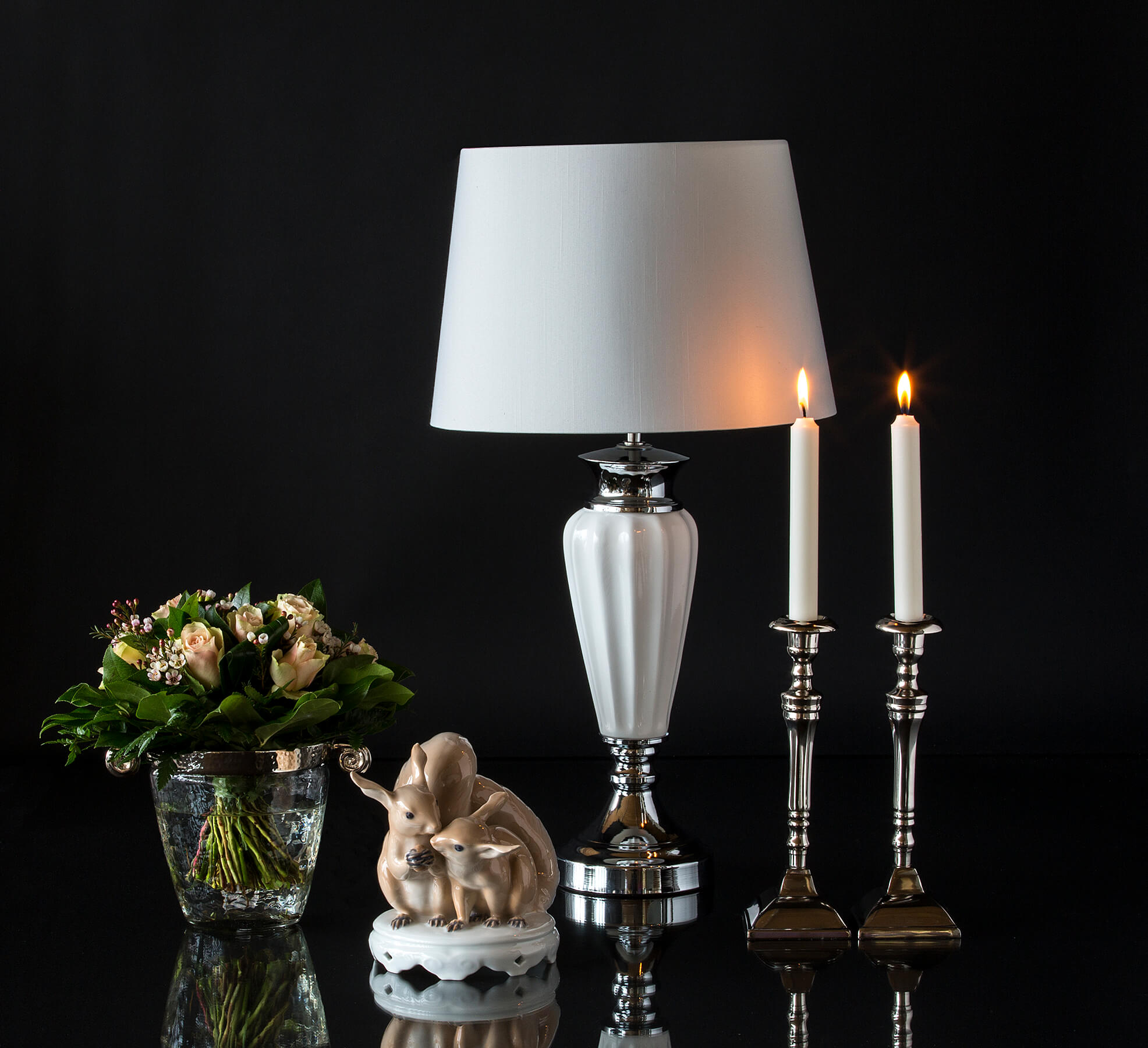 Here an icebucket has been used as a flower vase besides a figurines of two squirrels put in front of a handsome lamp and two candlesticks.
Again, the yellow and blue colours are beautiful put together. A large elegant lamp can be seen together with the old Royal Copenhagen faience earthenware vase and RC faience bowls from the 60s and 70s which are becoming popular again. - The great Wiinblad dish / plate on a plate stand are produced by Rosenthal and designed by our Danish artist Bjorn Wiinblad.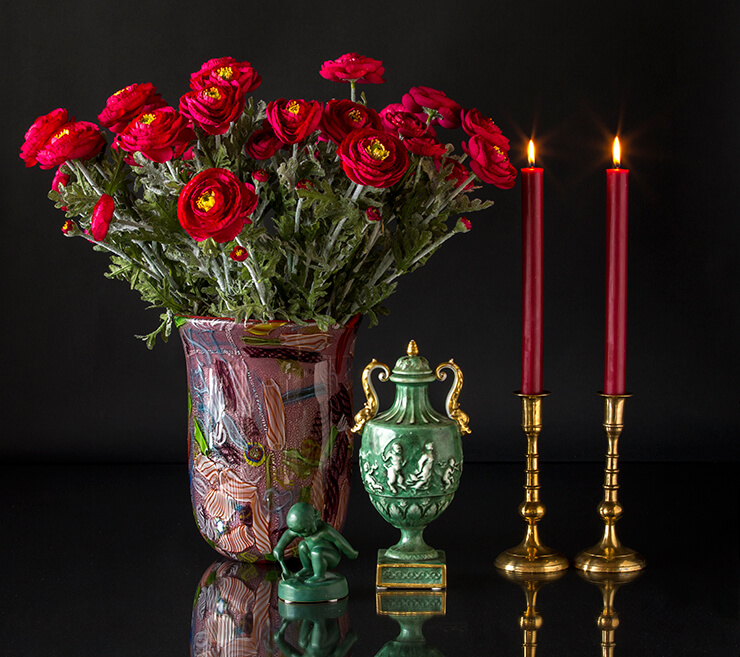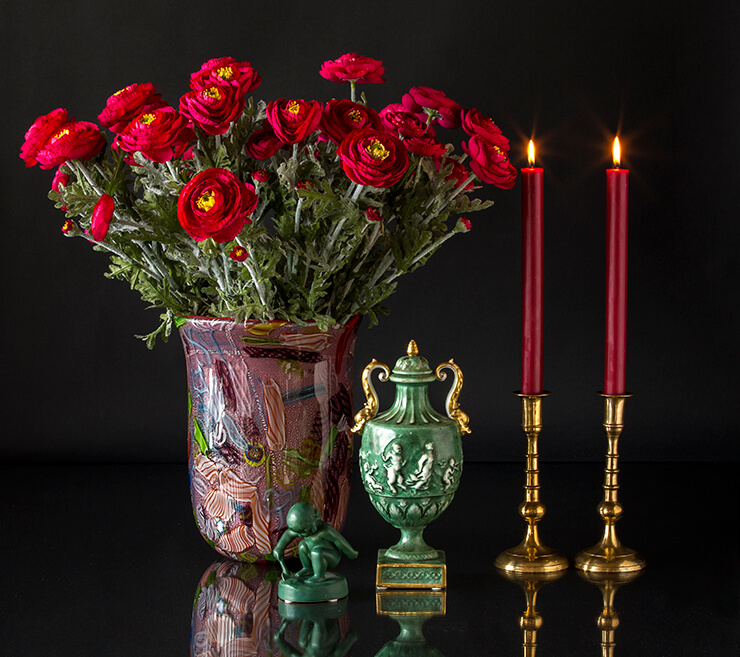 The red glass vase is set in contrast to the green Von Schierholz jar and Ipsen figurine, where the gilding of the jar matches the brass candlesticks.
Japanese Kutani Lamp with wooden stand, and lampshade in matching color. - Here, put together with colourful glass art.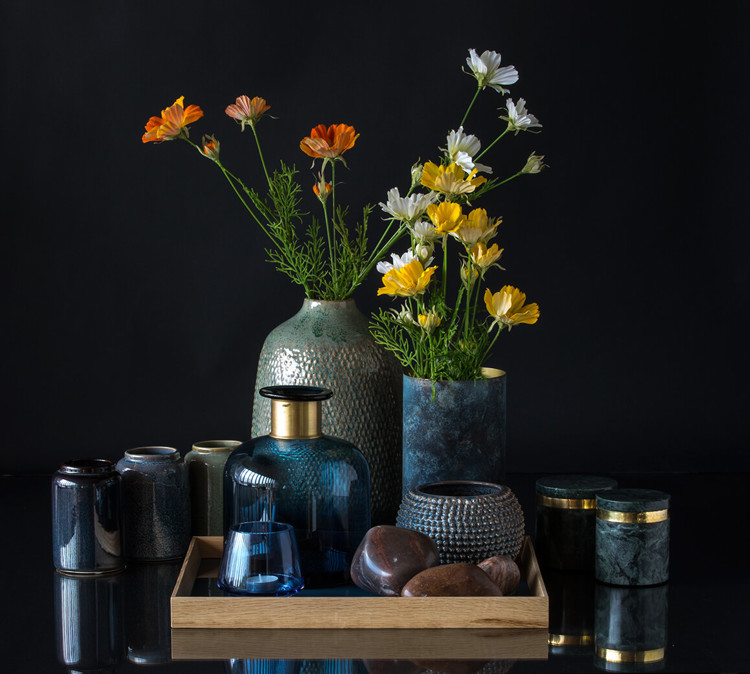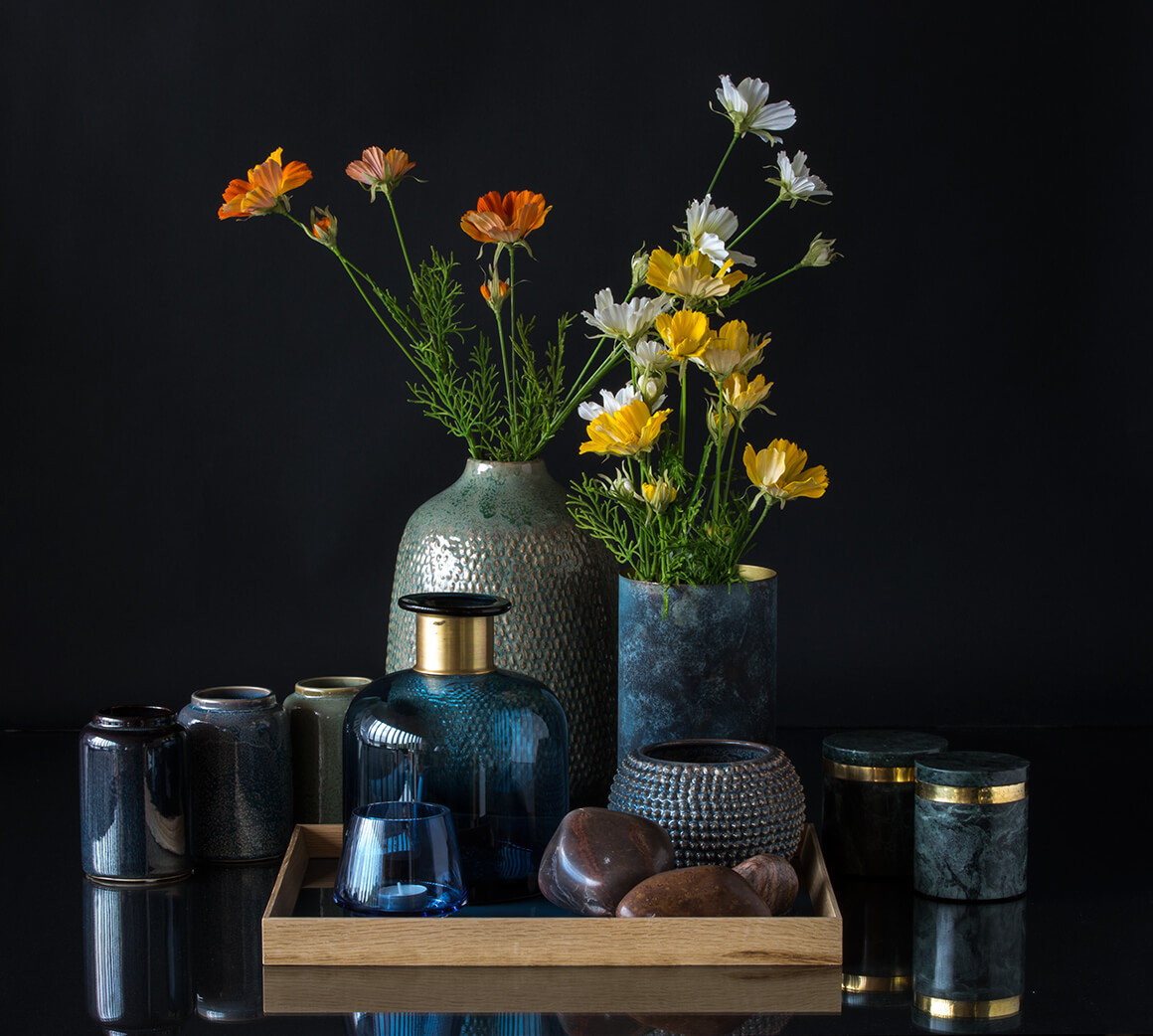 Assortment of vases, jars and tealight candle holders in matching style with a rustic wooden tray.
Create a nice atmosphere with the golden colours and the comfort of lit candles. - Here you see a Chinese lamp with oblong hexagonal lamp shade, Royal Copenhagen Margrethe bowl, brass candlesticks and a Holmegaard glass vase with fresh hyacinths.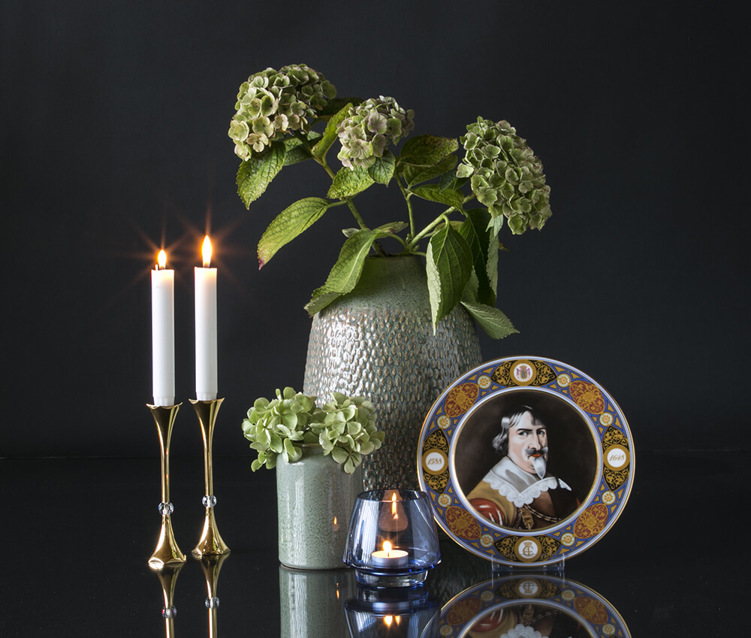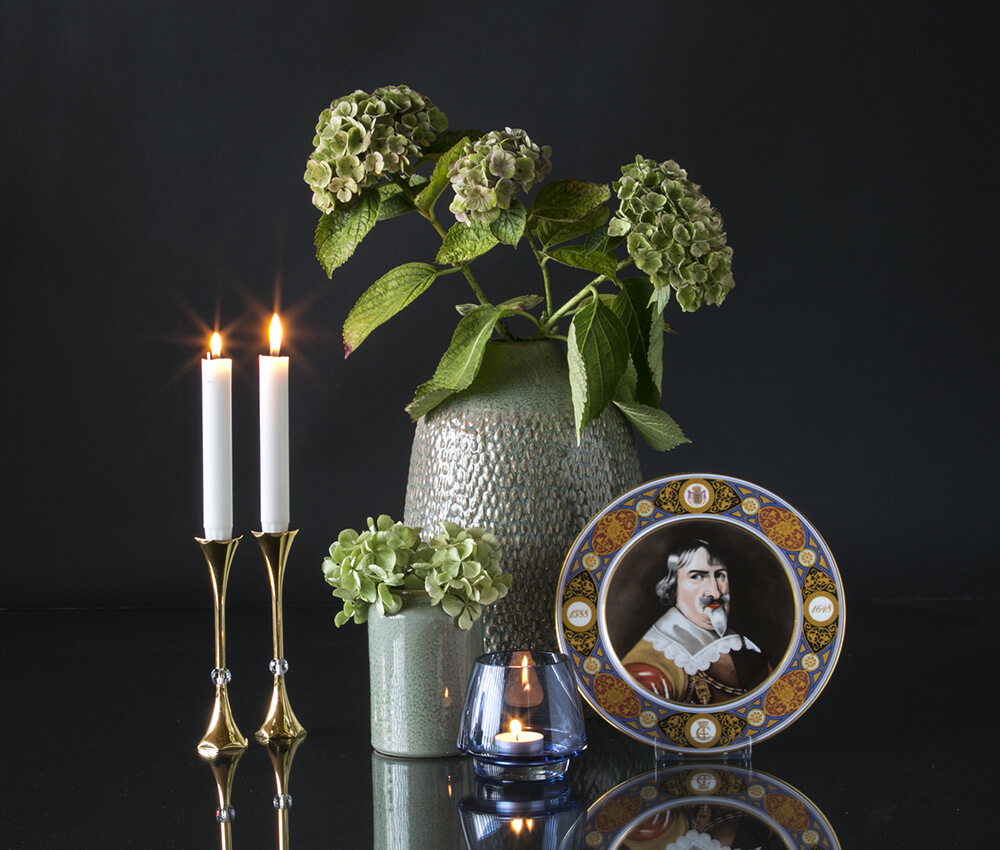 Here a plate of king Christian IV has been set together with a rustic vase and Asmussen Hexa candlesticks.
Danish design at its best!
Reading Corner, consisting of a Le Klint Telescope lamp Model 349. On the wall some old Bing & Grondahl Christmas plates to match the Chinese woollen blanket with blue nuances, and the great Japanese Kutani Temple Jar. On the table there is an old brass candle holder, as well as a Royal Copenhagen glass vase with Mussel decoration.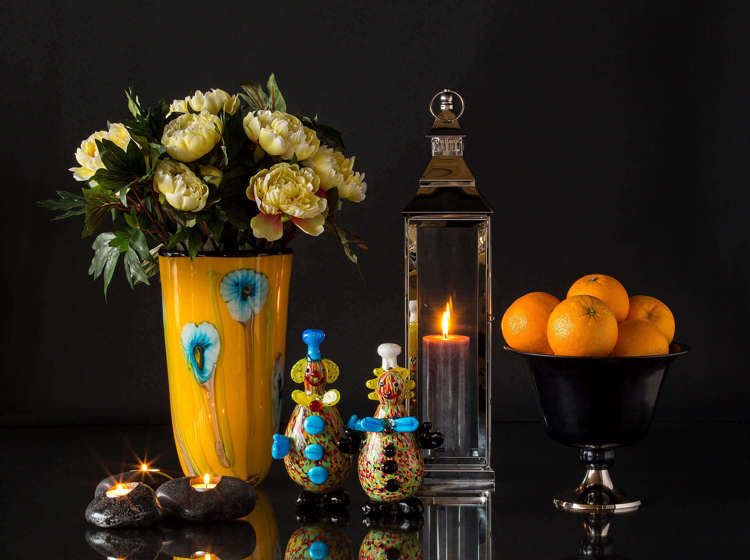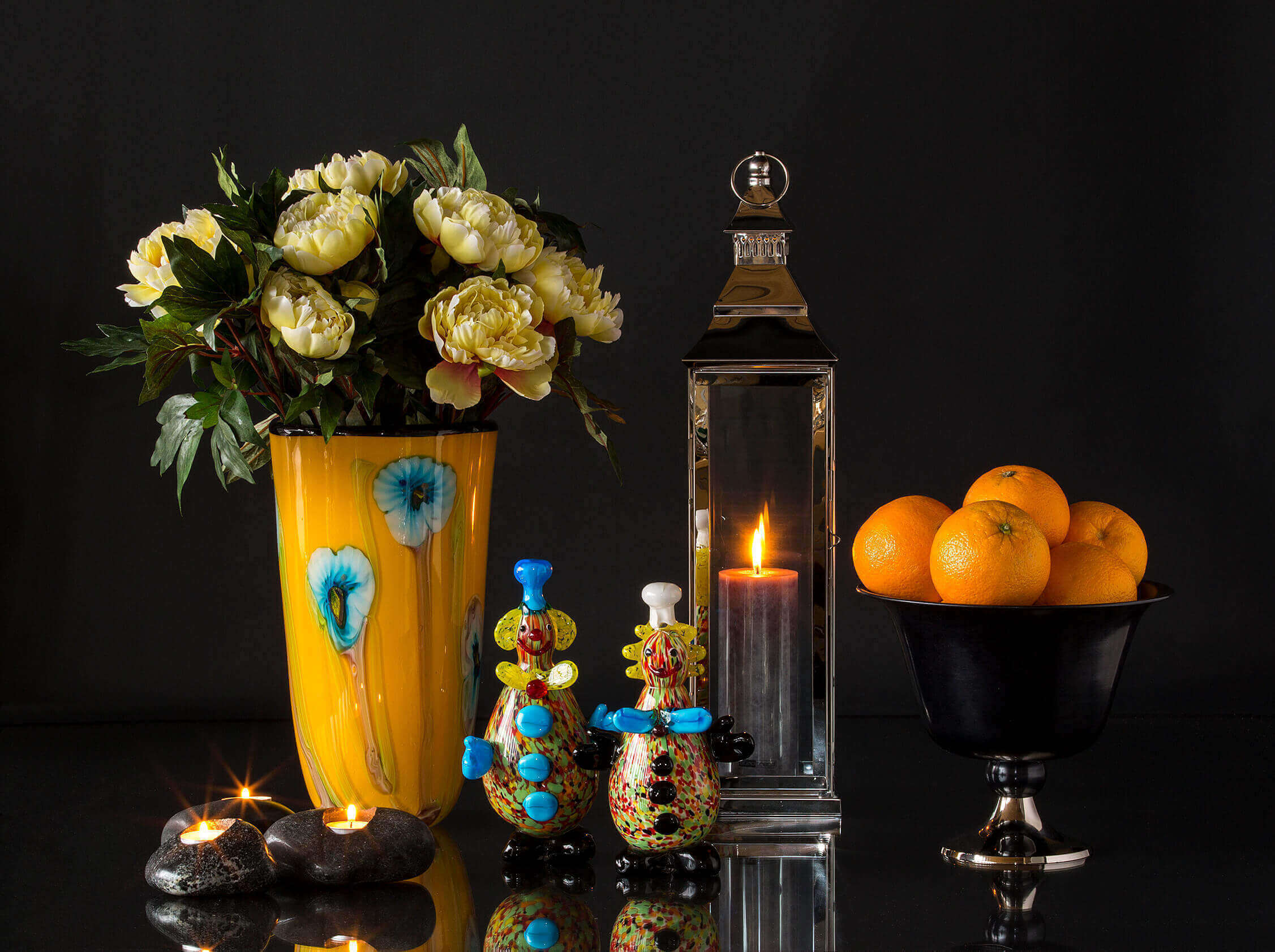 In the more festive corner we have two glass clowns set together with an attractive glass vase, fruit bowl, lantern and tealight stones.
The cosy corner .. a small Japanese Kutani Lamp with hexagonal lamp shade that gives an intimate and cosy light, which helps to emphasize the relaxed atmosphere.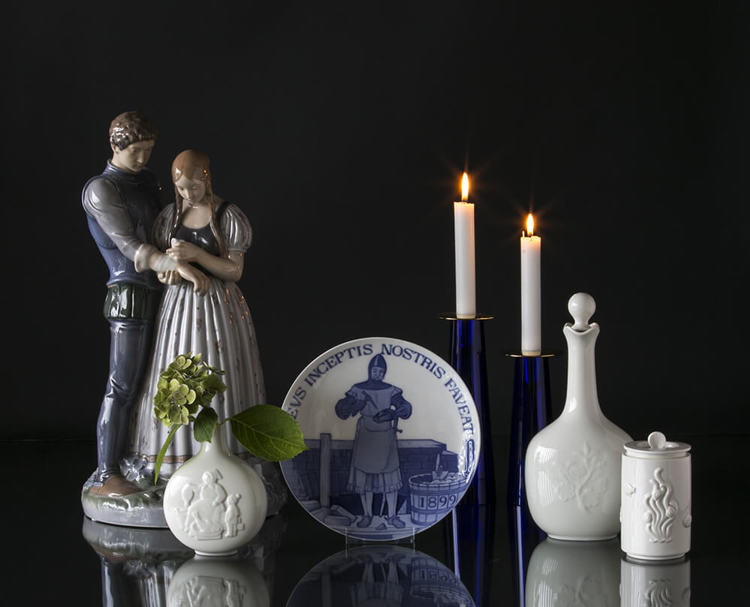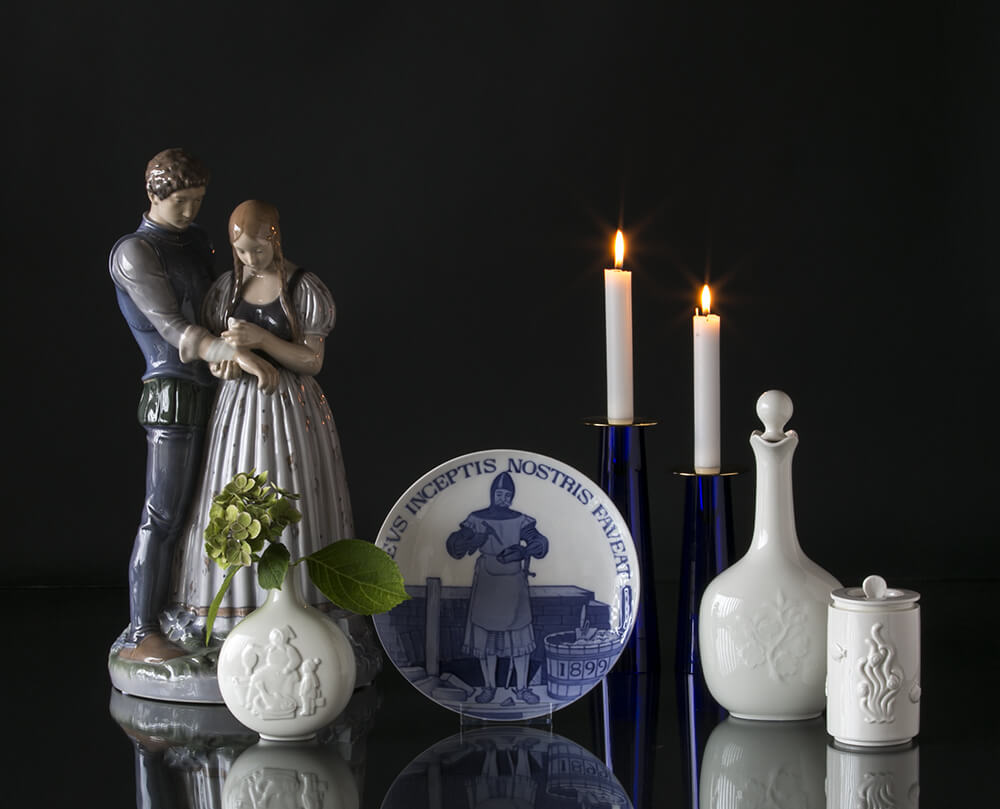 Large figurine of Maid and knight with masonic plate, two Asmussen candlesticks and Royal Copenhagen vases and jars.
An example of a set-up with Bjorn Wiinblad design, by way of Rosenthal dishes, and matching Rosenthal vase. - On the wall you see Bjorn Wiinblad glass Christmas plates from the 70s, placed together with a large off white classic lamp, and a Chinese black lacquer console and Chinese arm chair.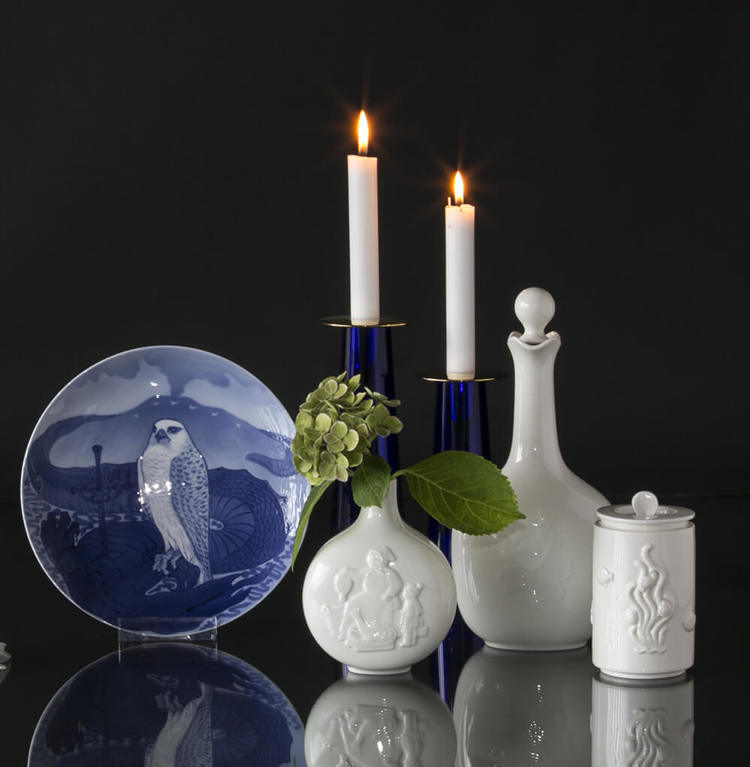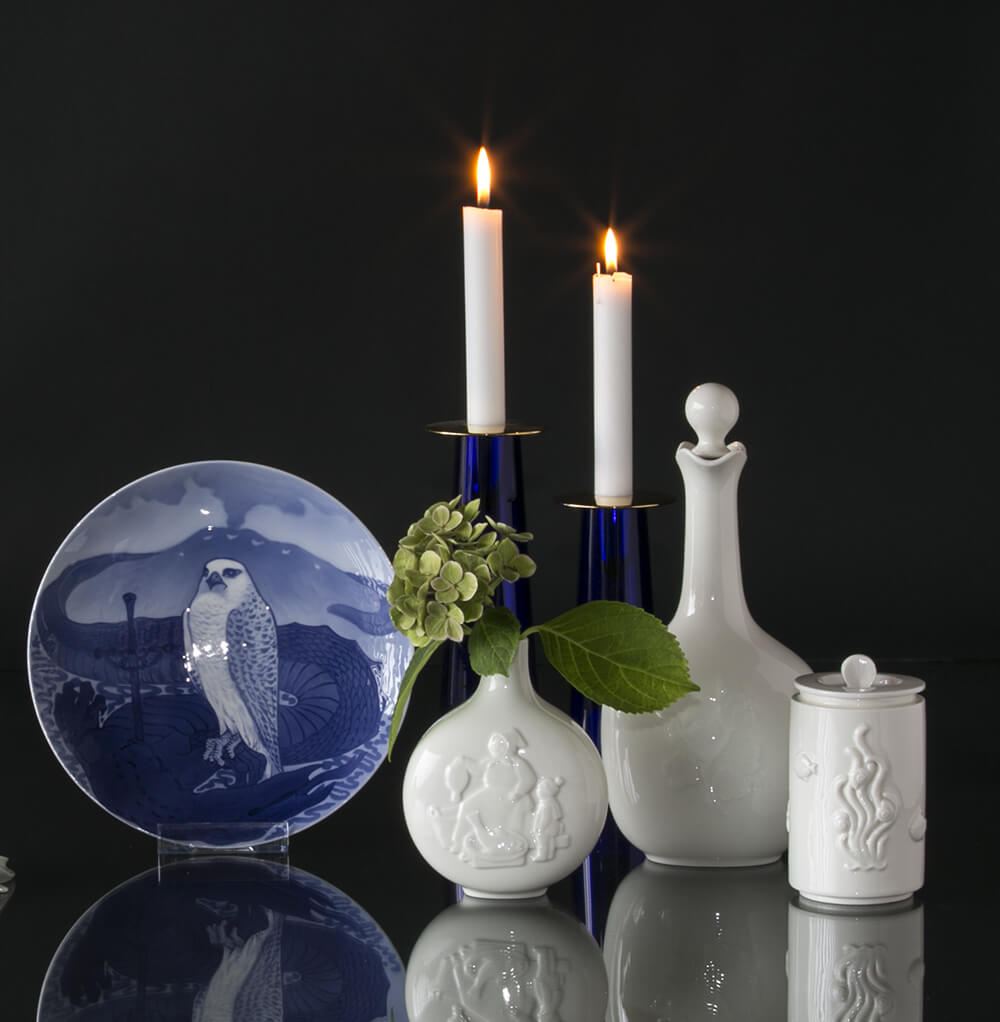 Memorial plate with Icelandic falcon together with white vases and jars in front of Asmussen candlesticks.
Here is the same setup, but on the wall, we hung white Bing & Grondahl memorial plates with gold and black. - The plates are quite common as they were produced in quite large numbers in the 70s, but they were quite expensive when they were produced, - The quality is however very good. - In the right combination, these plates are very decorative. - Maybe you should go in search in your belongings to find some old plates. - (Can of course also be purchased from us ..)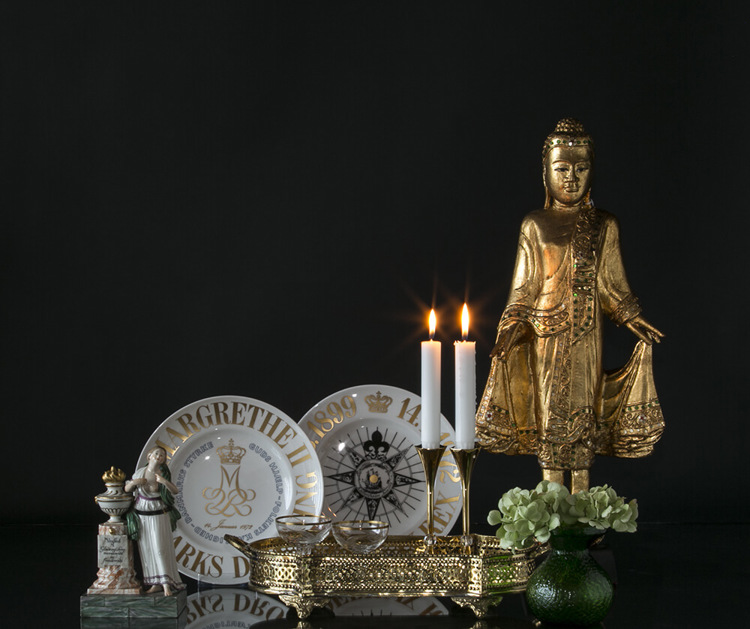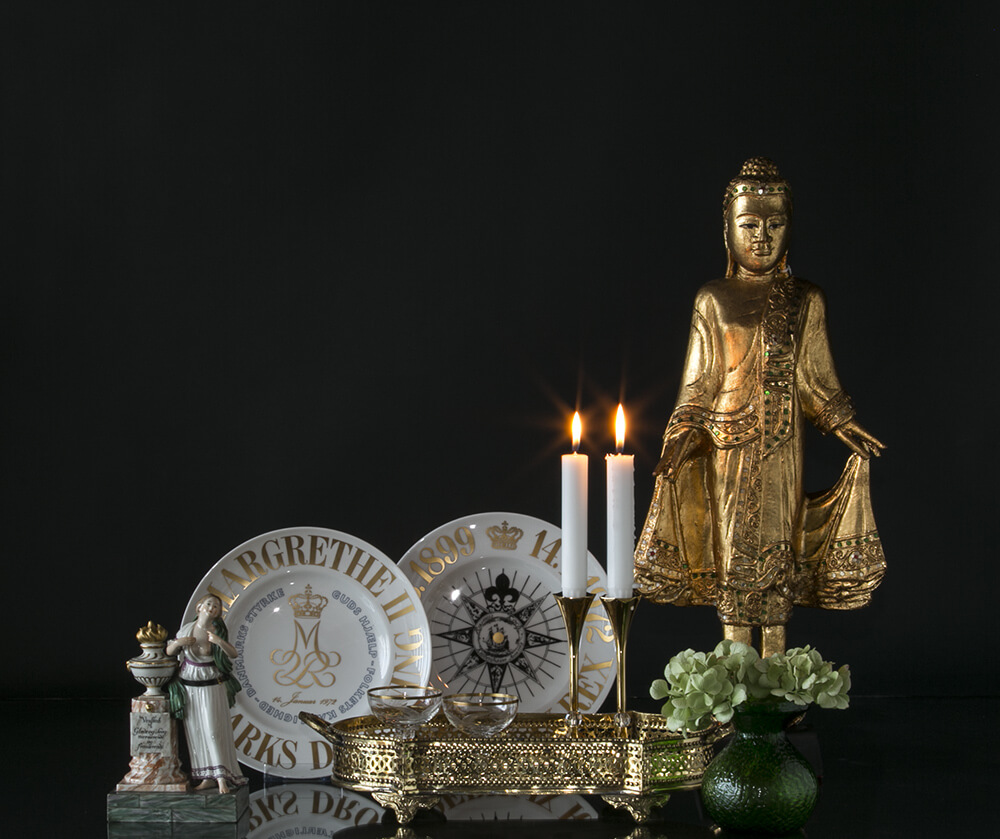 The friendship figurine has been set with memorial plates of queen Margrethe II and king Frederik IX together with a buddha and a tray with Asmussen Hexa candlesticks.
The large mouth blown glass vase is placed together with the famous Danish Asmussen drop candlesticks in brass, a black frog figurine from Royal Copenhagen, a black Chinese lamp with Chinese characters in gold to match the gold ormaments on the black console, and the Chinese lacquer chair. - A setup which goes well together, and which is not boring to look at ...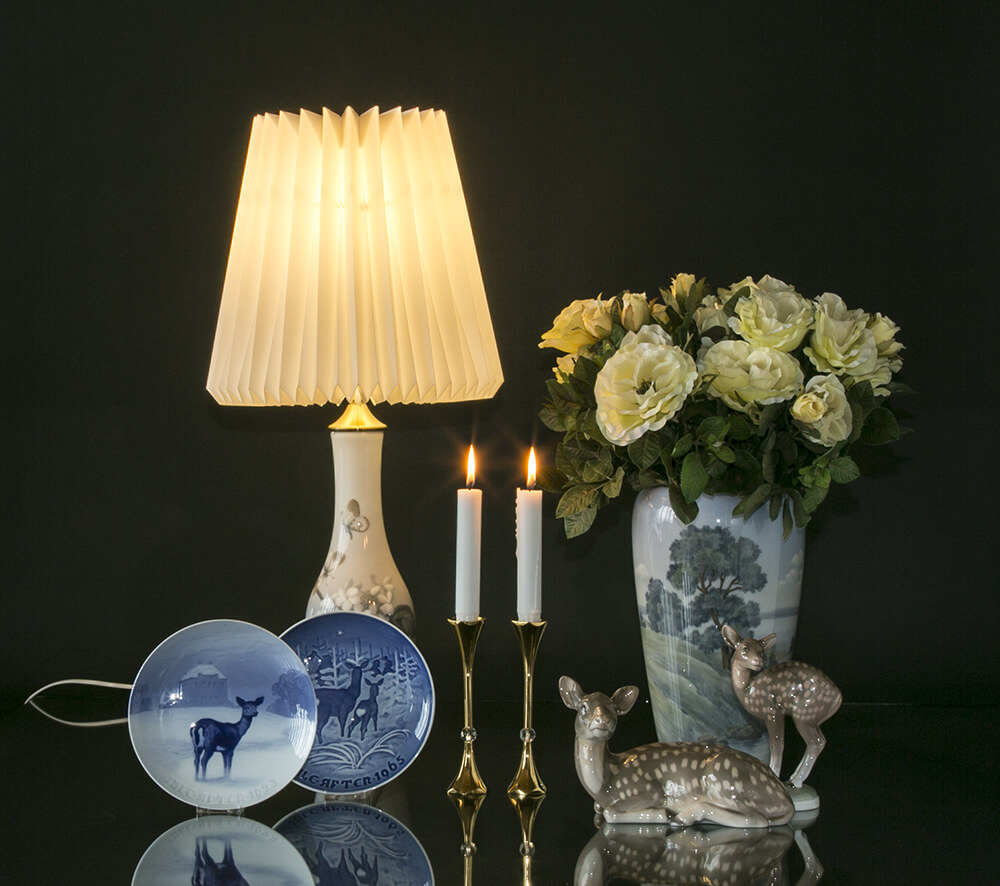 Here we have an ensemble of nature motifs with Bing & Grondahl Christmas plates of deer together with deer figurines, a vase with landscape motif in front of a Bing & Grondahl tablelamp. In the middle are two Asmussen Hexa candlesticks.
Here is almost the same set-up, however, the table lamp is different and the fascinating Chinese antique-red lamp with birds and flowers, match the plate on the wall, which is a Hutchenreuter plate, designed by Ole Vinther.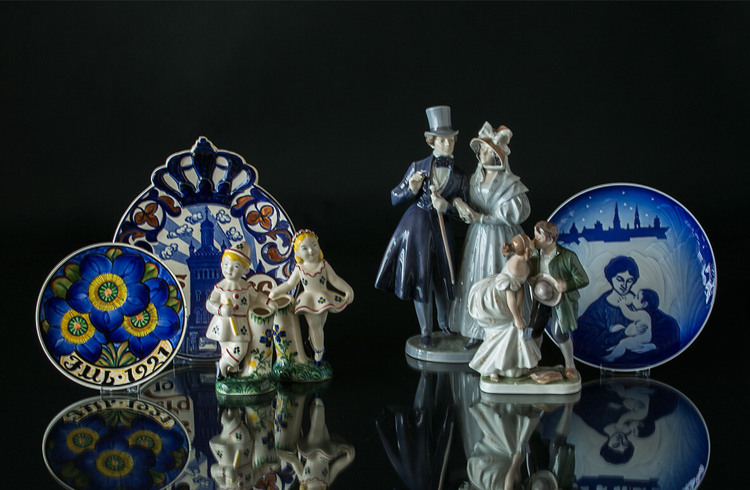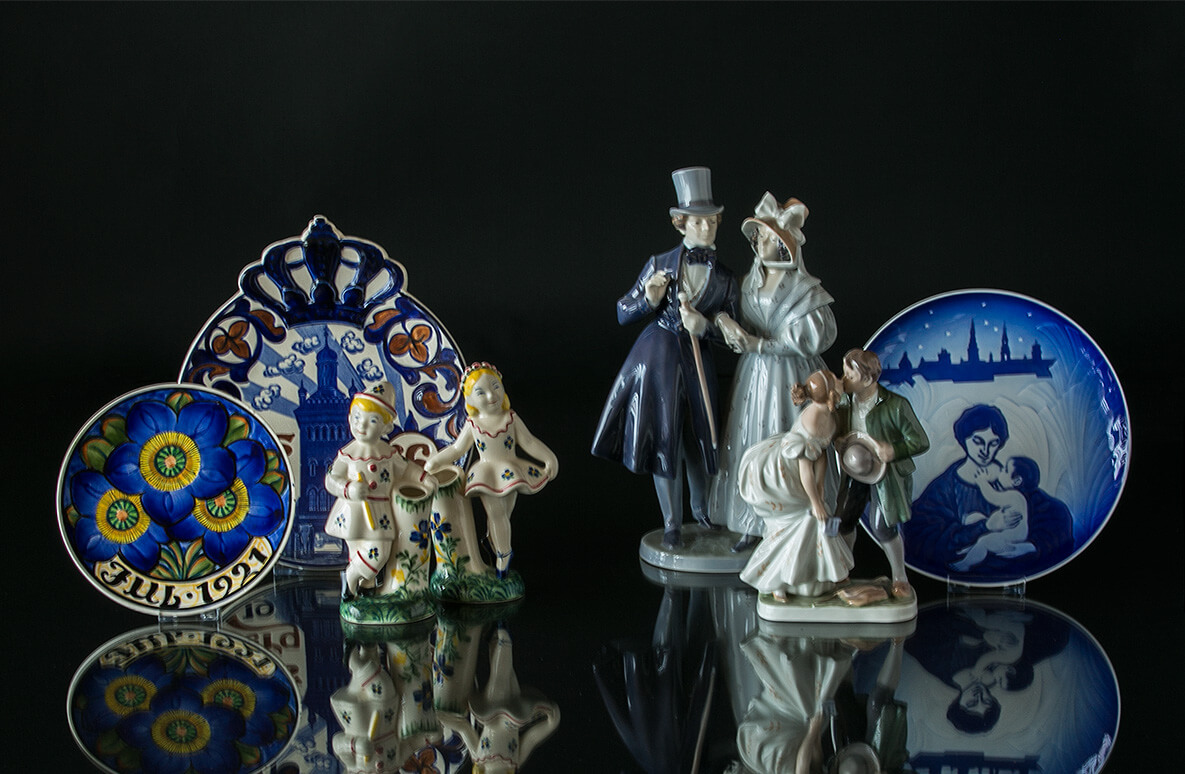 This ensemble is a beautiful arrangement of Aluminia Christmas plates and Brewery plates together with two children's welfare figurines set in opposition to two Royal Copenhagen figurines and a memorial plate of the fusion of Royal Copenhagen and Bing & Grondahl.
A setup with silver and black is always nice. For breaking the monochrome, we have used large floor candlesticks with bordeaux candles matching the fresh tulips, and a bordeaux oval lamp shade, Lene Bjerre table lamp.

Again, here is a mix of styles, which helps to provide a great personal style.

Most people would probably not mix The Japanese samurai couple, and the old Royal Copenhagen Christmas plates, however put together the right way, almost everything is possible. - Just go ahead with your experiments ....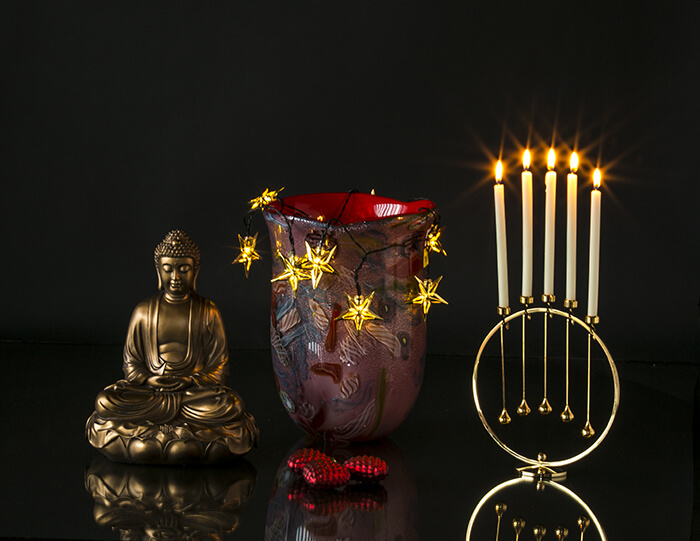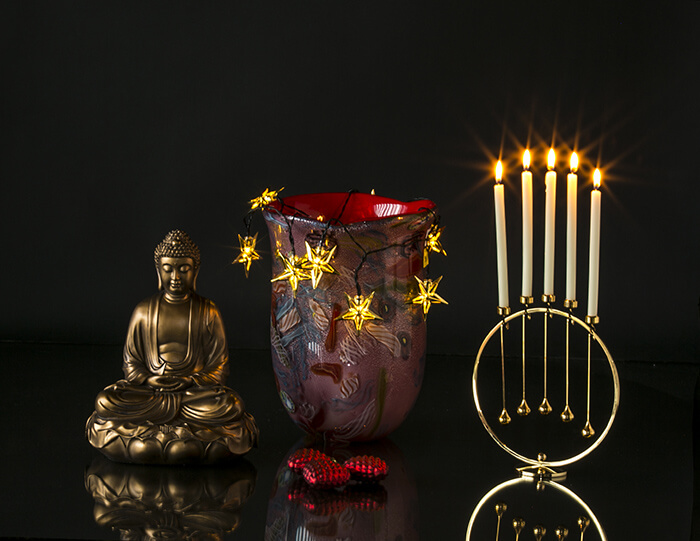 The attractive dark red glass vase has been set together with a buddha and Asmussen candleholders on the Asmussen year ring.
Here is an idea for a set-up in the living room, in the hall, or where you need a something beautiful to look at... - Fresh flowers in tulip vase, a big bordeaux lamp with a lampshade, on the table is an old antique stoneware bear from Bing & Grondahl. - To give it all a charming and welcoming look a lovely book, and a set of glasses are placed.... Under the table there is a red Chinese jar, also called a Temple Jar, and beside that a great Royal Copenhagen tiger figurine.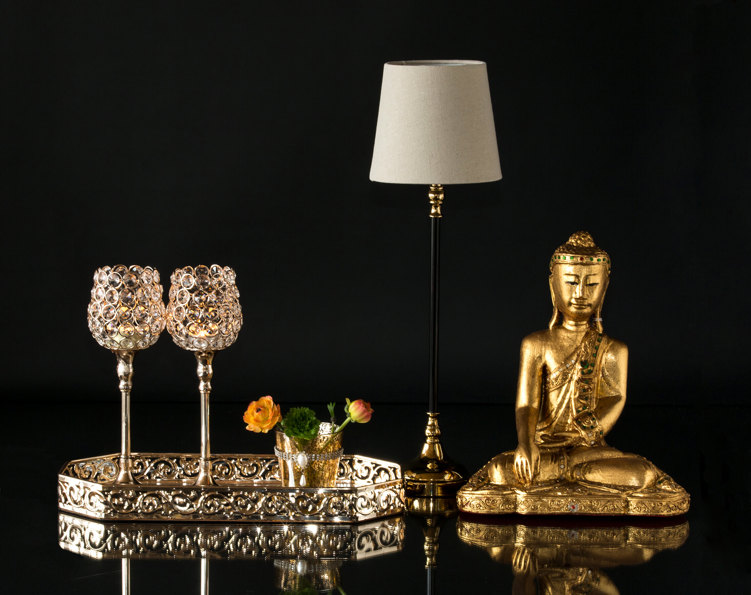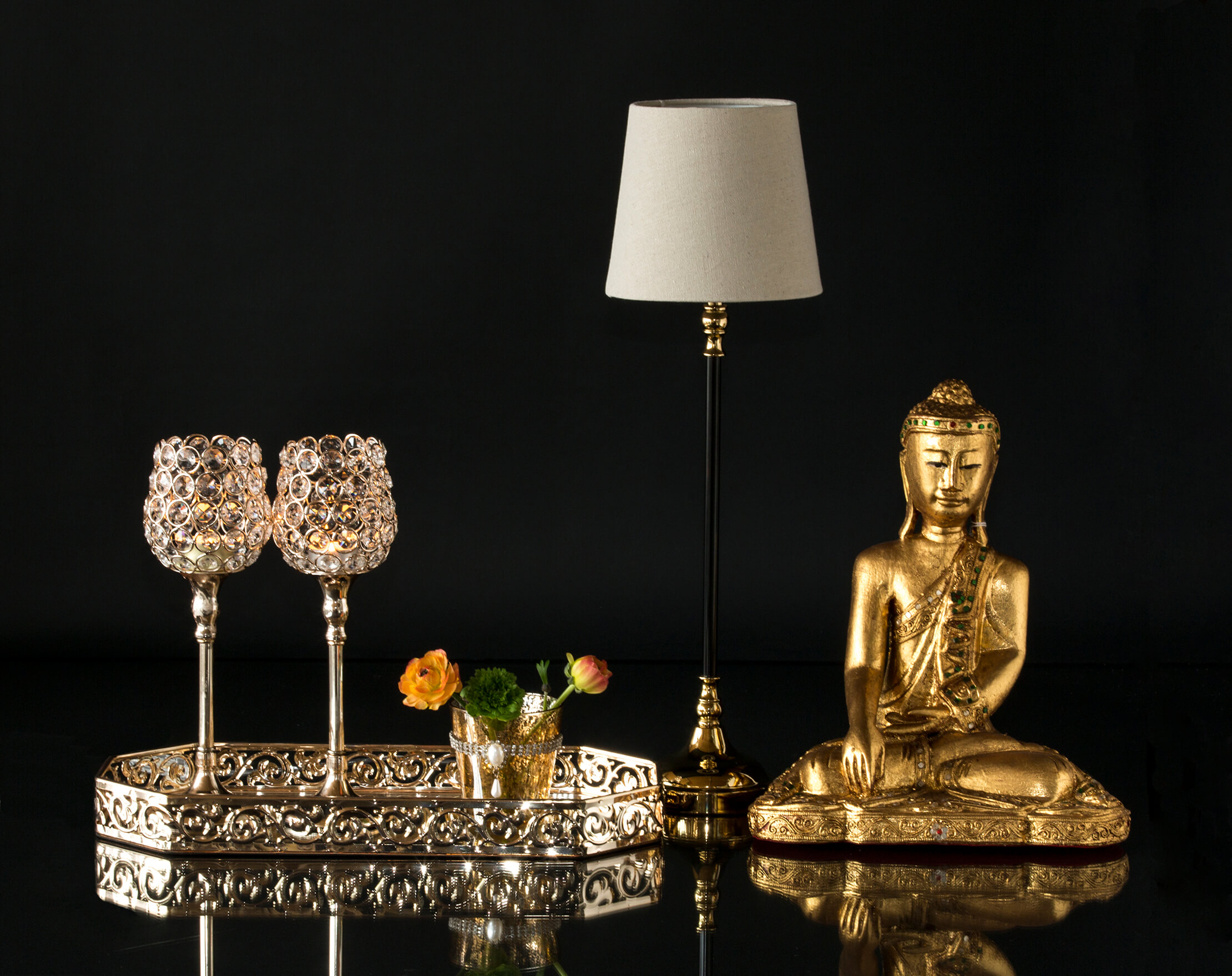 Here the overall theme is golden with candleholders on a mirror tray next to a golden and black lamp and a buddha.
The blue colours in living rooms is as popular as ever. - Here you find the pleasant reading corner, consisting of a nice large chair for relaxation, on the small white table a Chinese lamp that gives a good reading light, and also a cosy atmosphere. - Royal Copenhagen stoneware elephants and a small stoneware bowl from Royal Copenhagen. - On the wall we used beautiful old memorial plates from Bing & Grondahl.
Page 1 2