The elephant is a magnificent animal and figurines of elephants are very popular. Through the years Bing & Grondahl, Royal Copenhagen and Kay Bojesen have designed and manufactured elephant figurines. The elephant figurines are made of porcelain, stoneware, wood and other materials.
Bing & Grondahl and Royal Copenhagen have produced figurines of elephants in both porcelain and stoneware. The majestic elephants fascinate many and in the East the elephant is a highly appreciated animal. In Denmark we only know the elephants from the zoo where we see them as big good-natured animals. Porcelain figurines and stoneware figurines of elephants depicts the large animal both as young and old.

Kay Bojesen has also designed a sweet wooden figurine of an elephant.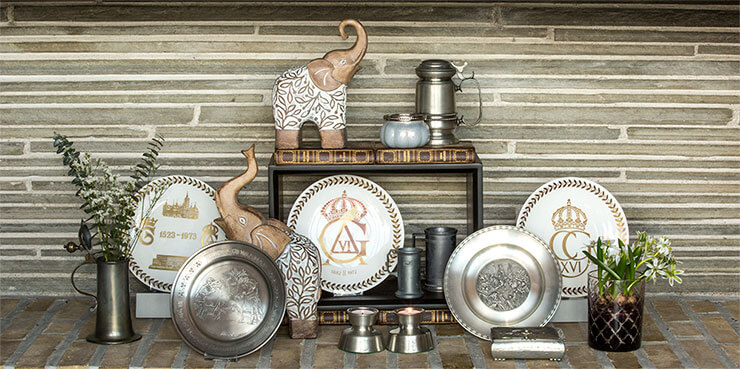 Royal Copenhagen and Bing & Grondahl figurines of elephants
Bing & Grondahl
has made two impressive figurines of kneeling and walking elephant, as well as elephant cubs. The figurines are old and very rare, since there have only been manufactured few pieces of them. One of the B&G figurines of kneeling elephant, is definitely designed by
Dahl Jensen
and the other Bing and Grondahl figurines of walking elephant, could be designed by Dahl Jensen too. Dahl Jensen is the artist behind many of Bing & Grondahl animal figurines and he was one of the best artists to get the correct expression in the figurines. The collection also includes Bing & Grondahl figurine of an elephant with a raised trunk, although not quite as big as the other two, but still incredibly well designed.
Royal Copenhagen
has only made three porcelain figurines of elephants - a large figurine of approximately 30 cm, designed by
Th. Madsen
and two smaller Royal Copenhagen figurines - one of approximately 11 cm, designed by
Knud Kyhn
(KK), lifting his trunk, so we can almost hear the roar, and one of 15 cm, designed by
Peter Herold
.
In addition, Royal Copenhagen has made many stoneware figurines of elephants, large as well as small. The large stoneware figurines of elephants was designed by KK and the small by John Galster. The small Royal Copenhagen stoneware elephants is a nice collection.