Easter Eggs
Many Danes think of Christmas as the greatest Christian festival, however Easter is more important than Christmas. The Easter Egg tradition is old and comes from the time where Egg was a delicacy. At that time the eggs were often used as presents to servants. Today we know the Easter Eggs as some very colorful eggs with a lot of different pattern made by artificial colors but in the beginning they were boiled together with things that gave them natural colors like onions and beetroots. After that they were decorated with pattern, which were scratched into the shell.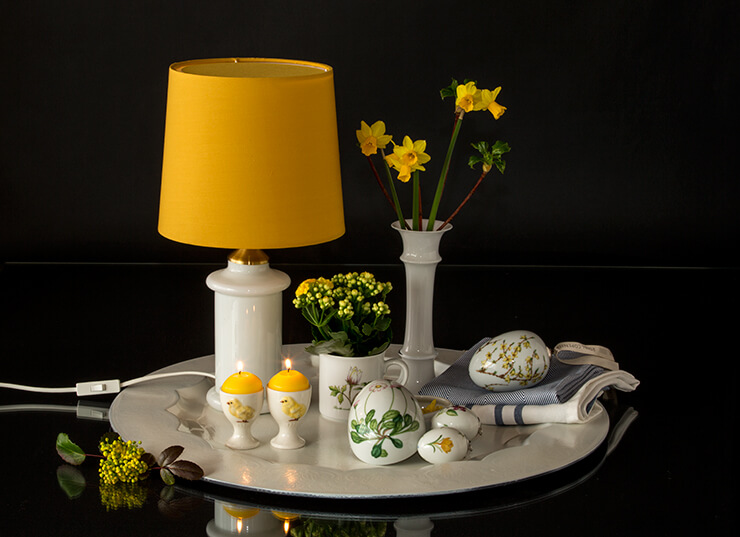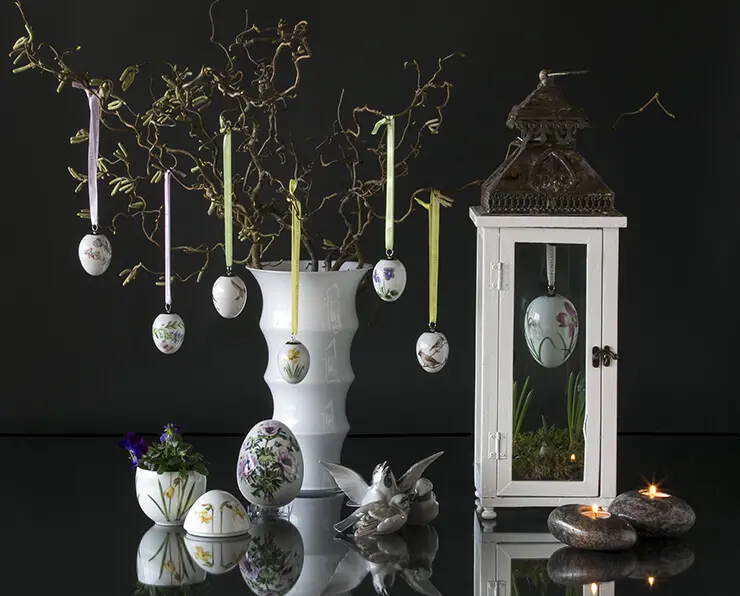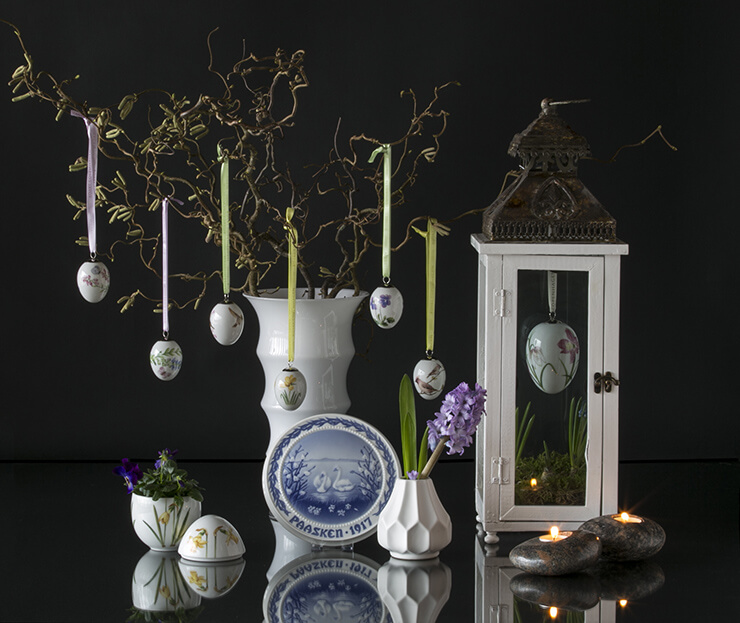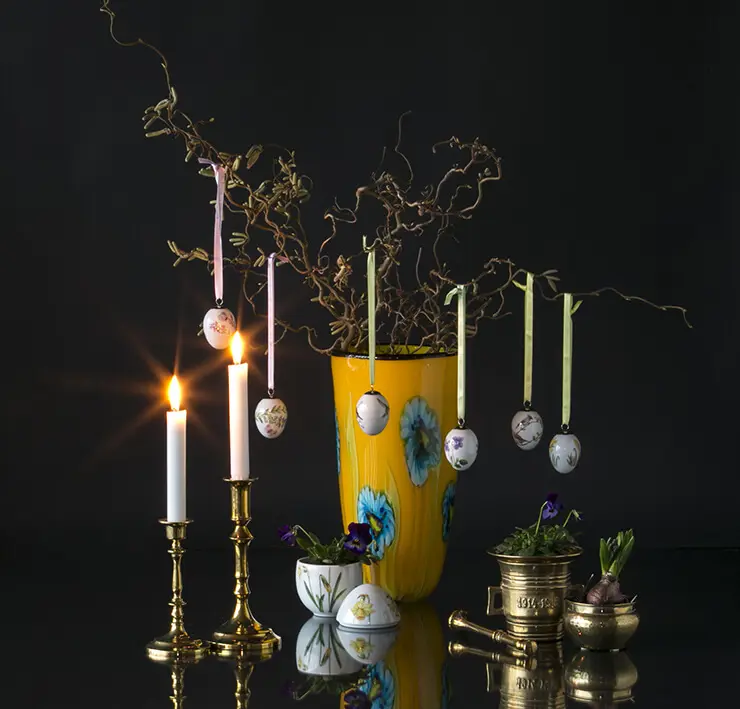 People today have different traditions with their Easter Eggs. Many families with children spent some fun hours together while they are blowing out the Eggs and decorate them in different colors. Gradually the custom with hiding Easter Eggs in the garden has become more spread too. These eggs can be both real eggs or chocolate eggs.
Bing & Grondahl also made a number of Easter plates between 1910-1935. These plate are beautiful momentos for the wall during Easter. These plates did not become as widespread or common as the Christmas plates and are not as available as these. Therefore the Easter plates make a very unique addition to the Easter decorations.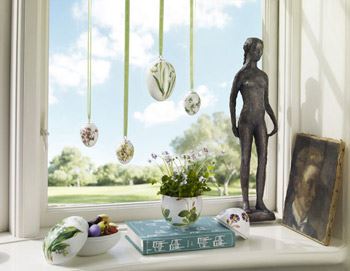 Each year Royal Copenhagen issues a new collection of their beautiful Easter Eggs, decoreted with lovely harbringers of spring like spring flowers and birds. In 2011 Royal Copenhagen also issued a set of Easter Eggs with butterflies for the first time. These Easter Eggs were warmly welcomed by new and old collectors. The Easter Eggs from Royal Copenhagen are made of white porcelain and decorated with delicate colors. The first four Easter Eggs were issued in 2006 and the motifs were a yellow winter aconite, a white snowdrop, a pink pansy and a purple crocus. The Easter Eggs are produced for one season only and a new motifs are used next year. The first collection of Easter Eggs, isseud in 2006, became very popular and in 2008 the first four Easter Eggs were issued again in a special gift box.
Together with the first Easter Eggs with spring flowers, were also issued a set of four Easter Eggs with Blue Fluted motifs - palmette, flower, circle and meandering sprig. Today these four eggs are also popular collectibles.
The motifs in 2007 were a white pansy, a yellow crocus, a blue hepatica and a purple violet.
2008 offered a yellow anemone, a blue pearl hyacinth, a white daisy and a bluetit. As a new thing, Royal Copenhagen made a single Easter Egg with a bird instead of flowers and it was a great success. So each year since 2009 there has been issued 2 Easter Eggs with flowers and 2 Easter Eggs with birds. 2008 was also the first year in which Royal Copenhagen launched a spring bonbonniere on 17 cm, perfect for small chocolate Easter Eggs, a hyacinth or other decoration. The motif is fritillary. Together with the bonbonniere there was also issued a large Easter Egg on 10 cm in comparison to the normal Easter Eggs on 6 cm. The motif of this first large Easter Egg is a poppy anomone.
The motifs of the 2009 Easter Eggs are blue forget-me-not, white anemone, chaffinch and great tit. The large Easter Egg is decorated with a yellow daffodil.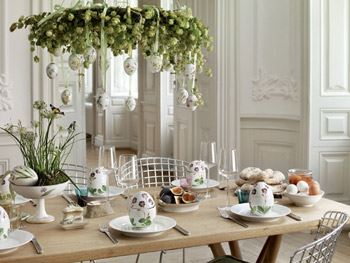 The 2010 Easter offered beautiful Easter Eggs with a pink primrose, a blue iris, a greenfinch and a wren and also the large Easter Egg with a pink tulip. The spring bonbonniere, which was issued in 2008, was supplemented by a smaller version on 12 cm with motif of a purple primrose. In this period, Royal Copenhagen also issued 4 small plaquettes on 8 cm with crocus, violet, pansy and anomone. There was also issued four mini vases with the same motifs, so you had a perfect decoration for spring and Easter.
In 2011 a new spring bonbonniere was issued with lily of the valley. It differs from earlier bonbonnieres which are stading as you open this one lengthwise so it is laying down. The small Easter Eggs are decorated with pink rebis, yellow forsythia, yellowhammer and monk. The large Easter Egg is decorated with dorthea lily. At the same time there were also issued 2 Easter Eggs with butterflies for the first time.
The motifs in 2012 was a goldcrest, a longtailed tit, a japanese cherry branch and an apple branch. There were also issued two easter eggs with butterflies, one of them depicts a pink butterfly and quaking grass and the other is decorated with a blue butterfly and grass. The motif of the large 2012 Easter Egg is a purple crocus. Also in 2012 there was issued a small and a large bonbonniere. The motif of the large one is a yellow primrose and the motif of the small one on 9 cm is butterfly and bindweed.
The selection of the Royal Copenhagen Easter Eggs has been developed through the last years and new motifs have been issued. 2013 was the first year the Easter Eggs with lamb and leveret were launched. To many people the lamb and leveret are symbols of Easter and the coming spring. When the cute, sweet lambs starts to jump around on the fields, we really start looking for the spring: sprouting buds on the trees and the well known spring flowers that starts to break through the frozen ground. According to tradition we also find spring flowers on the 2013 Royal Copenhagen Easter Eggs. Two less known spring flowers are depicted on the Easter Eggs, wood sorrel and pilewort, and they harmonize perfectly with lamb, leveret, butterflies and spring flowers from earlier years. In 2013 butterflies were also depicted on two Easter Eggs. One of them shows one of the most common ones, Tortoiseshell, which is chosen as Denmark's National Butterfly. The other Easter Egg with butterfly shows a Peacock. The large 2013 Royal Copenhagen Easter Egg depicts a beautiful Helleborus orientalis. The beautiful and popular bonbonnieres were naturally also a part of the 2013 collection. A 12 cm standing bonbonniere depict a bindweed and a 12 cm lying bonbonniere shows a beautiful honeysuckle.
The beautiful porcelain Easter Eggs from Royal Copenhagen in 2014 included 6 small Easter Eggs, one large Easter Egg, a lying bonbonniere and a standing bonbonniere. In 2014 spring birds were depicted on the Easter Eggs againg and it was a welcome return. The two Easter Eggs with birds depicts a swallow and a vibe. When the swallow arrives we now it is a clear sigh of spring. Swollows builds their nests in stables and under roofs, so when you wake up in the morning you can hear their lovely morning singing just outside your window. The vibe is easy to know becasue of the long feather on its head and its beautiful colours.
Natutally the 2014 Royal Copenhagen Easter collection also presented spring flowers - the yellow coltsfoot and the light pink wood hyacinth. Also butterflies were depicted on the 2014 Easter Eggs, a yellow and a purple. The large Easter Egg shows a yellow buttercup. The Easter Eggs looks beautiful on a branch in your living room and naturally you can mix them with old Easter Eggs. The lying bonbonniere with clematis was perfect for Easter delicious like chocolate or nuts. You could also use the standing bonbonniere with hyacinth to this, but it was also ideal to flowers.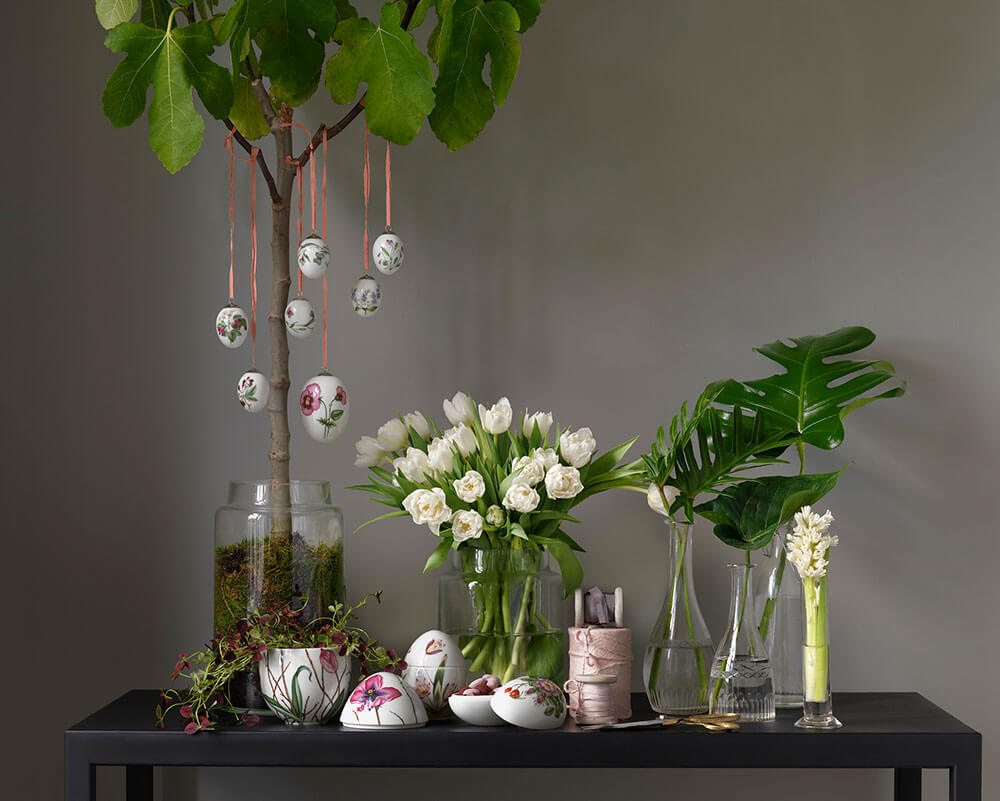 Like last year, there was launched six small Easter Eggs, one large Easter Egg and three bonbonnieres. Like the tradidition say the small Easter Eggs in 2015 depicted nice spring flowers - a blue speedwell and a blue/purple heartease. With the many beautiful small flowers, the speedwell is a popular ornamental plant in gardens, but it can also be used as alternative medicine. The heartease is probably more known than the speedwell and it is available in many colours. 2015 was not the first year, where the heartease was chosen as motif to the Easter Eggs by Royal Copenhagen. The heartease has earlier been depicted in other colours. Also the butterflies were included in the 2015 collection, but a bit different than we had seen before - the butterflies on the 2015 Easter Eggs were smaller and were joined by bistort. There was made an Easter Egg with blue butterfly and an Easter Egg with pink butterfly. 2015 was the first time where some of our most beloved berries were shown on the Easter Eggs - there was made an Easter Egg with blackberry and an Easter Egg with Raspberry. Both types can grow in gardens as well as in nature so most of us have the opportunity to enjoy these berries in the summer. Royal Copenhagen has also created a large Easter Egg which is loved by many. The motif of the large Easter Egg in 2015 was a pink heartease. In the past years Royal Copenhagen has launched bonbonnieres in their Easter collection. In 2015 the factory launched a standing bonbonniere with tulip and a lying bonbonniere with rose. Extraordinary there was in 2015 released an anniversary bonbonniere to celebrate the 10th year of the first Easter Eggs (launched in 2006). The anniversary bonbonniere was decorated with beautiful tulips.
The Easter Egg series of 2016 included 6 different small porcelain Easter Eggs with flowers, berries and butterflies. The flower motifs on the Easter Eggs were a snowdrop and a winter aconite. Actually these motifs were also depicted on the very first Easter Eggs from Royal Copenhagen which were launched in 2006. Though the flowers are the same, the design is a bit different, so the 2016 Easter Eggs are not identical with the 2006 Easter Eggs. In 2016 Royal Copenhagen also launched two Easter Eggs with popular berries - blackcurrant and redcurrant. Also an Easter Egg with a yellow butterfly and an Easter Egg with a blue/purple butterfly was issued. Both butterflies are surrounded by small flowers in matching colours. For many years it has been a tradition that a large Easter Egg was issued in the Easter series too. In 2016 the motif of the large Easter Egg was a beautiful iris. Naturally the large Easter Egg looks great together with the small Easter Eggs but you can also use the large one alone. The standing bonbonniere from 2016 shows a pink columbine and the lying bonbonniere shows a decorative geranium. The large bonbonniere is perfect as flower pot to some of the first spring flowers like hyacinth or daffodil. The lying bonbonniere is ideal for snacks or delicious chocolate.
The small 2017 Easter Eggs depicted two flowers, two butterflies and two birds. Crocus are some of the very first flowers to break through the soil and one of the Easter Eggs depicted a yellow crocus. The other Easter Egg with flowers depicted a beautiful violet. The Easter Eggs with birds depicted a waxwing sitting on naked branches which have just got their very first buds and a sparrow. There are several porcelain figurines of sparrows and with these you can make a lovely decoration with Easter Eggs and figurines together. Royal Copenhagen also launched an Easter Egg with pink butterfly and an Easter Egg with blue butterfly. The small Easter Eggs could be purchased in single boxes or in set of two. The 2017 Royal Copenhagen Easter collection also included a large Easter Egg with fritillary and two bonbonnieres - one lying bonbonniere with French Anemone and one standing bonbonniere with Narcissus.
The Easter collection 2018 from Royal Copenhagen included 6 small Easter Eggs, a large Easter Egg, a lying bonbonniere and a standing bonbonniere. The small Easter Eggs were available in single boxes or set of 2 pcs. in one box. Like last year there was depicted two flowers, two birds and two butterflies on the small Easter Eggs. The Easter Eggs with flowers depicted a purple crocus and a blue scilla. The purple crocus is easy to see when it springs from the ground in the garden while the scilla can be a bit more difficult to see until there is a whole group. The birds depicted was a beautiful green-yellow warbler, known for its beautiful song, and a blue-purple starling, also known for its beautiful song in the early morning hours when the sun rise. In Denmark we also know the starlings for their beautiful formations made in the autumn when they find together in big groups before they fly to the South. In 2018 we also saw colourful butterflies on the Easter Eggs. On one of the Easter Eggs we saw yellow butterflies and on another we saw blue butterflies. Every year there is also issued a large Royal Copenhagen Easter Egg and in 2018 it was decorated with beautiful yellow Forsythia flowers on branches. The standing bonbonniere 2018 was decorated with the most beautiful cherry branches with blossoms. This bonbonniere was useful to many things, for instance to a small spring flower. The lying bonbonniere was perfect to candy and in 2018 it was decorated with daisies.
The Easter collection changed drastically compared to earlier years. The number of small Easter eggs is still 6 in single boxes, but as the motifs formerly where whole flowers, 2019 had motifs of floral leaves in large size on the Easter eggs. The floral motifs on the small Easter eggs were magnolia, clematis and fritillary. Each flower were depicted in a small version like in earlier years, but as a novelty the flower petals of the three flowers were also depicted on one Easter egg each. Like a flower bud the leaves spring form the top of the Easter egg, swing down the side and thus frame the entire Easter egg like a flower. In this way we see light red magnolia petals, clear blue clematis petals and dark red fritillary petals on three Easter eggs. The six small Easter eggs could also bought in sets of magnolia/magnolia petals, clematis/clematis petals and fritillary/fritillary petals. Flower petals were also the subject of the large Easter egg 2019 that showed a beautiful tulip. The yellow bud can be discerned at the top of the Easter egg from where large red petals spring and envelope the entire Easter egg. The ribbons, too, have gone through changes in 2019 and have changed look to twisted ribbons that can be tied at the top. Thus you can decide for yourself how long the ribbon of the Easter egg should be to hang at the right height from your Easter decoration. As something completely new 2019 is the first year, where a vase is issued alongside the Easter decoration of the year. The vase is perfect for a single spring flower and is decorated with a geranium. A bonbonniere is also part of of the Easter collection from Royal Copenhagen. In recent years the collection included a lying and a standing bonbonniere, but in 2019 only a single bonbonniere was issued. This bonbonniere is round and decorated with a beautiful honeysuckle.