Many manufacturers have issued bowls, ashtrays and dishes in ceramics, faience and stoneware. Hjort is known for its beautiful pottery series in brown with red, green, blue and yellow decorations. Ipsen is characterized by the strong orange colour with decorations of fruits.

In collaboration with Bjorn Wiinblad, Nymølle factory published dishes and bowls with Wiinblads characteristic motifs in ceramics.

Also, Royal Copenhagen has produced a variety of dishes, bowls and ashtrays in stoneware and faience.
Royal Copenhagen bowls, dishes and ashtrays in faience and stoneware

Through the years, Royal Copenhagen has produced so many dishes and bowls in porcelain. Years ago there wasn't the same focus on smoking as today and therefore there have been produced a lot of ashtrays. These are not as useful today, where there are not so many smokers as in the past, but fortunately most can also be used as small bowls and some even as plaquettes, as Royal Copenhagen has made some of them with holes on the back.

Royal Copenhagen faience bowls

When faience had its heyday in the 1960s and 1970s it was especially seven artists who left their mark on the decorations. One of them was Nils Thorsson, who was artistic director of Aluminia (which was later merged with Royal Copenhagen and continued with the Royal Copenhagen stamp). He has drawn abstract motifs and motifs with animals. Nils Thorsson has made the series with the fanciful bird on a blue background, and also a series with fish.

Another important artist was Ellen Malmer, who has, among other things, designed the series with an abstract flower, which stems are spreading far and wide. The colours of the decoration is kept in brown and golden nuances.

Today, pottery bowls are becoming popular among young people. A decorative faience bowl with fruit, nuts or snacks is now a welcome colour spot in a modern stylish home. Especially the beautiful purple colours are well-liked.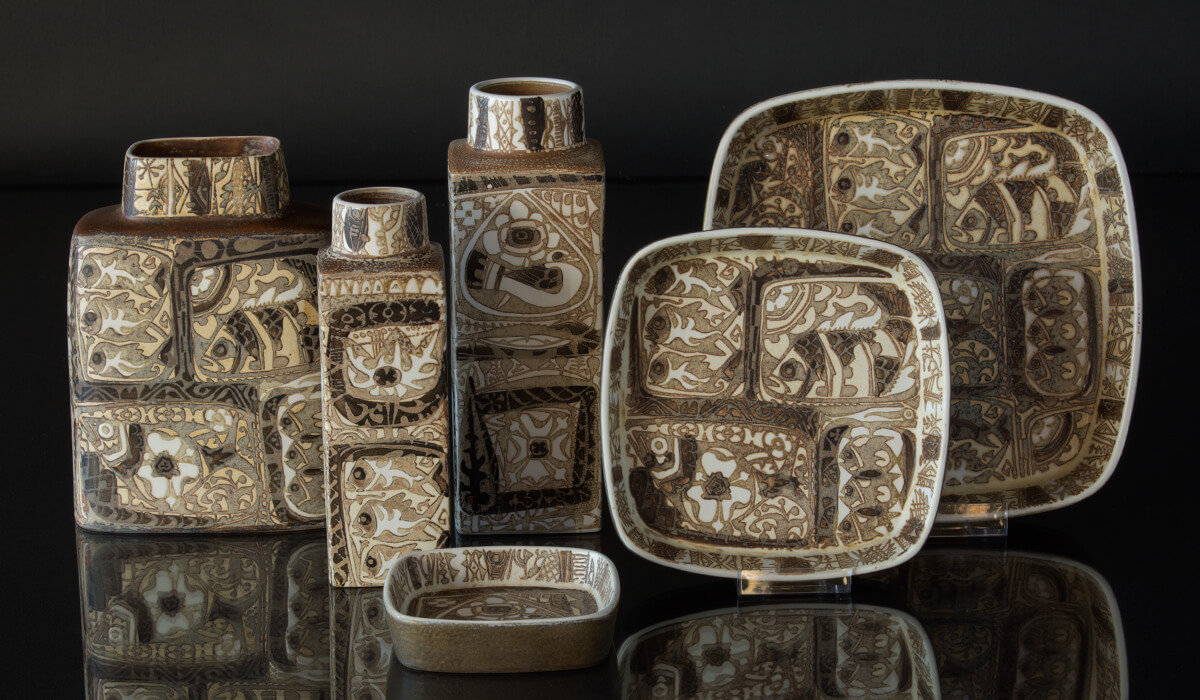 Royal Copenhagen stoneware bowls

One of the great masters of stoneware was Knud Kyhn, who has created figurines, bowls and dishes.

Royal Copenhagen crackled bowls, dishes and ashtrays

There have been made different coloured lines in crackled porcelain - the most famous are the orange and mint green series, which consists of bowls, dishes, ashtrays and vases.

Royal Copenhagen dishes with sights

The small blue bowls with motifs of sights from Denmark, are surrounded by a ribbed edge that make them usefull as ashtrays, but Royal Copenhagen had the foresight to make holes in the back so they can be hung on the wall too.
Wiinblad bowls, dishes and ashtrays from Nymølle

Bjorn Wiinblad has designed a lot of beautiful dishes, bowls and plates, which were produced by Nymølle factory. The items all show the characteristic Wiinblad line drawing in black and white. We always have some of his butter boards and his season plates in stock and often some bowls and dishes too.