Below please find another set of photos, that hopefully will give you some tips and ideas for your own personal style in your home. - Most of the items shown, can be found in our assortment. We hope you will find some inspiration and ideas, and like what you see.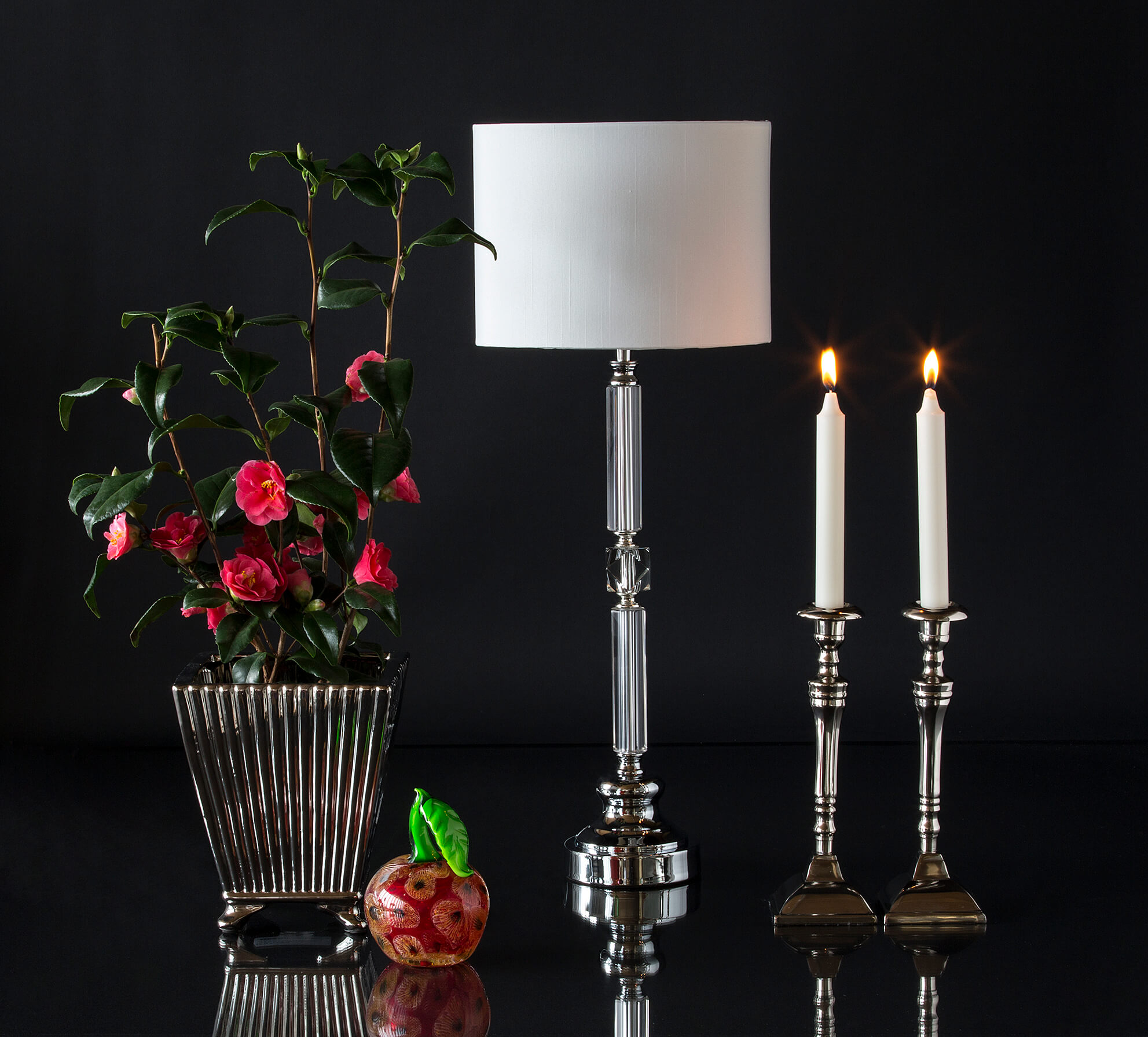 The red glass apple matches the flowers in the flower pot and together contrasts the flower pot, lamp and candlesticks.
Glass is a fantastic decorative material! Here you find Holmegaard Base Table Lamp with a Le Klint lampshade (model No. 17), and a set of mouth-blown glass birds, and a small flower vase and a large floor vase in beautiful colours.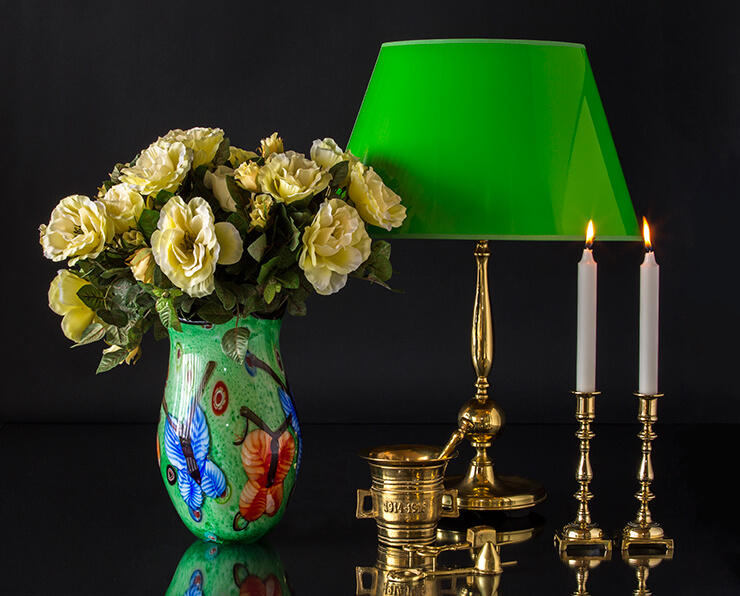 Here the vase matches up to the green lacquer lampshade the sets itself well with the brass that has been put in front of it.
The old classics comes in honour and at dignity again. Here is a setup with the classic "Le Klint Telescopic table lamp No. 352" Big old porcelain vases with landscape-motifs from Bing & Grondahl and Royal Copenhagen vases. Ceramics with Bjorn Wiinblad design in black and white nuances from The Ceramic Manufacture Nymolle. On the right you find a Royal Copenhagen porcelain figurine of two girls, "Amager Girls"
Again we see The Le Klint table lamp put together with black and white (red/white) Wiinblad plates etc. and a black Holmegaard vase.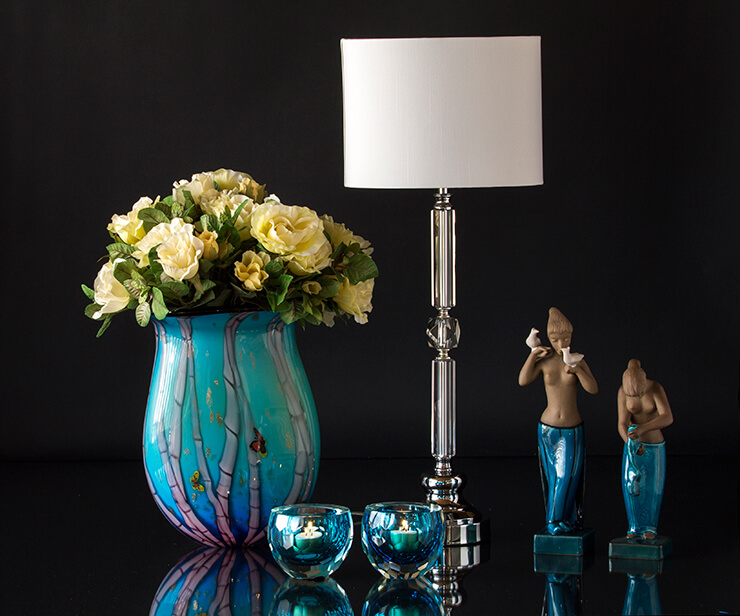 The Johannes Hedegaard stoneware statuettes are set with matching blue tealight candleholders and glass vase together with a crystal glass lamp.
Stylish classic design with blue colors. Old vases from Royal Copenhagen with fresh flowers. Large antique Chinese vases, a simple stylish Lene Bjerre silver lamp.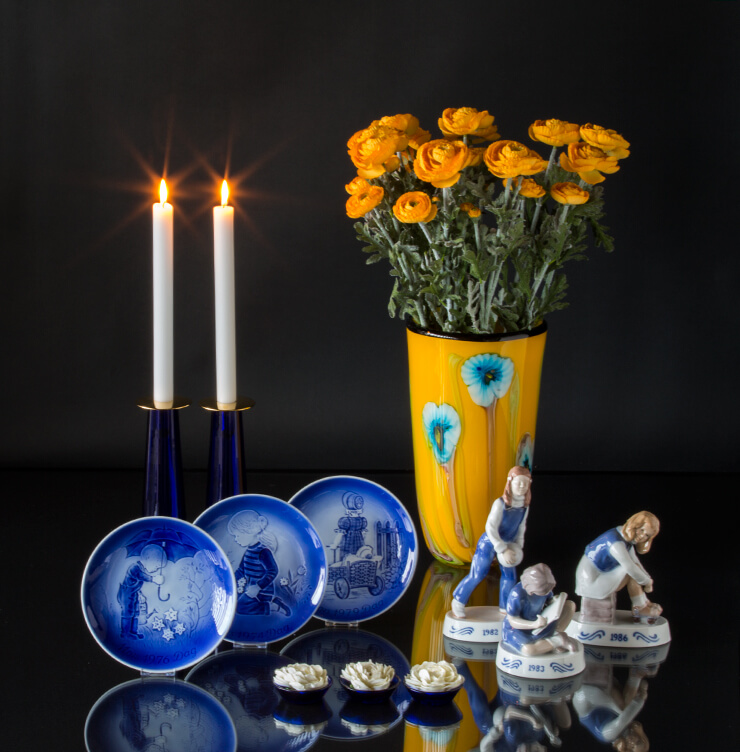 Three Desiree mother's day plates together with Bing & Grondahl annual figurines put in front of Asmussen candlesticks and a striking yellow glass vase.
Large Chinese lamp and Chinese vase in blue colours along with Royal Copenhagen's very popular Fluted and Blue Fluted Mega. - A nice silver tray and behind that a candlestick with Top glass that makes it possible to use your old candlesticks for tea lights.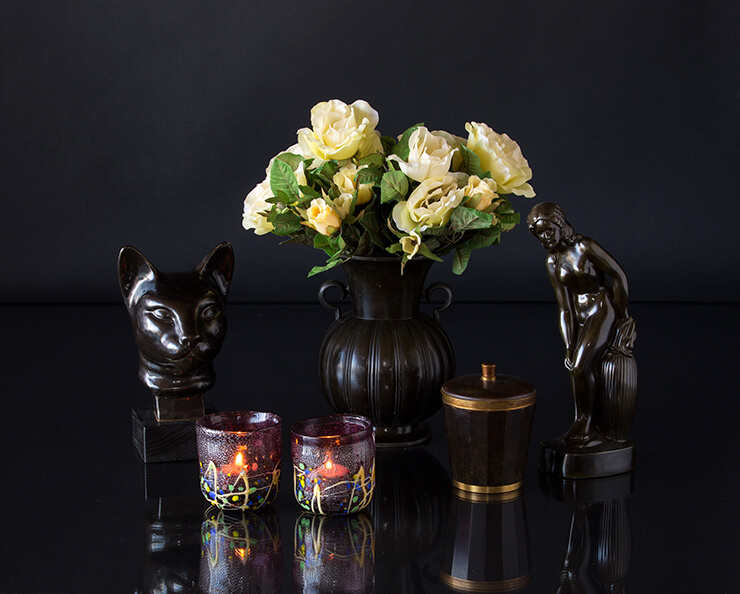 In this setup two dark red glass tealight candleholders are set in a black ensemble.
Use all the colours of the rainbow. Here you see a plate in the series of Rosenthal artist plates, the rainbow from 1973 designedby Otto Piene, placed together with two large silver candlesticks, two colourful vases from Holmegaard, and a large annual mug from Royal Copenhagen. - On the wall two Easter plates from Bing & Grondahl.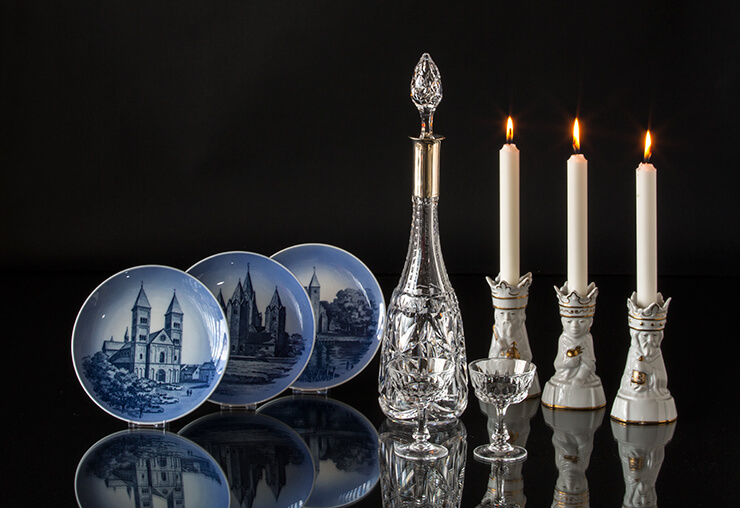 The three magi set with church plates and a decanter with two glasses.
The meditative corner... create a place where you can relax. Where you can recharge. The large golden Buddha help create a relaxing atmosphere.
On the wall you find old Bing & Grondahl memorial plates, made on the occasion of crowning of Queen Margrethe and the death of King Frederick in 1972. - (The symbolism of the cutting tips, fits well on the old proverb. - When something ends, something new starts.)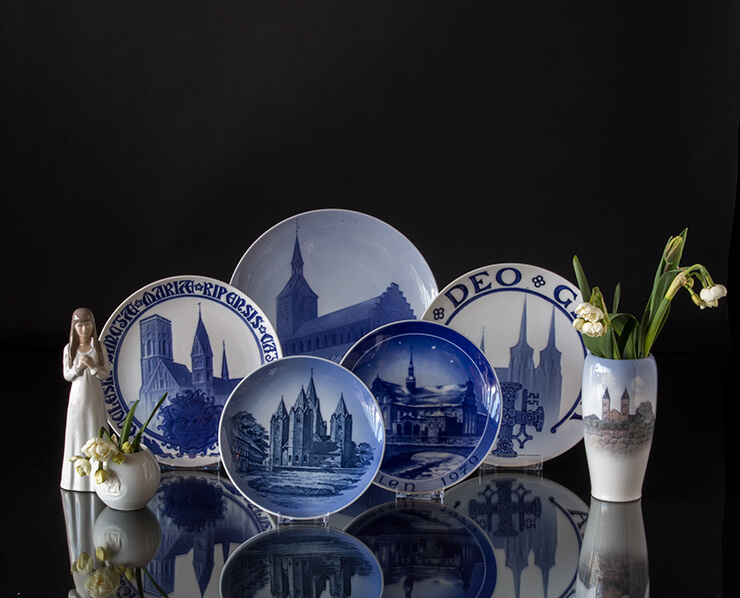 An assortment of church plates set together with a Lucia figurine and a vase with Viborg cathedral.
Again, here is turquoise the favorite colour. Fresh flowers in an elegant Holmegaard glass vase, and cosy light, creates great atmosphere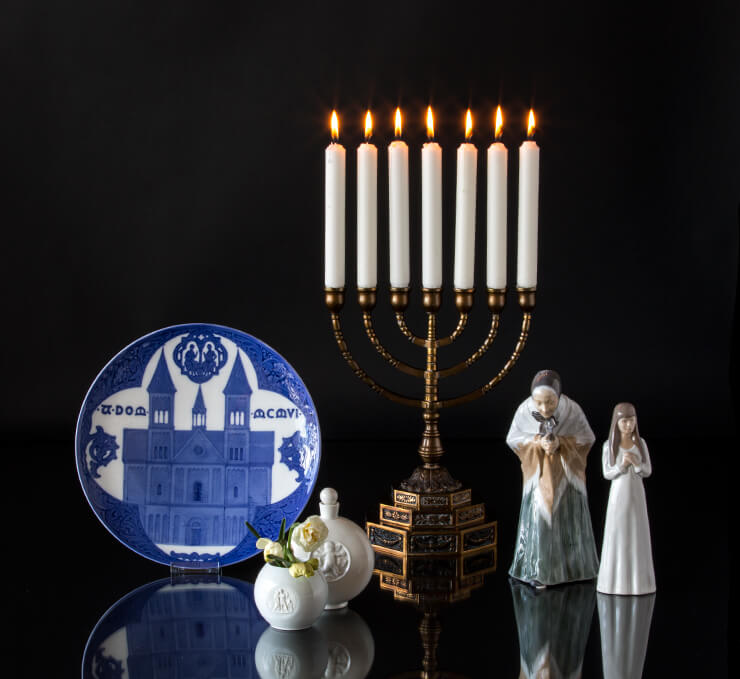 Plate with Viborg Cathedral set together with figurines and a candelabra.
Again, here is turquoise the favorite colour. Fresh flowers in an elegant Holmegaard glass vase, and cosy light, creates great atmosphere.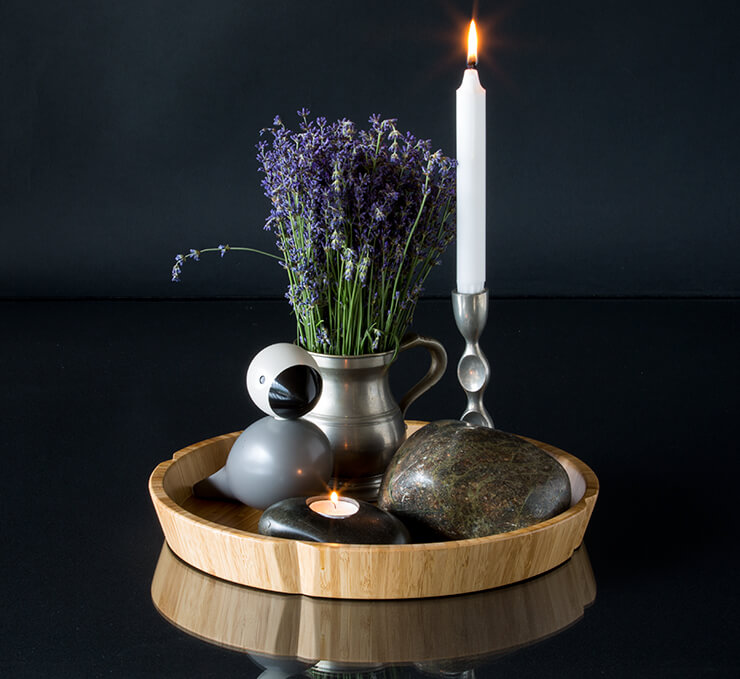 Here we have a Kay Bojesen song bird set on a Rosendahl tray together with a tealight stone.
Find your favourite colour! Create your interior with the colours you love. - Here in the theme of turquoise. Where turquoise and yellow in the beautiful mouth blown glass vase, fit in with the turquoise glass tea light candleholders from Holmegaard, and with the colourful annual mugs from Royal Copenhagen. - Here, placed together with a lamp from Lene Bjerre. - To the right is a small square silver chest.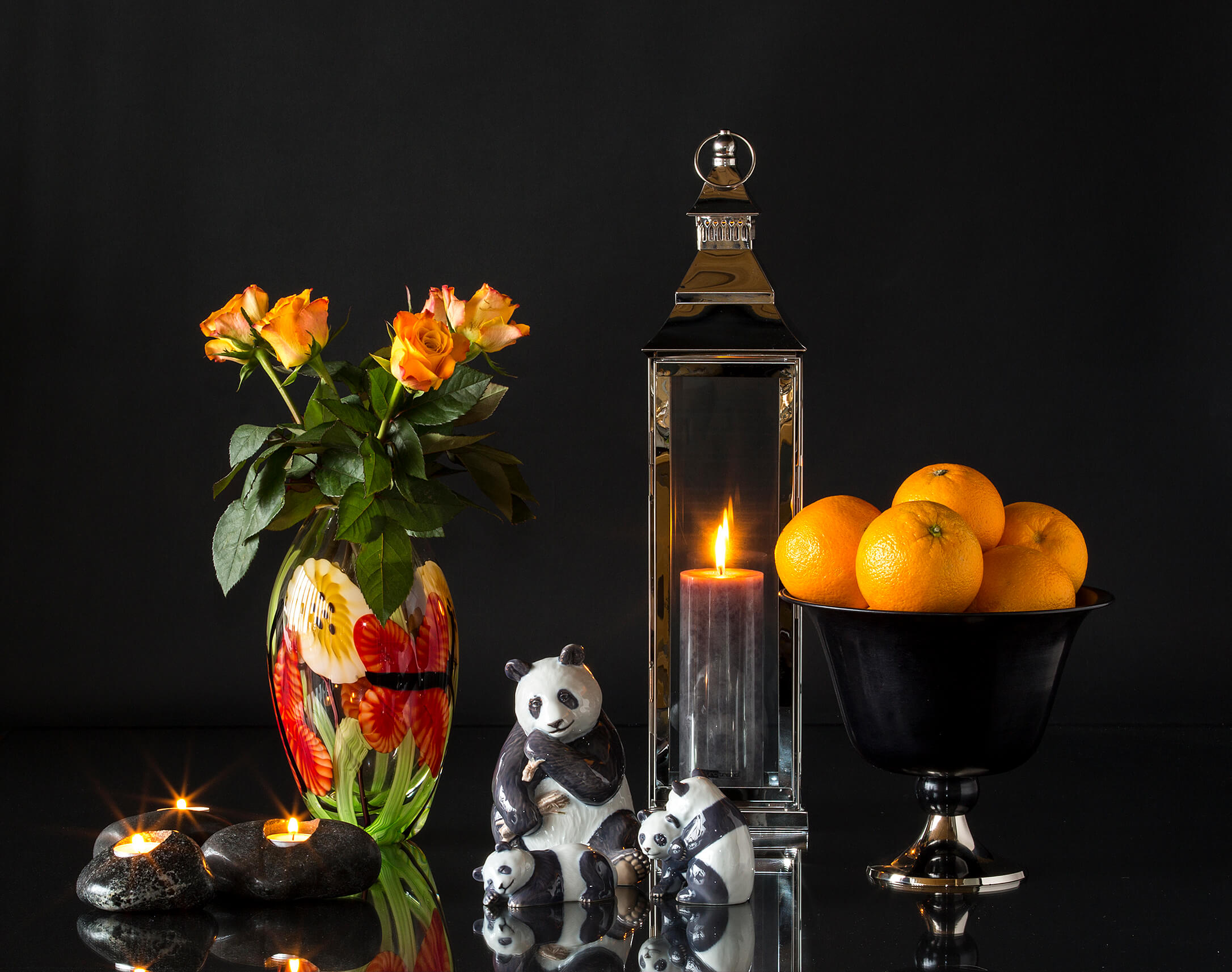 A panda familiy is set between tealight stones and a fruit bowl with a colorful glass vase and a lantern in the background.
Composition of brass candlesticks, round vase with blue, purple, green and red colours, all with gold ornaments. - A table lamp in golden colours.