With Royal Copenhagen Christmas cups and cake plates you can set a great coffee table when peace descends after Christmas dinner or to the many Christmas parties during the holiday season. The Christmas cups also includes a coffee pot, sugar bowl and creamer, and a candlestick. In 2003 and 2004, Royal Copenhagen also published a candy dish, so you can cover a complete coffee table with the beautiful old blue Christmas china service.
Royal Copenhagen Christmas cups and Christmas service

The Christmas cups have the same motif as the Christmas plates, which of course can be used as cake plates. The saucer is surrounded by the same border with spruce and pine cones, as the Christmas plates and therefore they fit each other perfectly. At the same time, the various parts can also be used separately - Christmas plates can be hung on the wall and cups can be used alone with another plate such as Blue Fluted Plain or Blue Mega.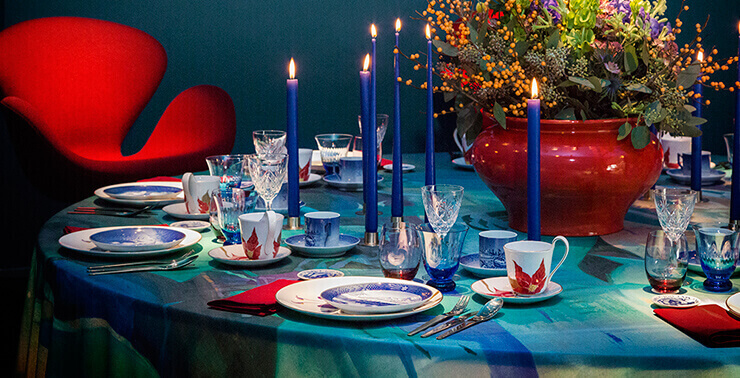 The combined set of the Royal Copenhagen plate and cup make a wonderful yearly addition to the Christmas coffee table and make for a perfect gift idea to expand the dinnerware of Christmas Eve. It is a wonderous thing to be able have tea or coffee at Christmas during those cold December days sitting inside in the cozyness of a warm living room, while the snow falls outside. And the old blue Christmas cups and plates make for a wonderful tableware, when you have your Christmas guest and can set the table with a trully unique set of cups and plates. There is much room for variation were you can both have a set of cups and plates from a single year that matches completely or a range of years, which makes every cup and plate on your table unique in its own right.
Can you wash Royal Copenhagen Christmas cups in the dishwasher?
The answer is; yes, you can wash the Christmas cups in the dishwasher just like the Christmas plates. So together with the Christmas plates the Christmas cups make up a nice little coffee service with Christmas motifs and as everything is in underglaze, they can be put in the dishwasher.