Below please find examples of how you can decorate you living room, using tips from Danish interior designers.
Get inspired by these pictures. Use your old plates, figurines, silver trays, glass, etc. to create new and fascinating décors. Along with the pictures you will find links directing you towards the specific items.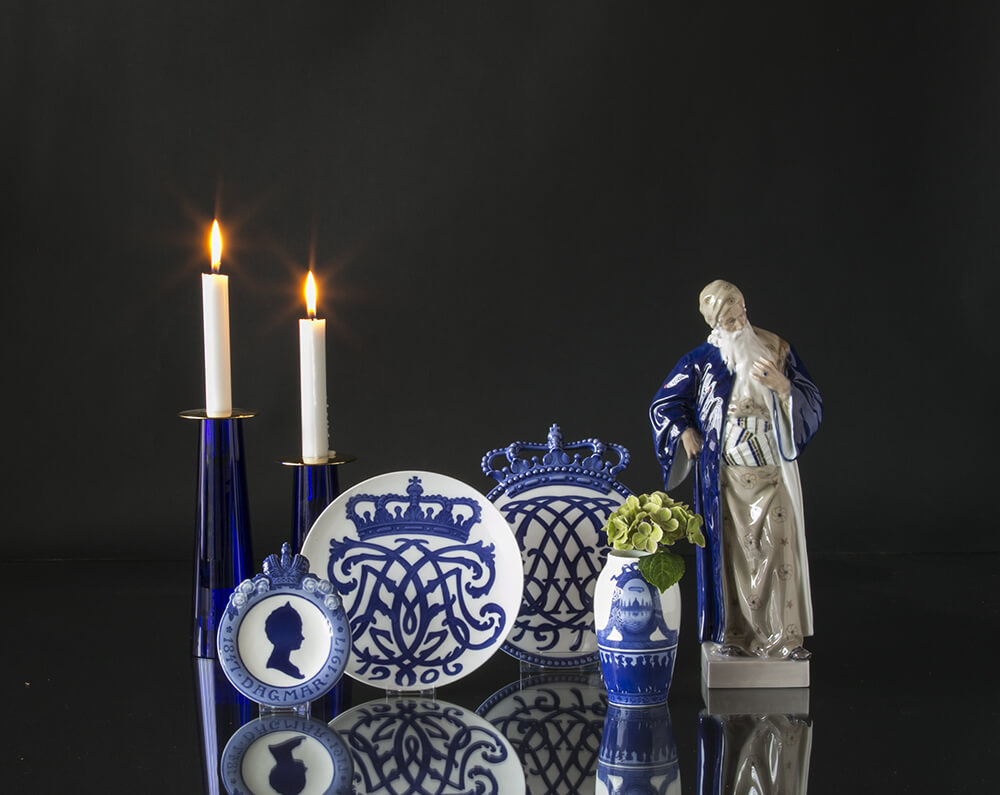 Here is a setup combining old memorial plates with a vase and two Asmussen candlesticks with the Royal Copenhagen figurine Nathan the Wise to the side.
A large Japanese table lamp is shown here with a matching oriental bowl, small musica figurines, and a Holmegaard cocoon bowls and a glass vase from Holmegaard.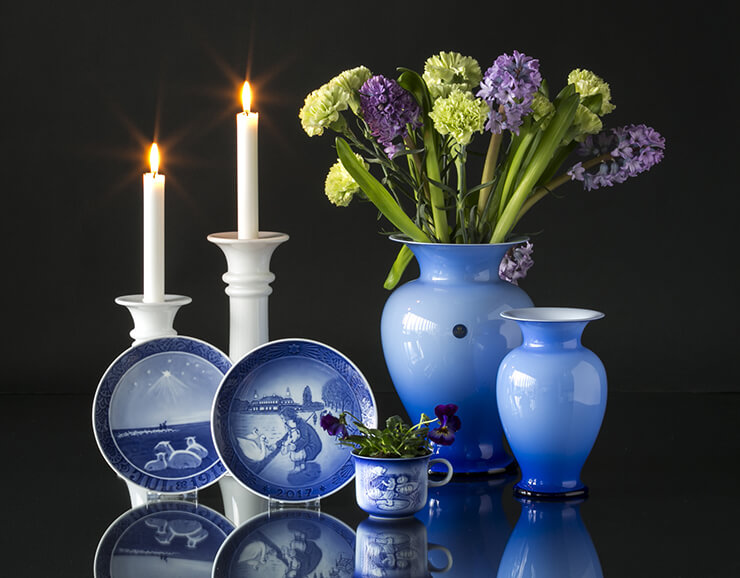 This interesting setup matches the Royal Copenhagen Christmas plates to a Desiree Christmas cup used as a small flower vase and Holmegaard Candlesticks and amphoras.
Italian Milan table lamp in steel and brass, figurine on wooden stand with dolphins and swans placed on the popular designer dresser (From Componobili Series).
Again we have the Componibili dresser with Royal Copenhagen Hyacinth vases, and a beautiful old Royal Copenhagen jar, and an Italian steel table lamp.
Danish glass lamp with Le Klint lampshade, an elephant figurines on wooden stand, Royal Copenhagen vase with cobalt blue background with flower motif. - You also see an old Bing & Grondahl tableware "Composer Coffee set" consisting of 12 different sets of cups w/cake plates, all with silhouette motives of the famous composers and with matching cake dish, cream jug and sugar bowl.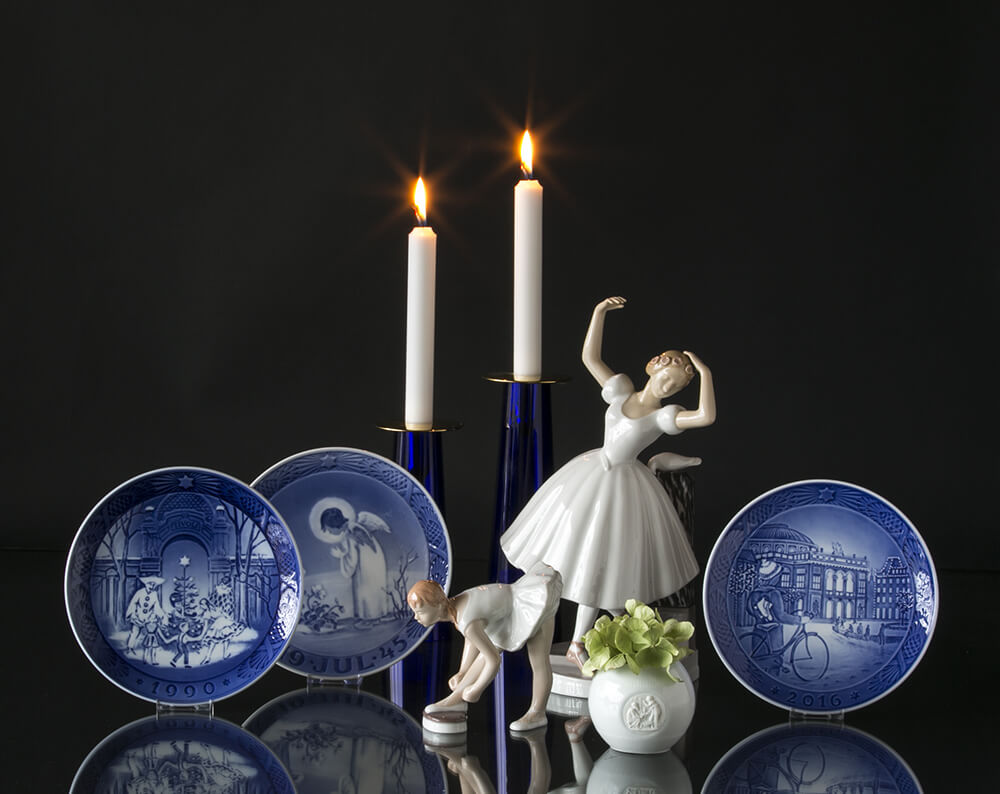 Here we find Christmas plates set with ballerinas and Asmussen glass candlesticks. At the front is a small vase with flowers.
Again, here the design is based on the green colors. - We have an Italian lamp, along with Hamlet (Asmussen) Design drop candle holders, a beautiful old ceramic vase from Royal Copenhagen. - At a plate stand a Noritake plate is placed, motif of Japanese men in typical Japanese costumes.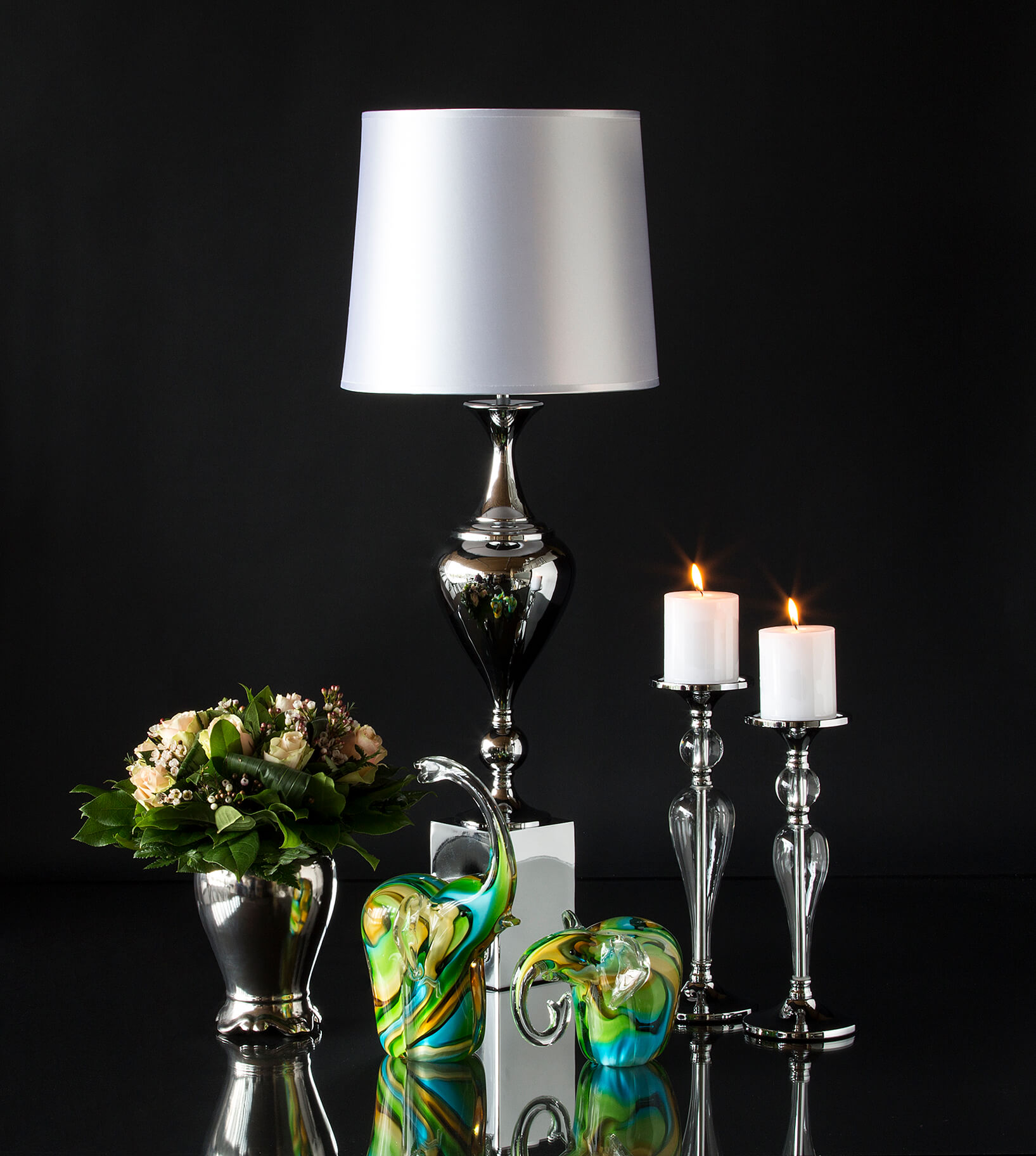 Our fun and coloful glass elephants are set in sharp contrast to a lamp, candlesticks and vase in chrome and glass. Notice how the color combination draws forth the elephants.
The design is helt in green colors. A hand painted green lamp and vase with large flowers, put together with a Royal Copenhagen figurine, the hunter, a green Bing & Grondahl bird figurine (budgerigar) and the special pineapple candlestick.
The design is in green colors. A hand painted green lamp and vase with large flowers, put together with a Royal Copenhagen figurine, the hunter, a green Bing & Grondahl bird figurine (budgerigar) and the special pineapple candlestick.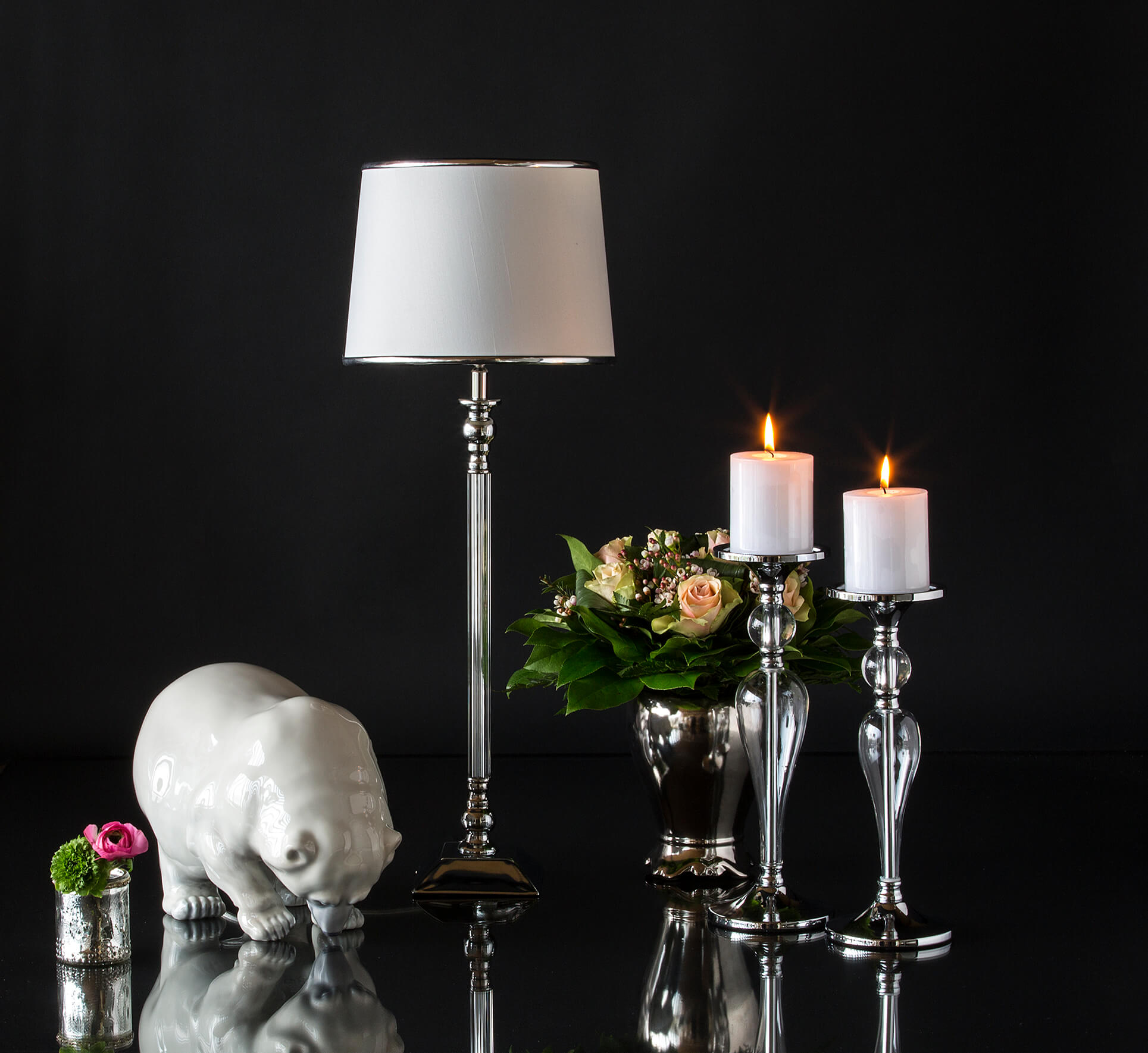 Here the color combination is more muted and calm. The large Polar bear easily slides in with the tall narrow lamp, the vase and the candlesticks. The contrast can be found in the small red flower placed in the tealight candleholder in front of the Polar bear.
Interior held in green nuances, here with a beautiful table lamp, with matching large green vase, put together with a Chinese green horse figurine with gold decoration that beautifully matches the brass candlesticks. Fashion magazines are casually placed on the bottom shelf and on top of this is an old round Aluminia vase with floral decoration.
Nearly the same interior, but with the beautiful (and very expensive) Flora Danica fruit bowl and plate.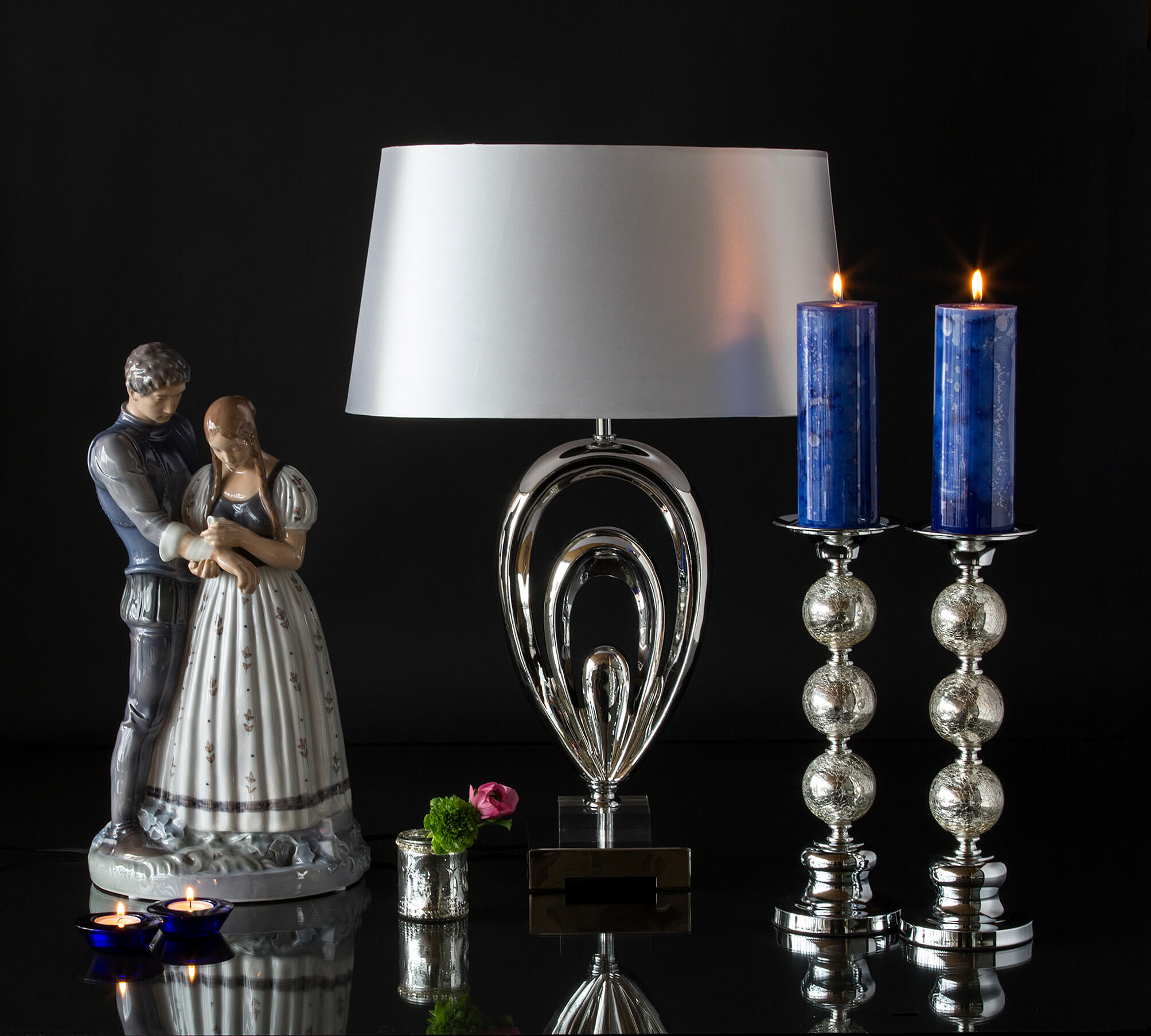 This large setup combines the figurine Maiden and Knight with a large attractive glass lamp and two large candleholders and to break the colors and tealight candleholder with a red flower and two Asmussen tealight candleholders has been placed in front.
Here is the elegant white console put together with something more rustic, anything goes ..... - An old table clock is used as a bookend for the beautiful bound books. The Chinese lamp match the rest of the rustic home accessories.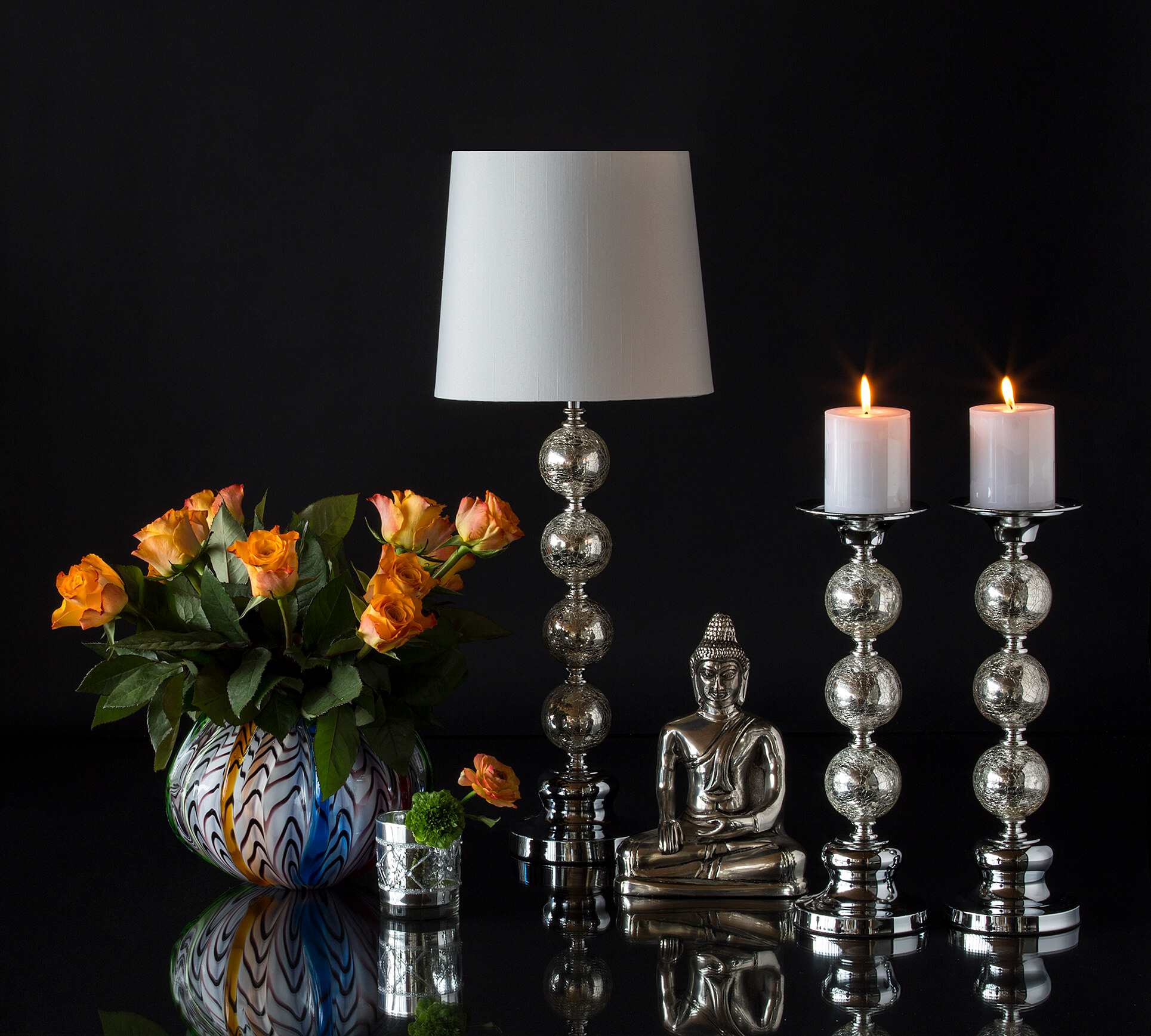 A buddha between a ball lamp and ball candlesticks together with flowers put in a colorfull glass vase and a single flower i a tealight candleholder.
Decorate the sideboard with a large stylish lamp, blue annual or Christmas bells, large Royal Copenhagen/Aluminia vase with blue pattern, Noritake plate, and a pair of brass candlesticks.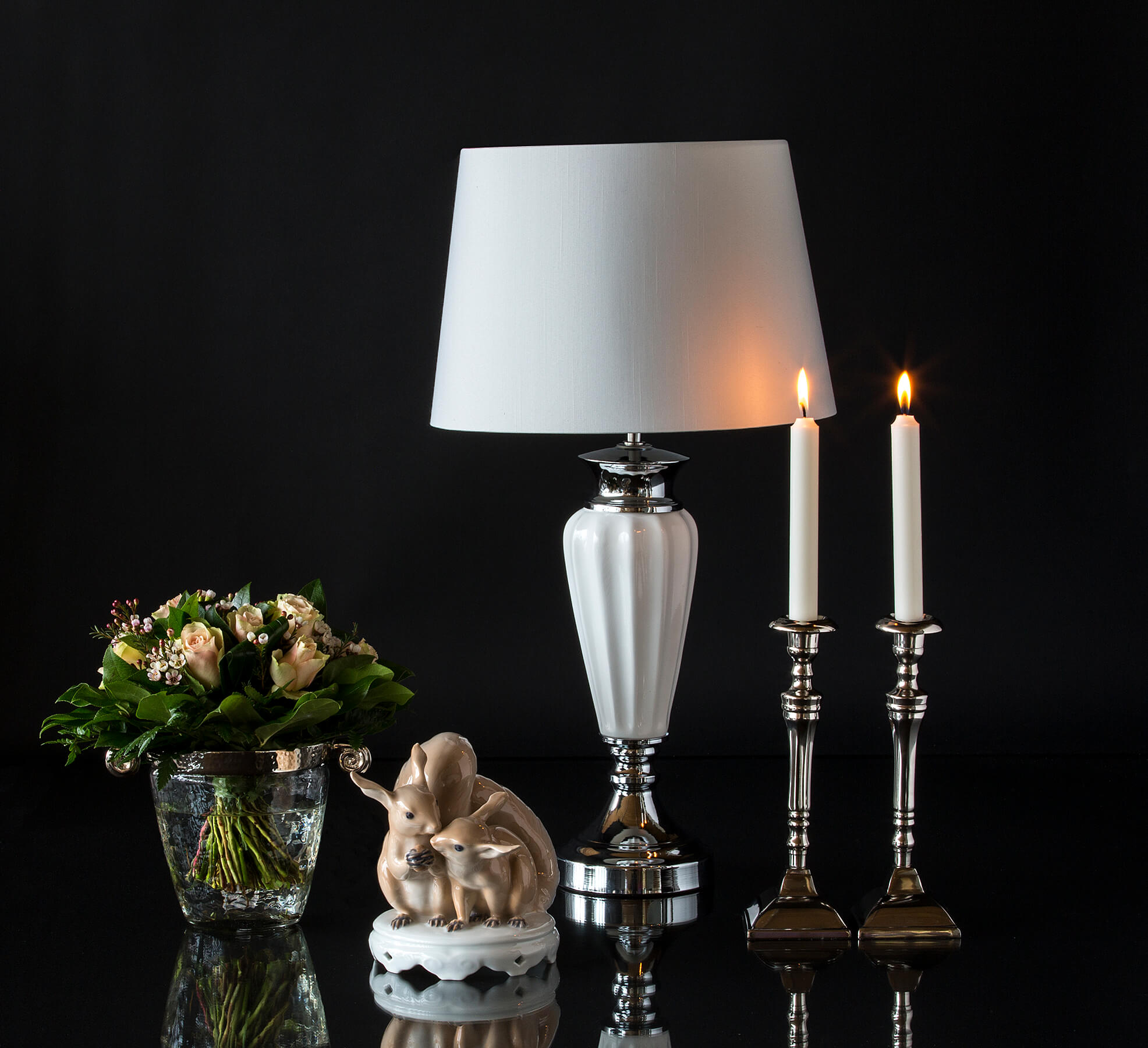 Here an icebucket has been used as a flower vase besides a figurines of two squirrels put in front of a handsome lamp and two candlesticks.
Again, the yellow and blue colours are beautiful put together. A large elegant lamp can be seen together with the old Royal Copenhagen faience earthenware vase and RC faience bowls from the 60s and 70s which are becoming popular again. - The great Wiinblad dish / plate on a plate stand are produced by Rosenthal and designed by our Danish artist Bjorn Wiinblad.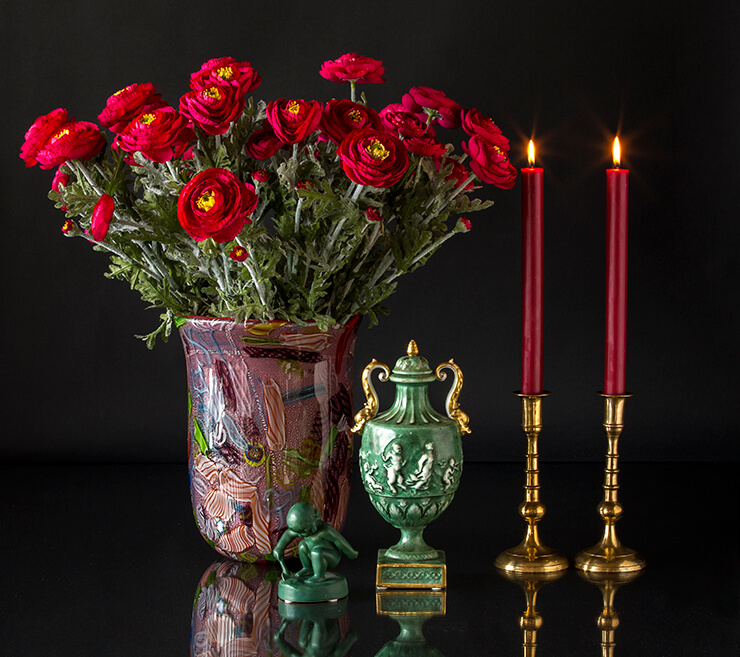 The red glass vase is set in contrast to the green Von Schierholz jar and Ipsen figurine, where the gilding of the jar matches the brass candlesticks.
Japanese Kutani Lamp with wooden stand, and lampshade in matching color. - Here, put together with colourful glass art.