There is a great difference in the shape of amongst glass vases. Rosendahl and Holmegaard have a great focus on the design itself and have made various series. Most of the glass vases from Rosendahl and Holmegaard are uniform in colored, while our own glass vases combine different colors and are somewhat more colorful.
DPH Trading glass art
DPH's own vases can of course be used for flowers, but they are also sculptures in themselves and can easily be used for decorating around the house even when not used for flower bouquets.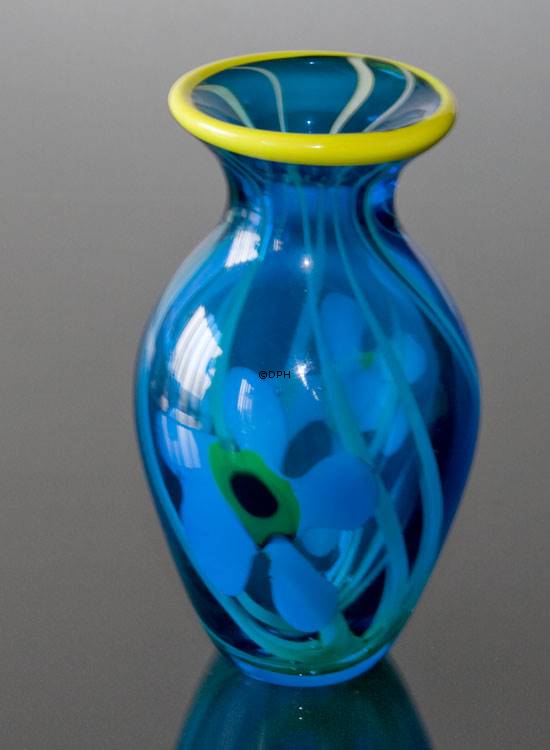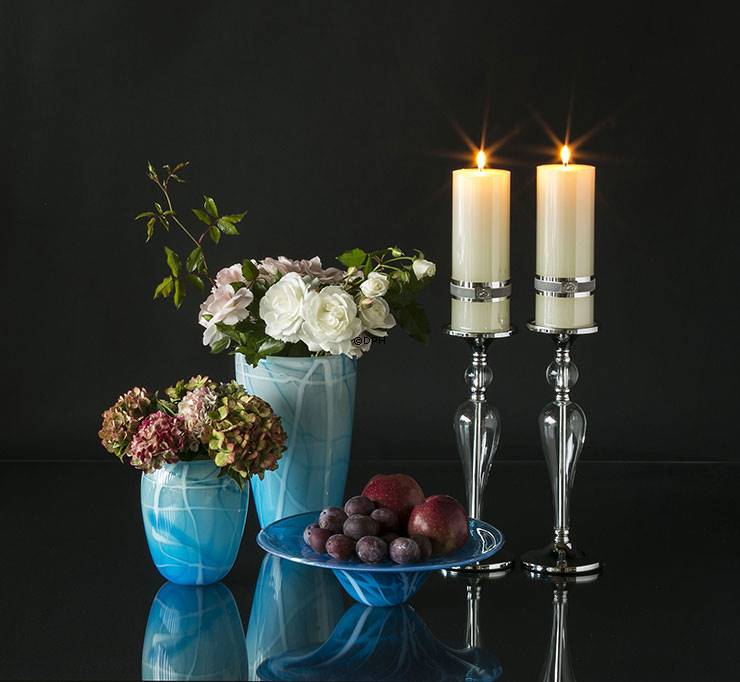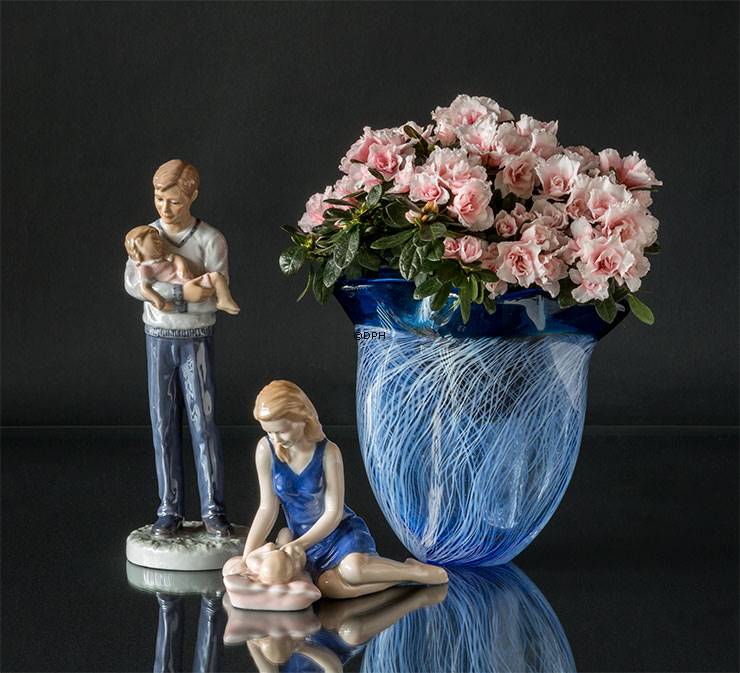 .
Glass vases from Holmegaard
Holmegaard's vases are useful for all kinds of flowers, whether it is a small bouquet of the early snowdrops, winter aconite and crocus, a large bouquet of roses or branches that stand on the floor in a floor vase.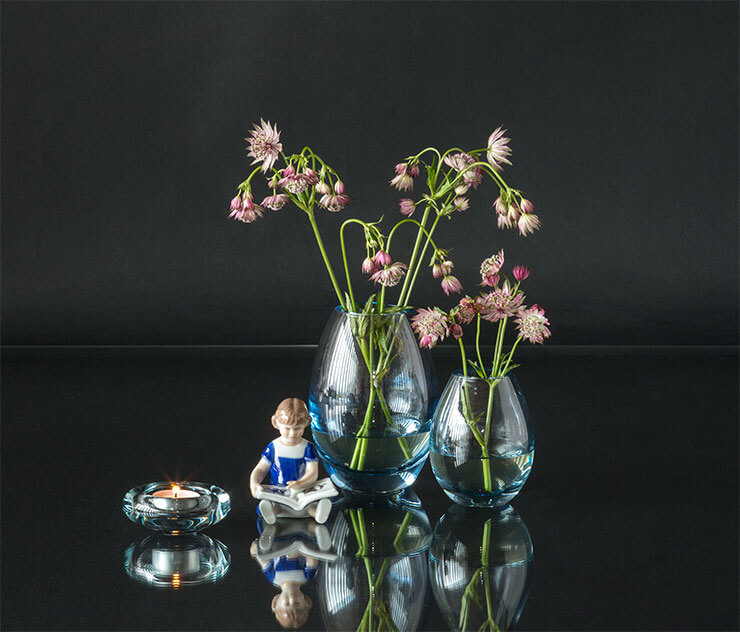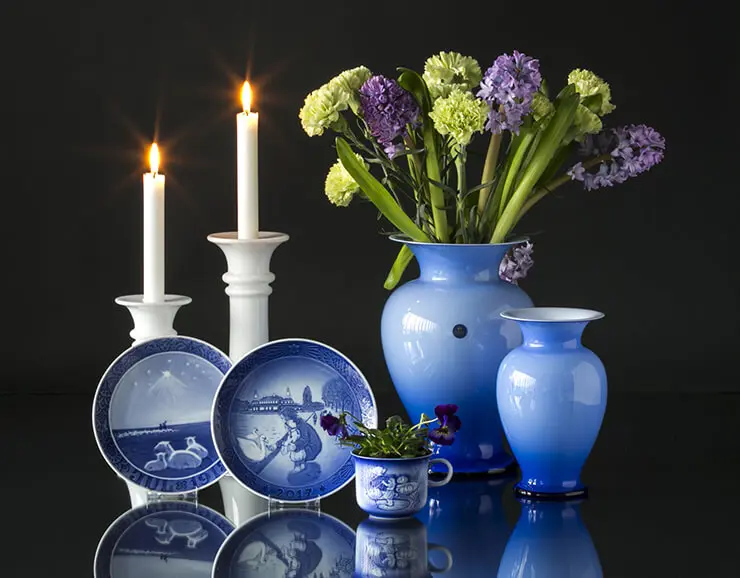 Karen Blixen vases from Holmegaard
When Holmegaard had its 175th anniversary in the year 2000, they launched the Karen Blixen vase. Holmegaard's Karen Blixen vase is inspired by the neck and arm rings of African women, which were part of Karen Blixen's everyday life at her farm in Africa. The Karen Blixen vase provides ample opportunity to decorate your home with lots of flowers, which was a great joy of the author Karen Blixen.
In addition to the vases, flower pots and candlesticks are also available in this series. This allows you to have the same style throughout with candlesticks on the coffee table, flower pots in the windowsill, a vase on the dining table and the large floor vase on the floor. The white color is the most popular and therefore both candlesticks, flower pots and all Karen Blixen vases are available in white, but only the candlestick and the three table vases are available in red. The Karen Blixen vase has also been made in black and clear.
Michael Bang Vases
Michael Bang has been associated with Holmegaard's Glassworks since 1968 and has designed many different pieces. He has, among other things, also designed Holmegaard's MB vases, which have been in production since 1982. The MB series also include flower pots.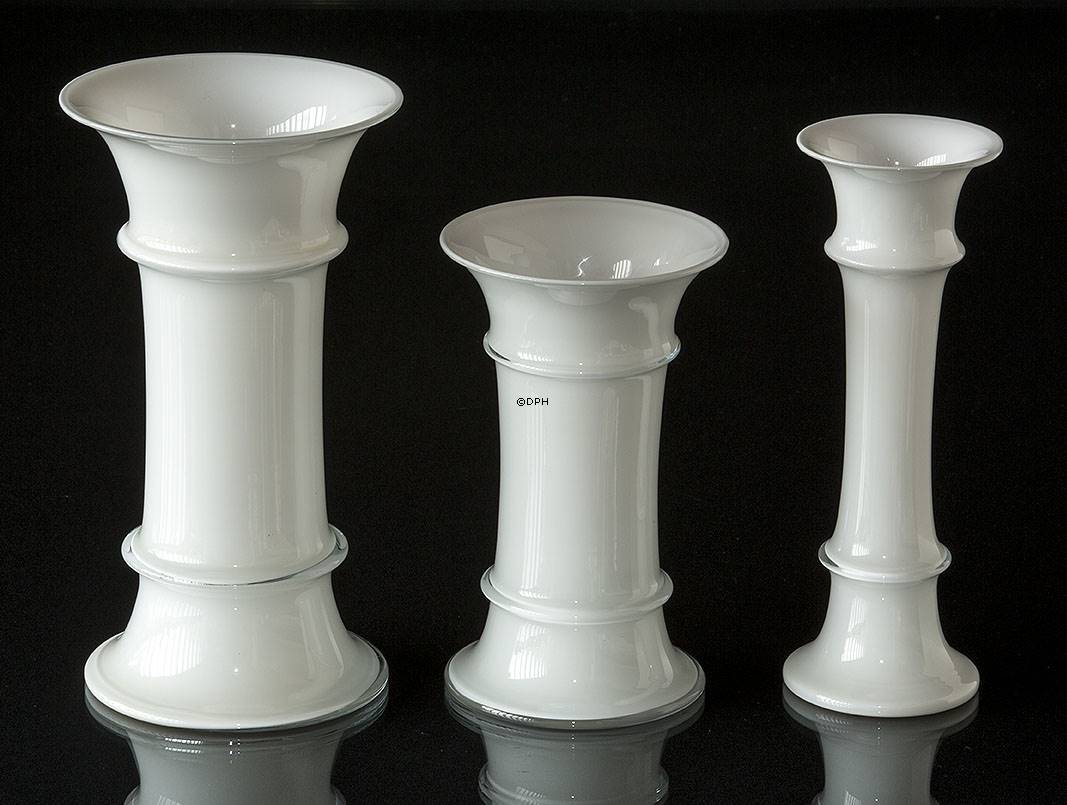 Shape vases from Holmegaard
The Shape Vases from Holmegaard are designed by one of the greatest Danish glass artists, Peter Svarrer. The vases have a distinctive edge on which the flowers can lie. They come in many different colors and sizes. In addition, there are also matching bowls in the series.
Peter Svarrer designed the Holmegaard Shape vase. The vase was originally called PS, named after the designer, but the name was quickly changed to Shape. The Holmegaard Shape vases that are now in production are available in two sizes in clear and white glass, but the Shape vases have been produced in myriad colors. Dishes in the series have also been produced, but they have been discontinued.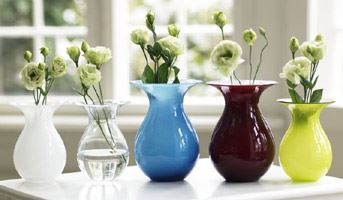 Rosendahl Filigran vases are seen in many homes, both Danish and foreign. A Filigran vase is therefore also a popular gift idea, as many have become acquainted with the vases in recent years. Designed by Lin Utzon, the filigran vases from Rosendahl create a perfect frame for both bound bouquets and loose flowers. The discreet pattern gives a beautiful overall impression while giving free view to the flowers' stems in the water.
The beautiful and decorative Viva glass vases from Rosendahl are designed by the versatile artist Anja Kjær, who is also known by many for her Heart candlesticks from Holmegaard. The shape of the Viva vases is timeless, traditional and functional. It is the amazingly strong colors that make the vases extra special. Each Rosendahl Viva vase has a strong bottom color with a contrasting border at the top, which gives the vase an extra touch.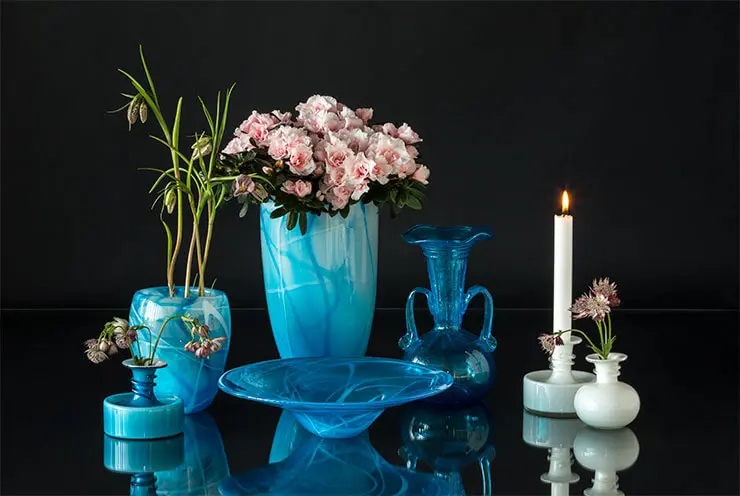 Vases and flower pots in mouth blown glass
If you are missing a single flower glass vase, the clear, slim glass vase with pink stripes or the chubby black glass vase with white stripes are some good suggestions. Both glass vases have a narrow border at the top which makes them suitable for a single flower for decoration on a coffee table.
When it comes to colors, there is something for everyone. The two red glass vases, the smallest of which can also be used as a flower pot, attract attention everywhere. They become a central part of your decor and are super stylish in a modern home with white walls and stylish furniture. If you put the tall glass vase in a corner of the living room with some large flowers, it is a cheerful touch.
The variegated glass vase in blue, red and green is a nice glass vase for an orchid and if you want a slightly more simple vase, the blue and white glass vase can be used.
In addition to glass vases, we have some beautiful glass figurines and glass bowls. Several of the glass bowls fit together with the glass vases and flower pots, allowing you to make tableaux with flowers and a bowl of fruit on the table. We also have many beautiful glass candlesticks.