In this category you will find the beautiful Desiree Svend Jensen Hans Christian Andersen Christmas cups. Desirée Christmas cups naturally goes with the Christmas plate (cake plate) from the same year. Both are depicting a specific Hans Christian Andersen fairy tale. See the Christmas cups below.​
Hans Christian Andersen Christmas Cups and Saucer from The Porcelain Manufacture Desiree -
The theme of all the Christmas plates and Christmas cups from the porcelain factory Desiree is Hans Christian Andersen's fairy tales, stories and his life in general. Each china Christmas Coffee Cup is showing the same decoration as the Christmas Plate from same year at one side and Hans Christian Andersen's silhouette, with the characteristic top hat, at the other side.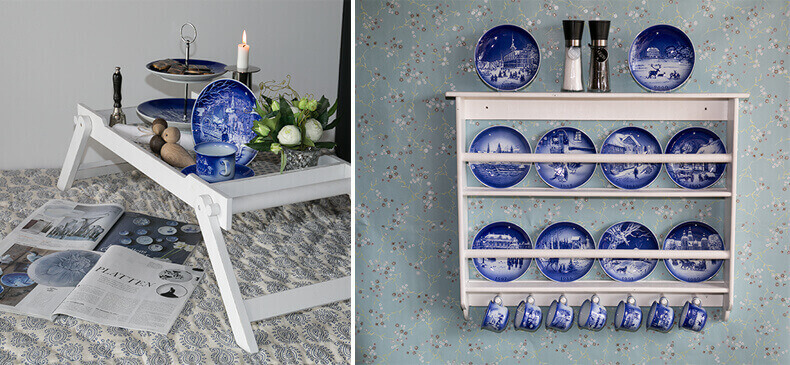 The first Christmas plate was released in 1970, but the first Christmas coffee cup was not released until 1982. The motif of this comes from the fairy tale Twelve by the Mail and displays the mail coach just before driving into the city. On the other cups we can recognize motifs from the fairy tales the Nightingale, the Bell, Thumbelina, Godfather's Picture Book and What fathers does is always right.
With the combination of the Desiree Christmas cups and plates you have the opportunity to make a trully great set of coffee and tea service, which will light up the table at Christmas. The plate and cup of each year has its own fairy tale to tell, which make it such a curious set for afternoon tea or coffee. The set can be used both during the year and at Christmas as the fairy tale motifs will work always as a wonderful statement. Also the possibility of combination is there as you can choose how to match fairy tales togehter on cup and plate. If you know the favorite tale of your guest, you can set up the cup and plate that matches his or her taste to await the moment of recognition. Also the cups and plates make for a wonderful gift for lovers of fairy tales.