Previously, national costumes and folk costumes were important and varied much from region to region. Today we mainly know the Greenlandic national costume and the Faroe Island national costume, which are still used for festive occasions. The costumes are also still being used by folk dancers. Both Royal Copenhagen, Bing & Grondahl and Dahl Jensen porcelain have released several porcelain figurines of people in national costumes and also a few ceramic figurines.
Royal Copenhagen and B&G has primarily published figurines of Danish regional costumes, while Dahl Jensen is known for his stunning porcelain figurines of exotic women in typical costumes from their homeland.
B&G and Royal Copenhagen figurines of people in national costumes

Both Bing & Grondahl and Royal Copenhagen have been producing porcelain figurines of people in national costumes and regional costumes. From Bing & Grondahl we know e.g., the Inuit figurines and Royal Copenhagen is especially known for their overglaze figures of girls in Danish regional costumes and Amager girls both in under glaze and over glaze.
The figurines are beautiful and expressive with many colors to suit the eye. They give an extra dimension to a shelf and liven up the living room with their presence. They are a perfect gift for the historically or etnologically interested person. Each figure has its own personality, which makes it possible to find the figurine with just the right expression for the person, who is to be gifted the figurine. Also any collector of porcelain should have a national costume figurine in their collection. With an entire series of these wonderful figurines you can make an anthropological collection of the styles of Denmark or Greenland. A collector of Inuit objects can add a figurine of Greenlanders to the collection. The Amager girls represent a whole series of figurines showing the distinct style for the Island of Amager near Copenhagen. Often called the Manhattan of Scandinavia. These Amager girls are loved as decorations highly sought after.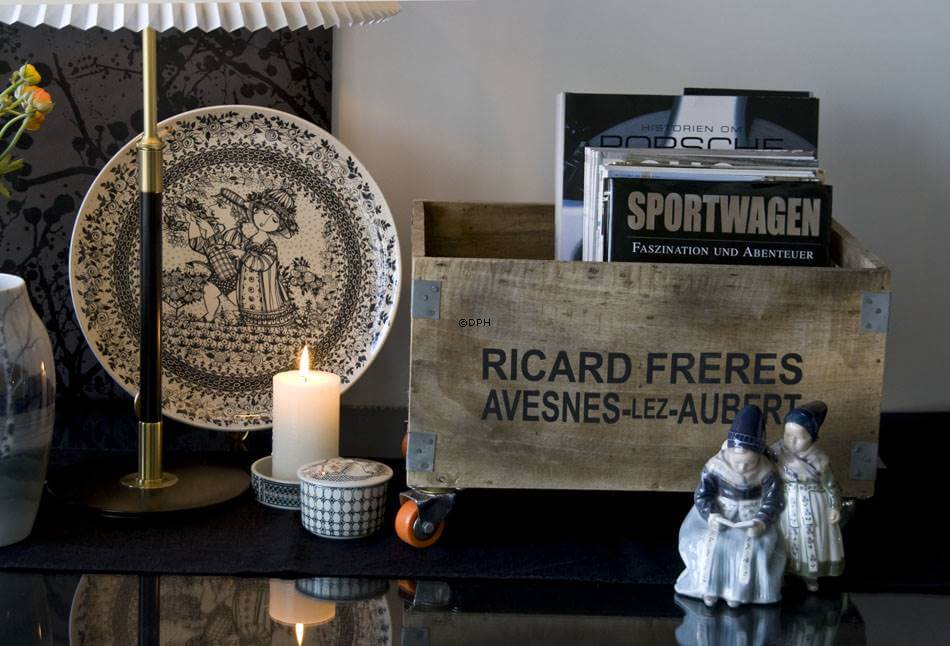 Bing & Grondahl figurines of people in national costumes

Bing & Grondahl figurines of Greenlanders are all designed by Karl Kristoffersen. A Bing & Grondahl Greenlander has its own special character. The figurines are plump and several of them show Greenlandic Inuit men and women doing various chores.

Bing & Grondahl has also produced a series of ceramic figurines of women in national costumes or regional costumes.

Royal Copenhagen figurines of people in national costumes

The Amager girls from Royal Copenhagen are very popular figurines and can be found in many Danish homes. The figurines were produced for many years and therefore they are fairly common. The sitting amager girl No 1314, for instance, is very common, while the sitting amager girl with scattered dress No 1315 is more rare. Most of the Royal Copenhagen figurines Amager Girls were designed by the artist Lotte Benter, who was employed at Royal Copenhagen from 1911 to 1914, but the figurines were in production for much longer - some of them up in the early 2000's.

A second set of Royal Copenhagen porcelain figurines in national customes is the over glaze figurines of girls from Funen, Jutland, Fano and Amager, and a girl and a boy from Greenland. These figurines are rare and not often seen for sale. There are many collectors for over glaze figurines.
Dahl Jensen porcelain figurines of people in national costumes

Dahl Jensen had an eye for every detail in the figurine and he is known as one of the most expressive designers of porcelain figurines. Dahl Jensen has designed some figurines of Danish woman dressed with special clothes for instance the Havdrup girl and the Fano girl. In addition, he has been strongly inspired by the East, and has designed some impressive figures with tiny details and colours on their clothes.