In this category you will find different variants of pleated lamp shades. At DPH Trading we have many sizes of pleated lamp shades in white and off white. The pleated lamp shade is suitable for many different types of lamps.
Pleated Lampshades
Pleated lampshades are available in many variants and below you will find some of the models we have in stock.
Pleated lampshades are beautiful on many different types of lamps.
See also other pleated lampshades: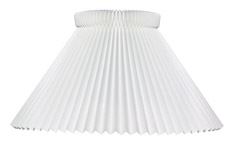 Sizes
It can be difficult to measure the diameter of a pleated lampshade, so the stated measurements are only approximate.
Normally we have most of the sizes in stock in off white.