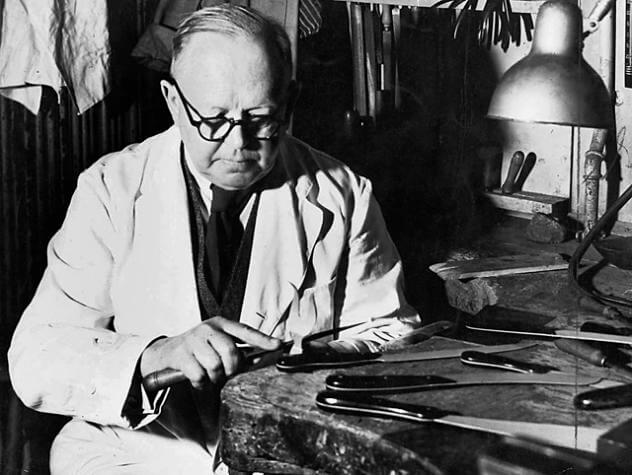 Kay Boyesen was the son of the publicer Ernst Bojesen. He finished school in 1903 and was taught as a grocer at Chr. Richter in Store Heddinge until 1906. Then he worked at the company Alfred Olsen & Co. From here he started became an apprentice at Georg Jensen.
Despite being most well-known for his wooden toys today Kay Bojesen started his artistic life as a silver smith. He was originally taught by silver smith Georg Jensen and got his apprenticeship in 1910. From there he was taught further at the Royal Vocational School in Schwab, Gmund-Württemberg, and latter worked in Paris and latter Copenhagen. He became silver smith master in 1913 and worked in Copenhagen.
He started woodcutting toys for his own children in 1922. He was married in 1919. This became the start of what is today the famous Kay Bojesen wooden toys. It was not unitl 1933, however, that he started his own workshop, where he worked in silver and wood. He became purveyor to the Royal Danish Court in 1952.
He was artistic director at the porcelain factory Bing & Grondahl from 1930-1931 and founder of the permanent exhibition of Danish art and industry in 1931.