Georg Jensen ornaments have been popular for many years and are found in many a home. - We both buy and sell old and new Georg Jensen Christmas ornaments like Christmas mobiles, candleholders and ornaments etc. We go through everything and have built some experience for better or worse.
When we buy there are a number of things that reduce the price. Some can be repaired and some permanently reduce the value.
Today I will give you some good advice on how you store, maintain, clean and repair your Georg Jensen Christmas ornaments to maintain their look and value.
Christmas ornaments can be washed but never polished with Abrasives!!
In time gilded ornaments loose their luster if not cleaned properly. What often happens is that a layer of grease forms on the surface to make the gold look dull.
As a rule Georg Jensen Christmas ornaments are gilded, which means that it does not tarnish and thus should not be polished. NOTE that you should NEVER polished gilded objects with an abrasive like Brasso as this will remove the thin layer of gold from your Georg Jensen Christmas mobiles, Candleholders, ornaments etc.
Washing Gilded Georg Jensen Ornaments
It can be a good idea to wash gilded ornaments, when they have become dull. - This is how you do:
You fill a washtub with warm water and mix a bit of dish soap and citric acid (about a tablespoon of each for 4 litres of water). Then put the Christmas ornaments in the tub and let it be for about 15 minuts until the grease has dissolved. Then remove the ornaments and dry them with a clean dishtowel.
Sometimes the grease is a bit difficult. Then you just rub a bit extra with the towel. That usually removes the last of it.
Note! If the Christmas mobiles have the red pearls or glas crystals, you need to be careful that the water is not too warm and that you do not rub too hard near them as they might fall off.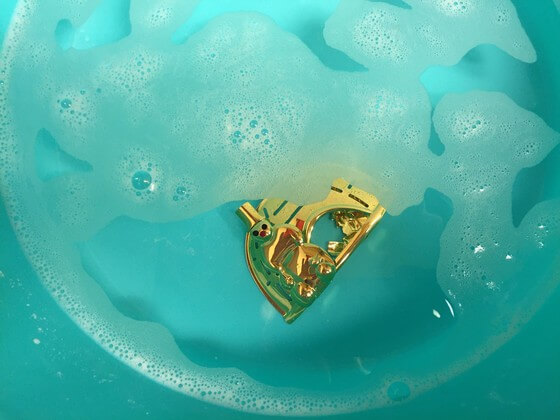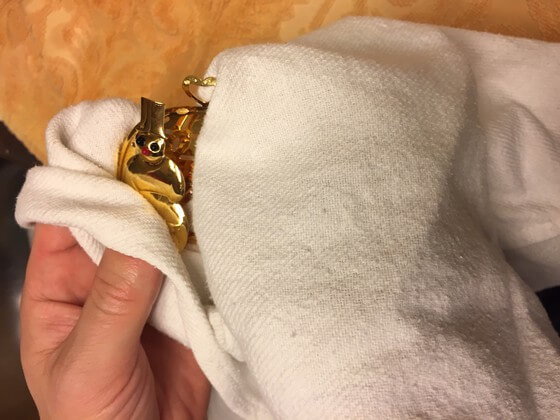 Boxes and Ribbons
It is not just the Christmas ornaments themselves that sets the value. If it is to be sold one day the condition of the boxes, ribbons etc. is also important.
The Original Ribbons
Let us start with the red ribbons for the Christmas mobiles. If they have become curled you can iron them. It is VERY important, however, that they are ironed at low heat with the text downward. If you put the ribbons with the text downward towards the cloth and then iron quickly across the ribbon, you avoid that the text loosen from the ribbon.
If the ribbons are dirty, you can easily wash them in soap and iron them when dry.
Also remember that you should never cut the original ribbons, if you intend to sell in the future. - Many actually do not use the original ribbons, but buy a roll of ordinary red silk ribbon and use it instead. - It is most certainly an advantage that the ribbons are unused, if they are to be sold.
The Original Box
Then we have the boxes... The small cardboard boxes for candleholders and ornaments cannot really be fixed if damaged. It is important that they are not damaged by moisture and you should not write on the boxes.
When we buy old Christmas mobiles we find stickers with handwritten years etc. on the boxes. You can removed these with benzine. If the boxes have been written on with ink, you can sometimes remove it with alcohol.
Maintenance of Your Christmas Ornaments
This section has much to do with the prior, but here I focus more on what you can do to minimize damage and repair after the fact.
Use self-extinguishing candles.
Something we often see is that the candles have burned all the way down in the candleholders. When this happens the fire discolour the gold and then the damage is done. It cannot be repaired and the candleholder will permanently be discoloured. To avoid this happening you need to make sure that the candles do not burn down into the holder. We recommend using self-extinguishing candles.
If you intend to sell your Georg Jensen Christmas ornaments one day, then remember to keep the original boxes, even if you choose to store them differently, you will not be able to get the same price for your ornaments, if you do not have the original boxes. So make sure to keep them and store them dry.
When pearls and glass crystals fall of
We often see that the small pearls or glass crystals have fallen of, which reduces the value considerably. - You should if possible make sure to glue them back on before they are lost. With a bit of dexterity, glue and maybe tweezers, you can glue them back on. You can see the glue that we use below.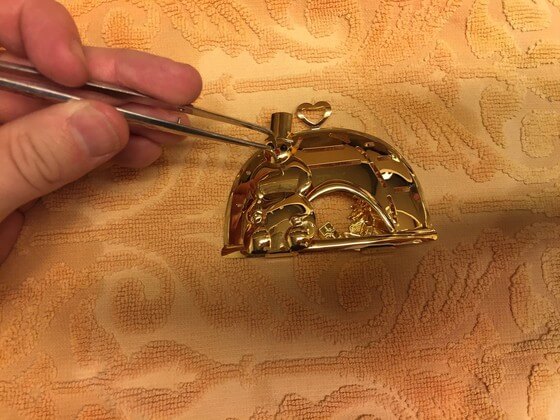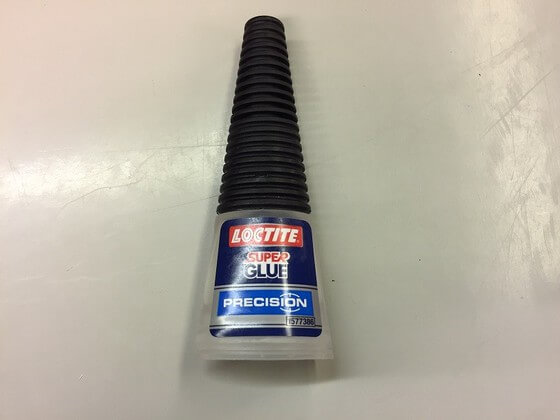 Storage of Your Christmas Ornaments
Storage is an important player in the maintenance of your Christmas ornaments. The Christmas decorations are hidden away in storage for most of the year after all and this is were irreparable damage can happen, if not stored dry and not to cold.
If the Christmas ornaments are stored too cold and wet, cracks in the gilding can appear and the the metal underneath will corrode and form stains that cannot be removed.
It is also important, especially for later sale, that you store the ornaments to avoid scratches. You should not have the ornaments lying together without protection between them as this might lead to scratches. If they are scratched they automatically loose value.
You can store your Christmas ornaments in the original boxes, but many would rather avoid having to open all the small boxes with candleholders and ornaments and they take up much space. Because of this many choose to store candleholders and ornaments etc. in
well-suited storage boxes
.
Just remember to keep the original boxes, if you want to sell one day.