A porcelain fox can be red, which is common in Denmark, or white as an Arctic fox. Porcelain figurines of foxes are produced by Royal Copenhagen as well as Bing & Grondahl and several of them are rare and valued collectibles.
Royal Copenhagen and Bing & Grondahl porcelain figurines of foxes

In 2006 Royal Copenhagen published four porcelain figurines of arctic foxes in the series Motherly Love depicting mother and child-love in the animal world. The four Royal Copenhagen arctic foxes shows a mother polar fox in white winter suit with her grey young ones, a lying arctic fox cub, and two figurines of playful polar fox cubs. Motherly Love arctic foxes were designed by Allan Therkelsen and was in production until 2009.

The common red fox, as we know in Denmark, is a hunting mammal and is especially knowns for stealing chickens. The fact that the fox is walking very quietly just before it catches its prey, is depicted on the Bing & Grondahl porcelain figurine of sneaking fox. Although the fox is a predator it is always on guard and is very shy. Bing & Grondahl has also produced two figurines of sitting fox, where the curious and shy expression can be seen in the eyes of the fox.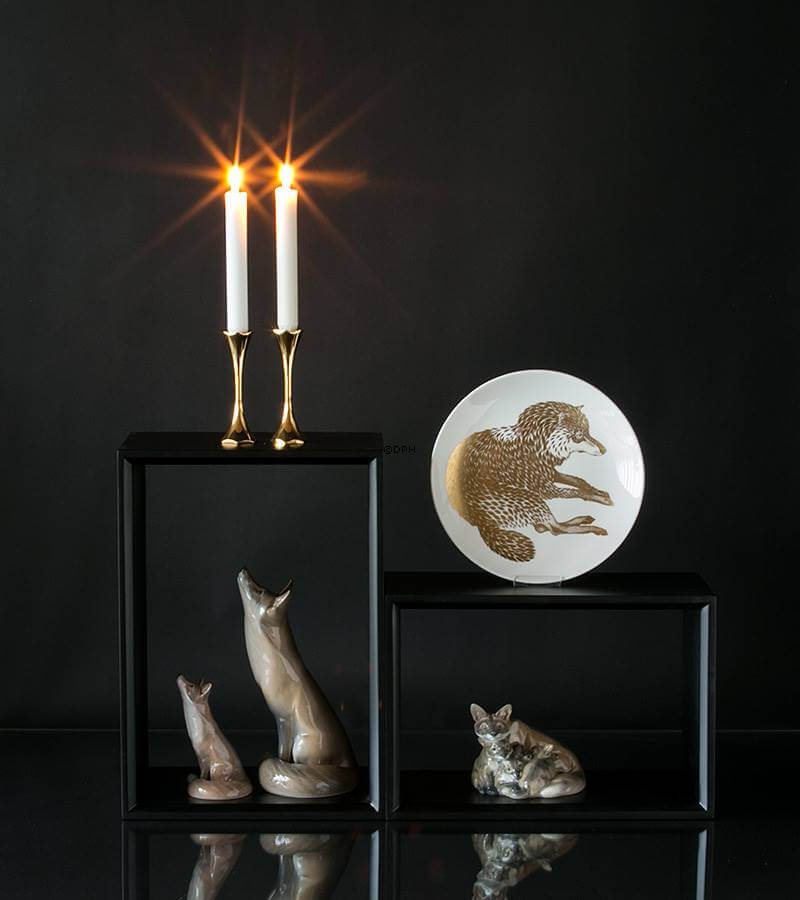 Royal Copenhagen has of course also produced various porcelain figurines of foxes through time. One of the most famous Royal Copenhagen fox figurine is the sitting fox with outstretched neck, which is available in two sizes. Royal Copenhagen has also released a lying fox and a mother fox with cubs.
The symbolic meaning of the fox
The red fur of the fox has always associated the animal with the fire element. The symbolic meaning of the fox has typically been shrewdness and playful, but the fox has also always been associated with something errotic.