Bing & Grondahl anniversary - Jubilee plates produced every 5 years to celebrate Christmas plate
The motifs for the anniversary plates are taken from some of the most popular Christmas plates and are reproduced in a larger version, so we can really enjoy the motif and the many details that we do not notice at first glance.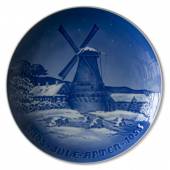 Take for example a closer look of the Jubilee plate from 1955, which has the same motif as the 1947 Christmas plate. Both plates have Dybbol Mill painted in the middle of the plate, but on the jubilee plate we get closer to the surrounding buildings. It means we get a better view of the large illuminated mill house and the impressive granary.
The B & G Christmas Anniversary plates series have been published every five years since 1915 and they still are. It is obviously a popular collectors article for passionated collectors of Bing & Grondahl Christmas plate.
The Anniversary plate is also on some passionated collectors wish list, even if they do not collect the ordinary Christmas plate. Instead they collect only these large anniversary plates, which portrays some of the most popular motifs of Christmas plates.

The designers of these plates are the same as on the original Christmas plate. This series of Large Bing & Grondhl Christmas plates (23 cm) is not as well known as the ordinary Bing & Grondahl Christmas plates at 18cm, however in our opinion it is a pity and these plates should have been more popular, because only the most popular motifs from the best designers are included in this series.