Classic lamps and other home decor
Are you looking for beautiful stylish lamps in silver or brass, The we have a large selection.

Large selection of different types of table lamps

The right lighting can be many things. At DPH you will find primarily cozy lighting. We have a huge selection of table lamps for any style.
Glass lamps - Designer lamps - Modern lamps - Classic lamps
Design lamps, pendant lamps, Holmegaard lamps, Le Klint Lamps, classic lamps, lamps by the bed, lamps for the dining table, lamps for the living room, lamps for the entrance hall, and a thousand kinds of other modern lamps, antique lamps, retro lamps, glass lamps, etc. - See the huge selection under the lighting category and see the many exciting lights. We also always have many good deals on lamps. Currently, we have white and black table lamps that fit into the minimalist interior design, and also more colorful lights, which gave the decor an extra boost.


Le Klint lamps are the epitome of classic Danish lighting design at its best. Le Klint has produced a large number of lamps, for example. Le Klint Glass Table lamps
Le Klint Steel Table lamps
Le Klint Brass Lamps
Le Klint Pendants
Le Klint Floor lamps
Le Klint Chandeliers
Le Klint lampshades DPH has a huge selection of Le Klint lampshades in stock.
Le Klint pleated lampshades also fit many other old Danish Design lamps, such as Just Andersen lamps and Holmegaard lamps, etc.
Holmegaard was taken over by Rosendahl and after Rosendahl's production of the famous Holmegaard lamps continued for a while, they are no longer in production today. A few of the lamps can still be delivered, but only as long as stock is available. Many have been fortunate to have some of the classic table lamps or have inherited them from family.

See all Lampshades, suitable for table lamps from Holmegaard, with prices and product information, etc.
For a long period of time DPH Trading collaborated with Holmegaard, and later Rosendahl, on delivery of lampshades to Holmegaard table lamps. Therefore, we have standard lampshades for some of the lamps, such as Cocoon / Base and Apoteker, while we can recommend new lampshades to the old lamps. We have a comprehensive catalog of old Holmegaard lamps and have collected information about the lamps over the years, so we can suggest different lampshades for them.
We recommend that you visit the page where we show some Holmegaard table lamps. You are also welcome to send an email to info@dph-tradng.dk with a picture of your lamp and, if possible, the name and size of the lamp , we would like to help you find a suitable lampshade.

Just like the table lamps from Holmegaard, there are also many pendants that have been in production for decades, but unfortunately it's over now. We still have some of the pendants in stock.
| | |
| --- | --- |
| | |
Pendants, Chandeliers, wall lamps Floor lamps etc.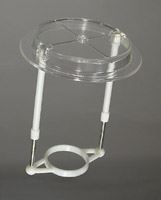 On Funen you will find the store where you will find the big selection in Chinese lamps. DPH has a huge selection of table lamps, oriental furniture, etc. At the same time you will also find Denmark's largest selection of lampshades of Chinese lamps, etc.
See also all the other types of Lighting, both classic table lamps, designer lamps, wall lights, floor lamps, chandeliers, ceiling lamps, pendants and much more, that you will find in the Lighting Shop in Odense - See pictures from the shop here.
For several decades DPH has had its own imports of Chinese porcelain, both new and old. - We assemble all Chinese table lamps in our own assembly workshop.
DPH lamp assembly meets the European standard and the lamps are CE marked.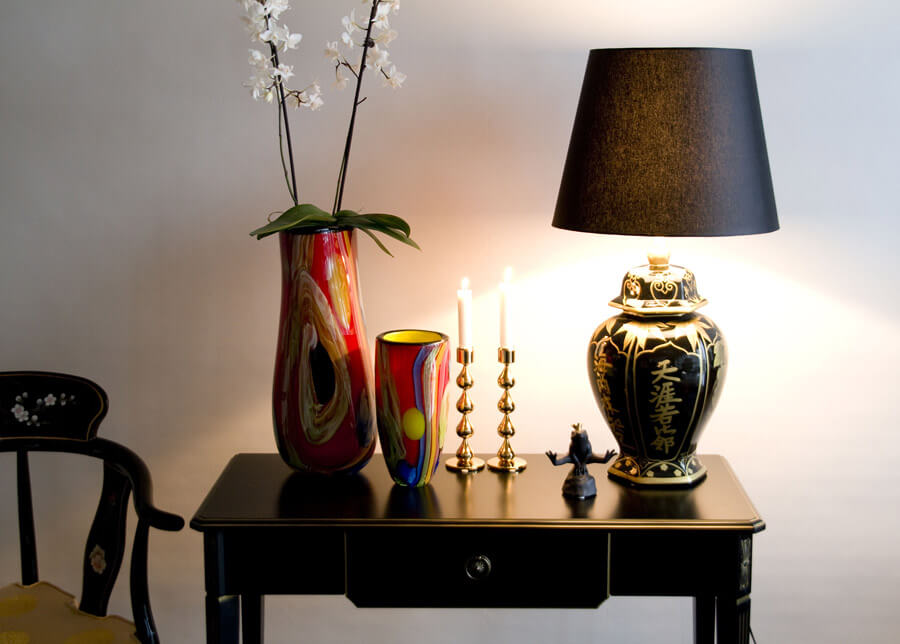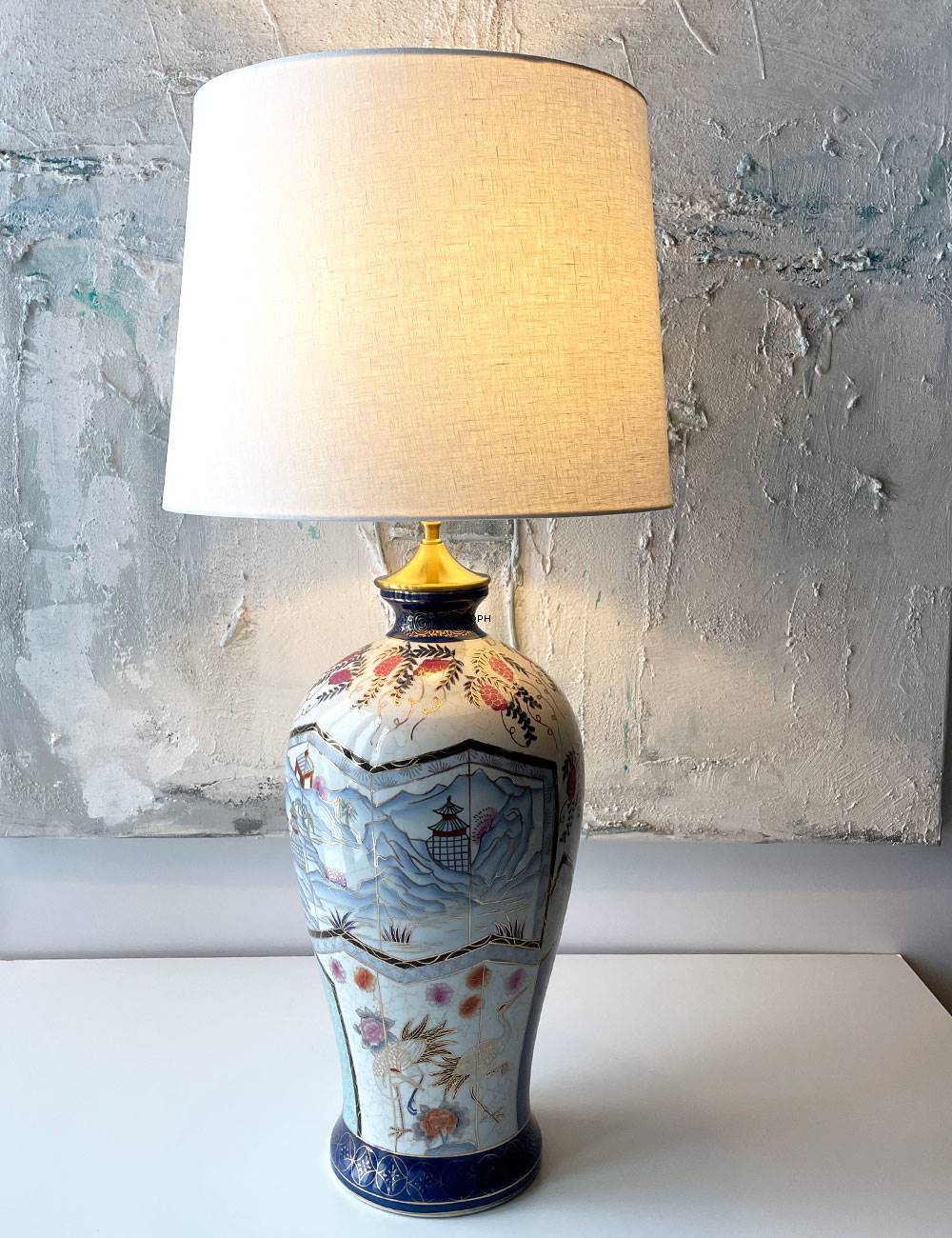 In 1982, DPH Trading started buying vases in China and Japan. We mounted the lamps at our own assembly workshop. Many Danes have bought such Chinese lamps.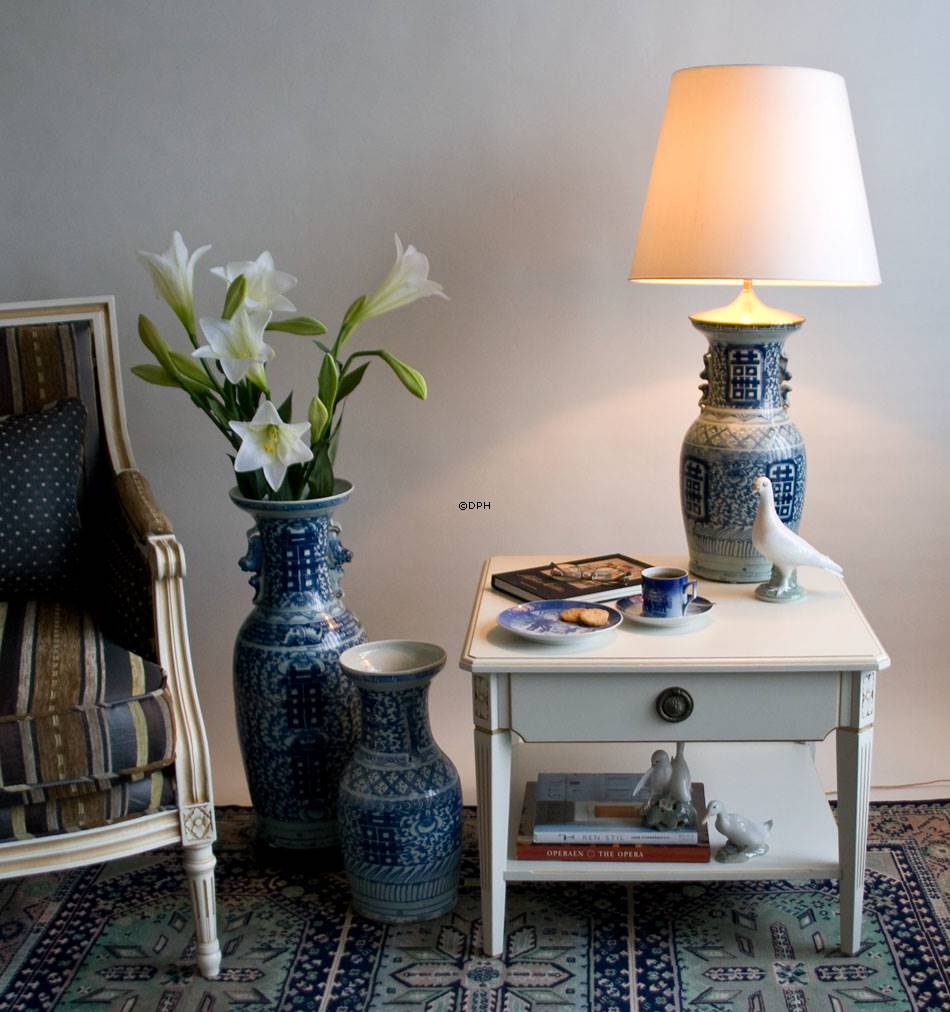 The Chinese table lamps with blue Double Happiness characters on white background as seen above are relatively neutral while the multi-color table lamps are most often placed in a central place in the room.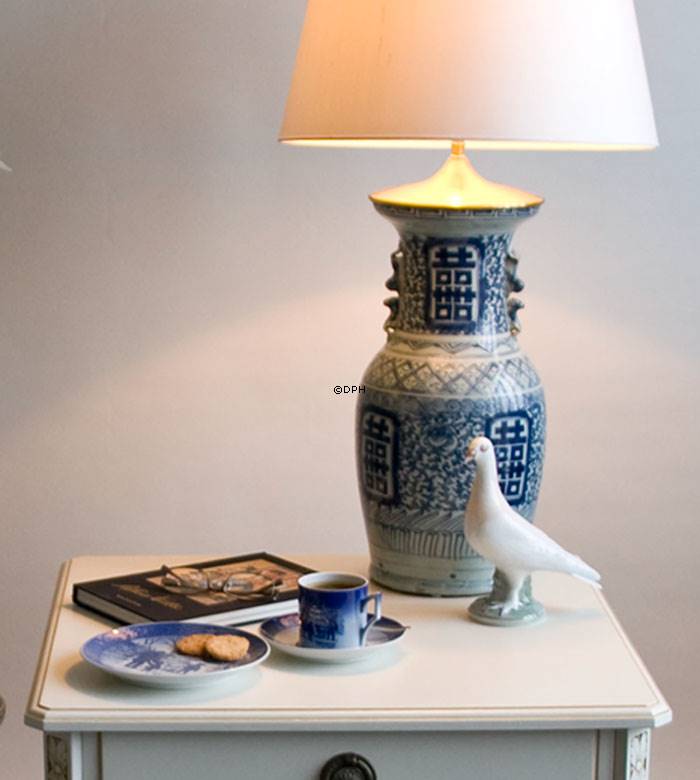 The Double Happiness charakter is a wish for eternal happiness and love dating back to the Tang Dynasty.
The motifs on the colored Chinese vases and table lamps are primarily flowers, branches, birds and Chinese women in warm golden colors.
The interest in Chinese and Japanese table lamps has been very fluctuating and, in order to supplement the range, DPH has further chosen to import lamps from other countries. It has, among other things, been a series of lamps from Spain and Portugal. The table lamps from these countries are very stylish and fit in many modern homes.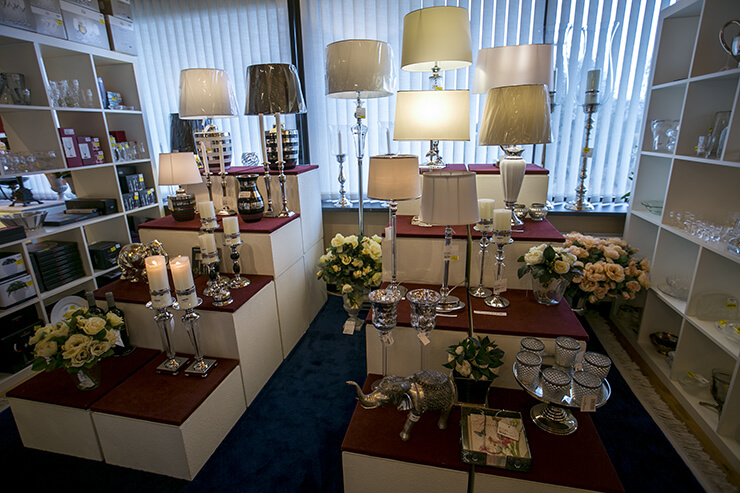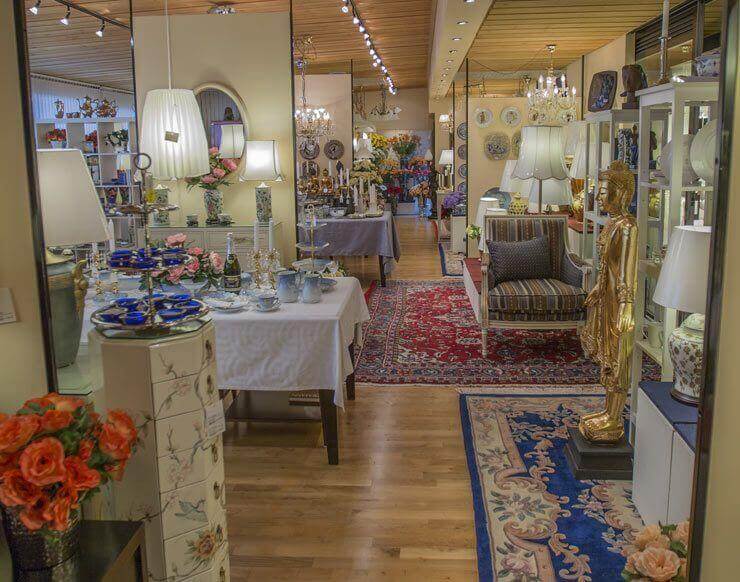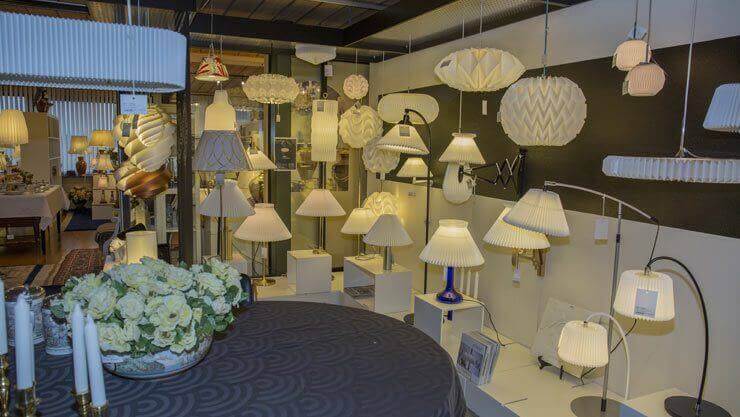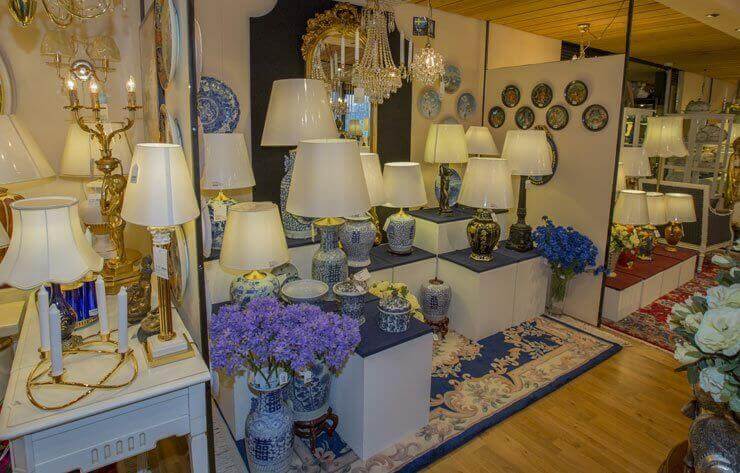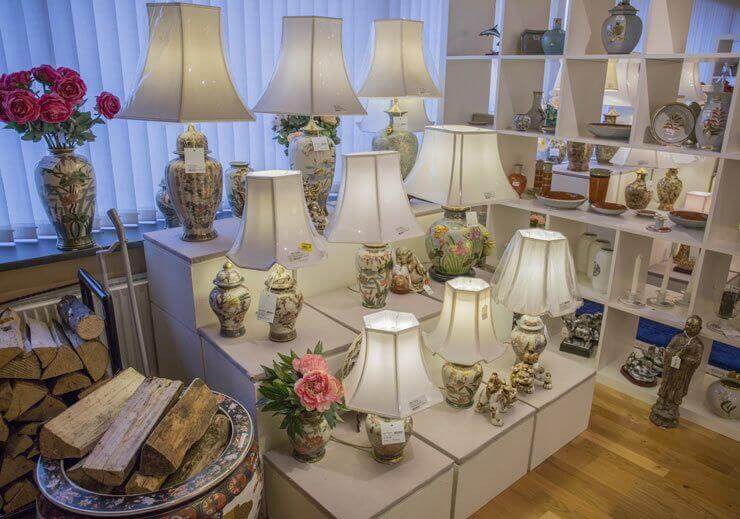 DPH Trading has for many years specialized in installing Chinese and Japanese vases for lamps. The baskets turn into beautiful table lamps, like with the right lampshades and in the right places, give a great atmosphere and enjoyment.
Eventually, the range has been expanded to include various floor lamps, chandeliers, pendants, ceiling lights, table lamps and wall lamps from abroad and well-known Danish branded products such as Lene Bjerre, Holmegaard lamps and Le Klint lamps.
Our Milan series from Italy is synonymous with the classic Italian lighting in stylish design with rustic glass lampshades. The series features the colors of green, copper, steel and gold. Each color consists of a pendant, long table lamp, chandelier, table lamp, floor lamp and wall lamp.
Another popular series from DPH is the steel series with opal white glass screens. Both the table lamp, the floor lamp, the chandelier and the wall lights have a simple cut with a robust foot and simple cylinder-shaped glass lampshades.
Neither Holmegaard nor Le Klint require any further presentation. Both companies are experts in designing functional and stylish applications.Le Klints products are completely unique crafts. All the lampshades are folded in hand and because of the material they are easy to wash so they look new for many years. Most of the lamps and pendants have been in production for many years and have become classics.
At DPH Trading you can also find the well-known Holmegaard Apoteker lamps, Holmegaard Mandarin pendants and Holmegaard Etude pendants, as well as newer lamps such as Holmegaard Base table lamps, which have inspired the famous Cocoon vase, Holmegaard's slender Napoli table lamps and brand new series such as Holmegaard's Grace and Mood table lamps.
In your interior design, lighting can be crucial to achieve the perfect result. Do you like to relocate a little? Table lamps and floor lamps are easier to move around to fit the new interior.
See the many beautiful table lamps or floor lamps by clicking the categories above. The above categories contain hundreds of beautiful lamps.
Create the right mood with the right lighting
Lamps can be used in your home to make cozy rooms, the interior of the atmospheric dining room, the living room, the hallway etc.
Happiness does not come from buying new lamps, but the right lighting can help affect the mind. At the side of the living room, with a cup of hot tea, the right book, relaxing music, candles and cozy lighting, it helps create a good mood and make you feel inner happiness.
Write or call us