Bing & Grondahl anniversary plates on the occasion of the world's first Christmas plate

The first five-year anniversary plate is naturally decorated with the motif from the first Christmas plate from 1895 titled "Behind the frozen window" from which the viewer sees over some of Copenhagen's magnificent buildings such as the Round Tower, the Stock Exchange and various churches.

Each B&G jubilee plate is provided with the text 1895 Christmas Eve and then anniversary year - for example 1895 Juleaften (Christmas Eve) 1925. The location of the text vary depending on the motif, so that it can be located above or below the motif, but always in the middle of the plate.
Use the Jubilee plate in your cake stand
Cakestand made of decorative danish blue plates. - We often use these jubilee plates as one of the plates (the largest) when we create beautiful cakestands. Find more information and inspiration for design of your own Center pieces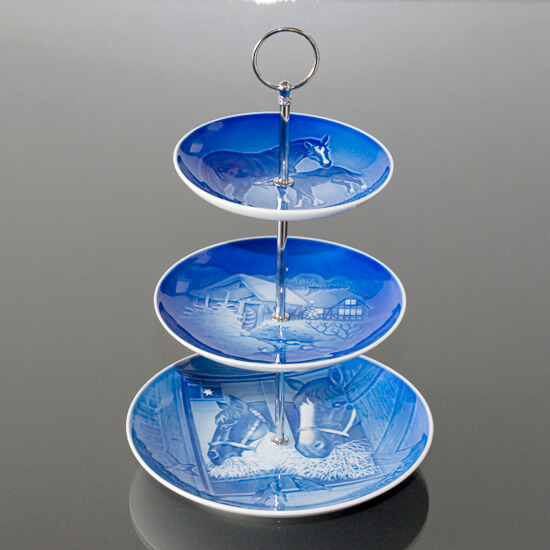 Bing & Grondahl 100-year anniversary plate
In 1995 Bing & Grondahl celebrated the 100-year anniversary of the release of the first Christmas plate in 1895 by publishing two jubilee plates. Like the previous anniversary years, the factory published the 5-year anniversary plate and a special plate of 33 cm. The motif of the plate was inspired by the motif of the B&G Christmas plate 1995, which by then was inspired by the very first plate in 1895.

Both plates show a view over Copenhagen Towers. Several of the buildings on the plate from 1995 is also seen on the plate from 1895, but there are also new buildings and in the foreground is the entrance to Tivoli. The large Jubilee plate reproduces the motif of Christmas plate 1995, but with a closer perspective, we can see families coming through the entrance. The motif is beautiful framed by fir branches with candles and cones. The plate was designed by Jorgen Nielsen, who is the designer of many of the Bing & Grondahl Christmas plate since 1993.

In 1995 there was also released an incredibly beautiful plate in colours titled "Sunrise over Copenhagen". Here we also see Copenhagen Towers while the sun is about to rise on the horizon behind them. This gives a very special light and the towers are reflected beautifully in the bright water which is coloured golden by the rays of the sun. The Jubilee plate differs from other anniversary plates, which are kept in the characteristic blue colour, and the bright colours give the plate a great look.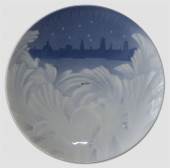 See the whole series of
Bing & Grondahl Christmas plates from 1895 until today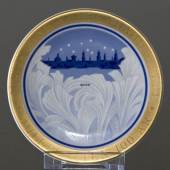 See also Bing & Grondahl 100 years plaquettes
(mini plates Ø 11 cm)

The series consists of 10 different plaquettes, all with a beautiful golden edge with the text "1895 Bing & Grondahl Christmas plate 100 years 1995", and with motifs from the old Bing & Grondahl Christmas plates.