Royal Privileged Porcelain factory Tettau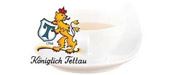 The factory was founded in 1794 by Georg Christian Friedman Greiner (GG). He had previously worked with the Veilsdorf factory. Suggested by the famous naturalist Alexander von Humboldt, the Prussian government requested GG to start the Tettau factory. The factory was favoured by Friedrich Wilhelm II with Royal privileges. Tettau was the first porcelain factory in Bavaria.
From the very start the factory focused on producing tableware just as they do now. The greyish-white colour is the characteristics of Tettau porcelain, unlike any other German porcelains - all chalk-white.
The factory was taken over by Ferdinand Klaus in 1852 - then employing 70 people. The factory changed hands several times successively after 1866. During a giant fire in 1897 the whole factory was destroyed, but later it was completely rebuilt.
The trademark has been "T" ever since the first day of production. A "shield-holding" Lion was added to the trademark after 1885.
The Tettau products from the 1900 century are in great demand among international collectors and museums.
Among other things they have produced beautiful richly coloured Christmas plates on a blue base. The blue base-colour varies in different shades, just as the colours in the motifs vary.
The factory has right from the start made it a point of honour to produce the best possible quality. Still today the raw materials and the employees are selected with the greatest care. Preferably only raw material imported from Eastern Europe is used. In Eastern Europe occurrences of the finest kaolin, felspar and quartz are found.
Today the factory name is "Porzellanfabrik Tettau GmbH" and since 1957 has been part of the Seltmann Weiden Group.