Angels from Royal Copenhagen and Bing & Grondahl

Royal Copenhagen as well as Bing & Grondahl have produced several figurines of angels in porcelain and to many people they are important Christmas decoration every year. The little angels looks beautiful on the Christmas tree, in the window or on the Christmas table. Angels are a symbol of peace and harmony, coziness and warmth. The Angels have an important role in the Christian Christmas and they are to many the epitome of Christmas.
Bing and Grondahl angels "Heavenly Music"

In 1995 Bing & Grondahl introduced the first figurines of angels in their musical series Heavenly Music. The B&G porcelain angels are 9 cm high and produced in white porcelain with faces in biscuit and gold-plated wings. With the angels come a gold ribbon so they can hang on the Christmas tree and also stand on the Christmas table, a window sill etc. Two angels were issued each year and the series consist totally of 12 pieces which were issued from 1995 to 2000. Together these beautiful angels from Bing and Grondahl form a small orchestra with various instruments. The first two angels from 1995 were Bing & Grondahl angel with horn and Bing & Grondahl angel with violin. In 1996, angel with guitar and singing angel were launched and in 1997 angel with French horn and angel with viola was issued. Bing & Grondahl angel with saxophone and angel with mandolin were released in 1998 and angel with harmonics as well as angel with tambourine came in 1999. The last angels in the series were released in 2000 and depicts angel with clarinet and angel with harp. Heavenly Music angels were designed by artist Bruce Reines.

Bing & Grondahl / Royal Copenhagen Annual Little Angels

In 2004 came the first two figurines in the series of the Annual Little Angels. The series was produced by Royal Copenhagen, but with Bing & Grondahl factory mark on the bottom and it was published until 2010. Every year two new figurines were released in the series, a girl and a boy. The small and cute little angels play, sing and decorate for Christmas with flowers, Christmas hearts and poinsettias. The B&G figurines the Annual Little Angels were designed by the artist Sven Vestergaard.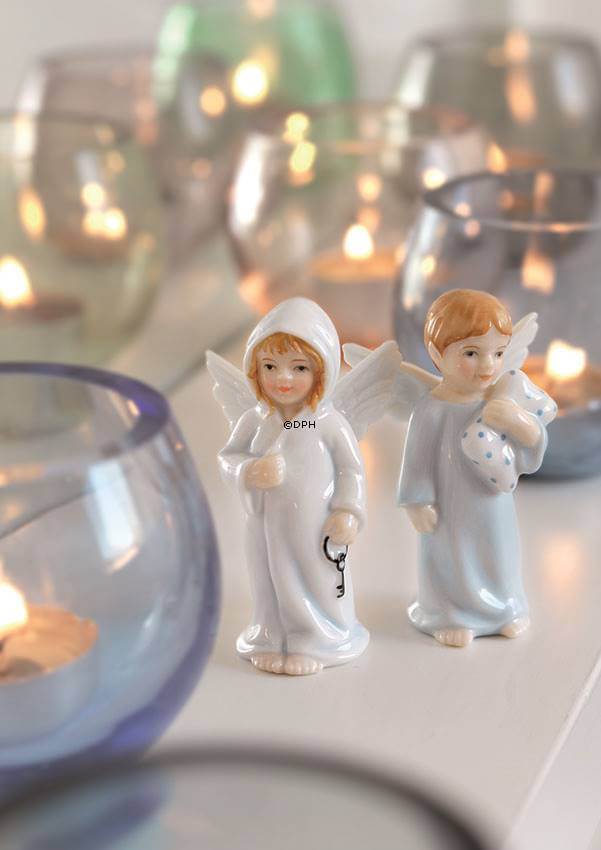 Royal Copenhagen angel figurines

In 2006 Royal Copenhagen launched a series of four porcelain angels with violin, harp, garland and music notes. The Royal Copenhagen angels measures 9 cm in height and was designed by Sven Vestergaard.

Royal Copenhagen has also released a series of faience angels with instruments that are very similar to the Bing & Grondahl Heavenly Music angels.