Not all young people are aware of the old beautiful porcelain figurines. Royal Copenhagen launched the Royal Whites series in 2008. It were to be a more modern series, but still represents the old tradition and many of the figurines in the series were actually not new - they were old classics but made in white. The whiteness gave a more modern tone to the figurines and at the same time it made them more akin to classical antique statues that are also shown in pure white.
Royal White Figurines from Royal Copenhagen

In late 2008 Royal Copenhagen launched a new series called Royal Whites. The series was a completely new venture from Royal Copenhagen and a deliberate attempt to make young people aware of the old famous porcelain figurines. Royal Whites is a new version of old figurines - figurines in white porcelain with various glazes. Royal Whites tells the story of the evolution of figurines dating back to the beginning - the beautiful old figurine of girl with mirror, Venus, bathing girl and Susanne, which originally was designed by Gerhard Henning and produced in overglaze.
All the well known figurines come to life in matte or glazed white porcelain or biscuit, so we can really enjoy the details and beautiful craftsmanship. It is the Canadian artist Shane Brox, who redesigned the magical Royal Whites figurines so the old classics now fit into the modern decor and still retain history.
The Royal White figurines have a trully distinguished look that leads the thoughts back to classical statues. They fit in perfectly in the modern home in light and dark tones. If you have a very stylish and fashion oriented friend one of these pure white figurines is the perfect gift that will fit in to the modern living room. For the person interested in sailing the pure white seaboy and seagirl figurines are perfect little gifts for the shelves in the house boat. Or the four aches that can mark of the medicin cabinet of the house in a whimsical way. Also you can aquire some of very classic looking figurines, which will make you living room look like a Greco-Roman temple. However you decide the Royal White figurines will take your home decor to the next level and amaze your friends.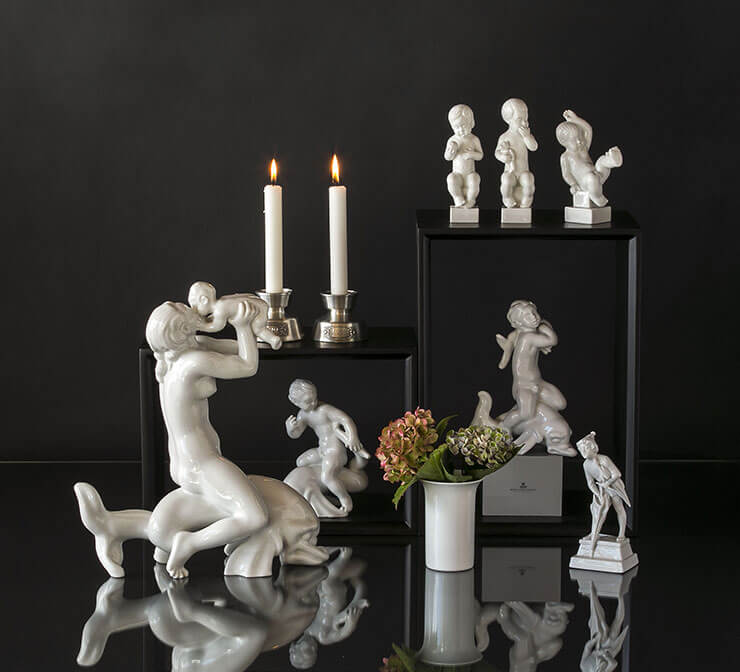 The last Royal Whites figurines from Royal Copenhagen was discontinued in 2011, when the factory decided to stop all production of figurines.